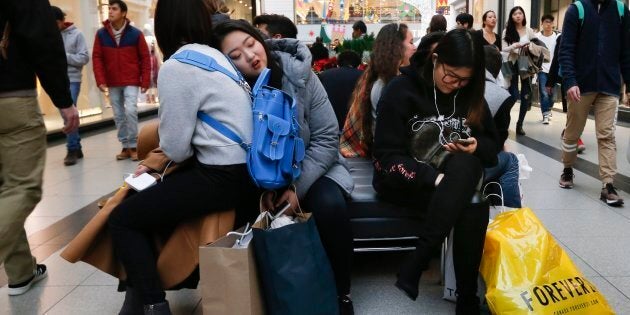 Black Friday may be the ultimate American shopping extravaganza, but many north of the border will be using it as an opportunity to shop patriotically this year, according to a new survey.
"There's been a general trend towards local shopping, not just towards big Canadian companies, but also smaller neighbourhood-type shops," said Kelly Askew, Accenture Canada's managing director of strategy, in an interview.
"When you add on top of that the charged political situation that exists not only in North America but around the world, I think people want to stay closer to home."
Watch: Why some people are avoiding Black Friday sales. Story continues below.
But authors of the Accenture report wonder whether the new USMCA trade deal will change Canadians' attitudes again. The agreement means Canada will raise the duty-free threshold for people bringing U.S. goods into the country, online or in person.
"While that significant bump gives Canadians a lot more spending power with U.S. online retailers, their preference to shop Canadian could be based on more than price," said Robin Sahota, head of Accenture's retail practice in Canada.
Patriotism isn't the only thing on the minds of Canadian shoppers these days, according to the Accenture survey. It found that Canadians are increasingly favouring retailers that they believe share their values. More than two-thirds said it's important for retailers to cater to most or all demographics, and 31 per cent said they will be shopping at stores that demonstrate social or environmental awareness.
When it comes to businesses that ignore social concerns, "consumers are much less tolerant than they used to be," Askew said.
Retailers have to take into account the diversity of their customer base, when looking at everything from product selection to staffing, he argued. Customers notice, for instance, when store staff don't look like store customers.
Those sentiments are strongest among younger people and those who don't identify as Canadian or European in origin, Askew noted.
'Peak Black Friday' has come and gone
The Accenture survey noted declining enthusiasm for Black Friday among Canadians. While six in 10 still say they plan to shop on what has been billed as the best day of the year for sales, Askew said the trend peaked last year.
"The reason why I think we have hit the peak is that consumers are starting to shop all year long," Askew said, noting the rising popularity of such events as Amazon's Prime Day, which takes place in summer.
Watch: How to get out of holiday debt. Story continues below.
Over half of buyers surveyed by Accenture say they now shop year-round for holiday gifts.
Social media is becoming a larger part of the shopping experience, with 46 per cent saying they will use Instagram for holiday shopping this year, up from 25 per cent a year earlier.
And Canadians are also planning to spend more on gifts, with the average at $733 this year, up from $648 last year.
The survey, which was carried out online in August, polled 1,500 Canadians in the Toronto, Montreal and Calgary areas who were split evenly among age groups. The margin of error on a sample of that size is +/- 2.5 per cent, 19 times out of 20.