In the throes of Black Friday frenzy at one U.S. store, a woman appeared to steal an item from a child — but many think the incident was staged.
A video posted to YouTube Thursday, apparently filmed in Saginaw, Mich., shows a woman snatching a veggie steamer from a child's arms as shoppers rush to grab them off a pallet.
The woman then tries to grab a steamer out of the hands of another woman who is standing next to the child. The second woman fights her off, yelling "Why are you being so aggressive, you're scaring me!"
But many YouTube commenters cast doubt on the clip's authenticity, with one noting if you slow it down, the second woman and the child can be seen holding the boxes at the beginning of the video before a crowd of shoppers pile into the store.
Another question was raised as to why the thief would take the kid's box despite there being several others on the floor.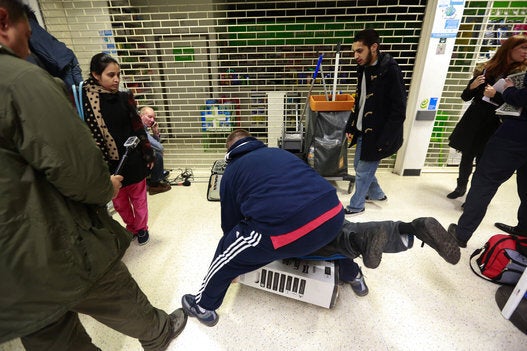 14 Pictures That Sum Up Black Friday Madness
Popular in the Community