Hundreds rallied against police brutality and in solidarity with marginalized black lives, with particular attention to the lives of black individuals who are cis women, trans, queer, on the gender spectrum, with disabilities, and are sex workers.
Take Back The Night, an international feminist event since 1976, has featured protests, marches and vigils against sexual violence. For this year's 35th annual protest, the Toronto Rape Crisis Centre (TRCC)/Multicultural Women Against Rape partnered with Black Lives Matter Toronto Coalition for the theme "All Black Lives Matter: Black Communities Take Back the Night."
"No justice, no peace, no racist police," many protesters chanted throughout the night, as they marched along Spadina Ave. The sheer size of crowds held up multiple streetcar routes, with the Toronto Transit Commission (TTC) issuing delays that cited the protest.
Take Back the Night wasn't just a march. Planning started as early as August for the night's other events, including a community fair, a healing rage space for free therapy, children's activities, and a rally with Patrisse Cullors, co-founder of the Black Lives Matter movement. Cullors dedicated the night to black identities, as well as Indigenous women.
"For the Indigenous women whose names we struggle to remember and the over 500 names of missing and murdered Indigenous women, this night is for you," Cullors said to the crowds.
Celebrations of song and dance were interspersed into the night, including a steel drum rendition of Destiny's Child Survivor and a flash mob that danced to Michael Jackson's "They Don't Really Care About Us."
Protesters sang along to a remix of Janelle Monae's "Hell You Talmbout," where Monae lists the names of black victims of police violence.
"Tonight we decided to partner up with the TRCC and make this about black voices, black lives, black sex workers who don't get included in these conversations, black trans people ...black people on the gender spectrum ... we're bringing visibility to that right now," Williams said.
Black Lives Matter Toronto Coalition's last protest shut down Allen Rd. in July, in response to the deaths of black men Andrew Loku and Jermaine Carby. The two men were fatally shot by police in Toronto and Brampton respectively, in two separate incidents. Both cases have been considered injustices and examples of police brutality by activists. No charges have been laid in their deaths.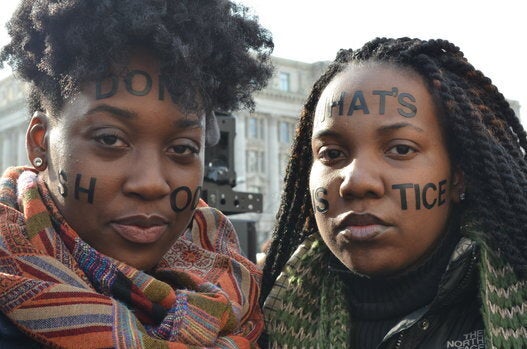 "Black Lives Matter" March
Popular in the Community