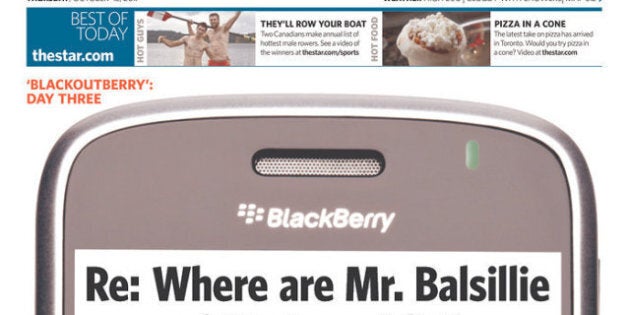 Could there be a more bitter irony than a company that built an empire on smartphones and instant messaging standing accused of being no good at communication?
That's the situation Research In Motion finds itself in, following a four-day outage of its email and BlackBerry messenger services. The backlog of emails and IMs that began with a switching failure at RIM's Slough, England, office and led to cascading failures around the world has market analysts and BlackBerry fans worried the company may have dealt itself a near-fatal public relations blow at a time when it can least afford it.
Co-CEO Mike Lazaridis appeared in a YouTube video Thursday, and apologized to BlackBerry customers, while company spokesman Robin Bienfait said RIM was aware it's "letting you down."
But that came only after an angry torrent of complaints from customers and the press alike that RIM had taken too long to respond to the crisis. "Where are Mr. Balsillie and Mr. Lazaridis?" begged the headline in the Toronto Star, referring to RIM's two CEOs. "BlackBerry's master class in how not to do PR," screamed the UK's Daily Telegraph.
Meanwhile, frustrated BlackBerry users took to Twitter to declare they plan to switch to the iPhone, BlackBerry's popular competitor and one of the core reasons -- along with the rise of Android phones -- that the company has seen its market share tumble precipitously over the past year.
Corporate reputation expert Alex Woolfall told the Wall Street Journal that failure to respond quickly enough to crises is a common problem in companies and leads the public to see the company as:burying its head in the sand."
All combined, it's a situation that has market analysts predicting doom for the Waterloo, Ont.-based company.
"This is not the right time for this kind of problem to happen," IDC analyst Francisco Jeronimo told Bloomberg News.
He added that for RIM the outage is particularly damaging because the company "always built their reputation on messaging and quality of the service."
JMP Securities analyst Alex Gauna pointed out to Bloomberg News that one of RIM's best options for survival -- being bought out by another company -- looks less likely because the company's infrastructure, once considered to be very reliable, now looks weak.
He also noted that activist investors are pushing for a change in management at the company, and RIM's slow response to the outage strengthens their case.
"Communication is a problem for this company, and leadership is a problem for this company, and those two things have got to turn around," Gauna said (see video above).
Writing at eWeek, Don Reisinger argues that RIM's PR problem is piling on top of an already existing brand problem.
"If one were to poll most consumers, they would say that RIM devices are designed for the enterprise. On the other hand, most enterprise users would likely say that RIM's devices are boring compared with those they use in the home," he writes. "If RIM doesn't improve its brand reputation quickly, it might have no way to change its fate."
Think RIM's PR problems are bad? They're nothing compared to some companies who in recent years have been accused of massacres, oil spills, and, of course, the global financial crisis. Check out our gallery of The 5 Worst Corporate PR Disasters Of Recent Years
Popular in the Community