A bit of advice for MP Blaine Calkins, who just this week told Justin Trudeau that, if he wants to confiscate rifles and shotguns from law-abiding firearm owners, he would have to pry them from his cold, dead hands: don't be so trigger happy.
Before Mr. Calkins makes any other overly dramatic proclamations during members' statements, I would like to point out two things:
1) Trudeau and the Liberals are not in power (yet).
If I may discern one thing from the panicked messages coming out of the CPC these days, it is almost as if they have accepted that Trudeau will win the next election. I understand (though I do not agree with) painting a picture of Trudeau as a bilingual son-of-a-hippie who is going to pump marijuana smoke into the vents of our children's schools; that is fear-campaigning. "Don't vote for him, because he will do XYZ".
But telling him that he will have to pry away your guns from your cold dead hands? If the Liberal leader is able to do that, that means so much has had to happen. (Unfortunately) your death machines are safe, for now. Now go back to making it easier for big oil (err- I mean the grass roots everyday middle class citizens) to release WHO-recognized carcinogens into the atmosphere, but do not forget to protect us from the dangers of a naturally occurring substance which has already been legalized in a few states in the US, and multiple countries around the world.
2) Be careful what you plagiarize
The line you so creatively borrowed from the late Charlton Heston, whose hands are probably just ripe enough now to pry away whatever gun he might have been buried with, had a little bit more constitutional justification.
The second amendment to the US Constitution, which ironically was passed 74 years before slavery was abolished in the thirteenth amendment (meaning the US was more eager to give their guns rights before black people), provides the constitutional authority for Mr. Heston to make such a profound statement. Gun-control proponents would be forced to "pry" because of the entrenched nature of constitutional rights, which cannot be retracted by simple legislative action (i.e. vote from the legislature).
Fortunately, I guess depending on your perspective, our constitution does not contain such an explicit right to bear arms. In case this news upsets you, and it really shouldn't since all this information is made publicly available on the same internet as this blog exists, you may wish to look into emigrating to Mexico, Haiti or Guatemala (and of course the US) as these are the only countries who have enshrined their citizens' rights to firearms. Be forewarned though, you will likely see an increase in visible minorities if you do choose to move.
Therefore, if any Canadian government wanted to take away any "law abiding" Canadian citizen's ability to possess a firearm, they would not necessarily need to pry it from your cold dead hands. First, they would send whatever police force over to your house. Next, they would let you know that parliament has since amended the Firearms Act, and you no longer possess any rights to own or possess a firearm.
Whatever happens next, again assuming you are a "law abiding" citizen, is your decision. You could choose to follow the rule of law, legislation passed by our democratically elected parliament, and give up your weapons. Or, you could be a criminal, disobey the law by possessing firearms illegally and resist your arrest, at which point the police would likely pry your gun(s) from your cold dead or tasered hands.
3) (BONUS) Seriously, what is with all the recent gun-lovin'?
I usually would give the same amount of attention to this type of conservative involuntary outburst that I normally do (which is about as much as I watch Big Bang Theory - whenever there is nothing on and I have given up trying to find the remote). However, I find it quite interesting that Mr. Calkins' statement comes just a few days after MP Rob Anders posed for his glamour shot toting his piece at a shooting range.
I don't know why the conservatives feel there is a war brewing on their non-entrenched rights (and I use that word very loosely - since the Firearms Act could be repealed as fast as we severed our ties to the Kyoto Protocol), but I do know that it is an uphill battle (for them).
Mr. Calkins, there will be no prying, there won't need to be. That's why we arm the people who actually need to be armed in this country, and we give them weapons which are prohibited to the general population. And please, out of respect for the estate of Mr. Heston, ensure you properly attribute the portion your speech to Mr. Heston, otherwise, as a law abiding citizen, you risk violating copyright laws.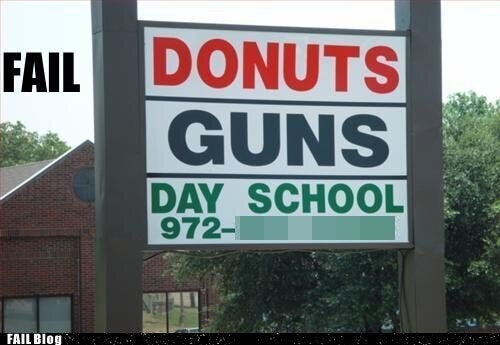 U.S. Places That Also Sell Guns