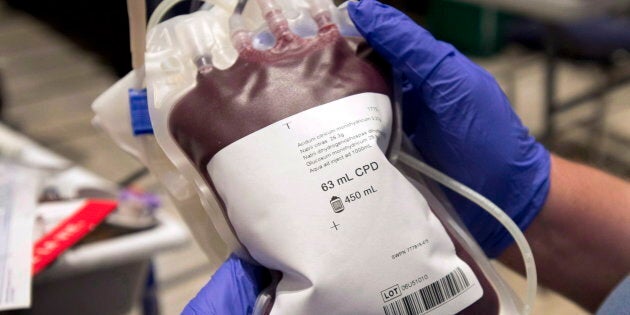 If you haven't donated blood in the last few months, and especially if you're Type O, Canadian Blood Services is urging you to consider doing it in the next week. The organization says a significant influx of donations before the end of August will be crucial to fulfill its transfusion needs — but the urgency of the call is causing some people to question the methods Canada's health authorities use in selecting donors.
'People go on vacations, the need for blood doesn't'
"Summer is kind of a slower time for blood donations," says Lilet Raffinan, manager of several GTA locations of Canadian Blood Services. "People go on vacations, the need for blood doesn't." Donations tend to decline in the summer when people are away from their usual routines. This is especially true during summer holidays, like the upcoming Labour Day long weekend, Raffinan says.
Blood donations are regularly used to treat people whose blood doesn't function normally, such as people with leukemia (cancer of the blood) or aplastic anemia (a condition where a person's body stops producing enough new blood cells). It's also used during heart surgery, or when people lose potentially fatal amounts of blood, such as in a car crash. Blood donations surged in Ontario in April, in the aftermath of the Toronto van attack, Raffinan says.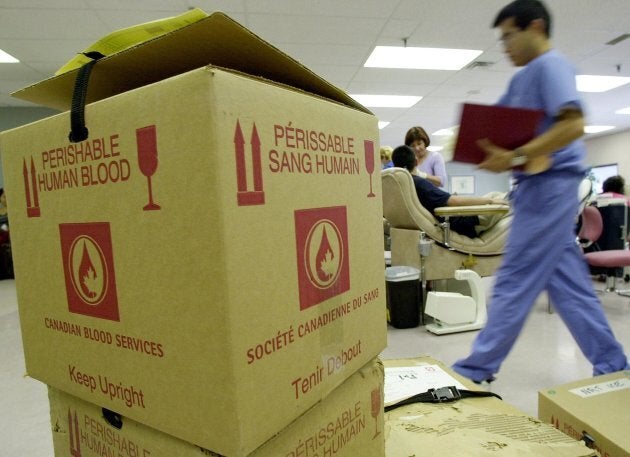 Some accidents are also more common in the summer — Toronto and Mississauga have seen an increase in car crashes in the last few months, according to Raffinan. She says treating patients for a single car crash can often require up to 50 individual blood donations.
Last week, CBS put out a call asking for 22,000 new donors by August 26. They need donations from all blood types, but are particularly seeking out donors whose blood type is O. O-positive blood can be donated to anyone with a positive blood type, while O-negative is the universal donor, and is often given by transfusion in emergency situations where doctors don't have time to check a patient's blood type.
Blood Services' inventory on both blood types is quite low: they only have two-and-a-half days' worth of O-positive blood, and only one day's worth of O-negative.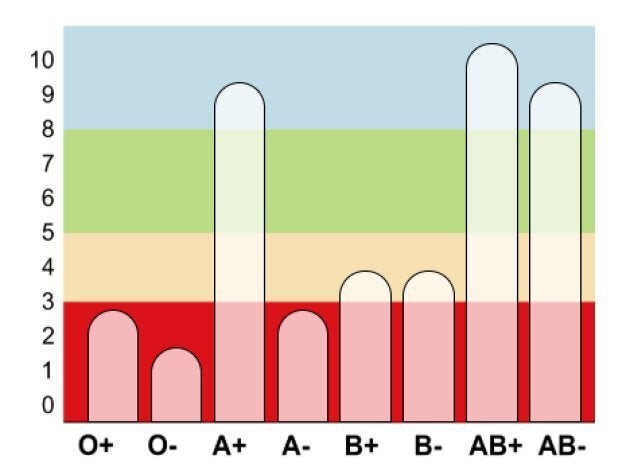 Most healthy adult Canadians are eligible to donate blood. People become ineligible if they have certain chronic conditions like Crohn's disease or lupus, if they're on some medications including Accutane or Etretinate, if they've spent time in certain countries at times when particular diseases were common, or if they've gotten a tattoo or piercing in the last three months. CBS lays out a full list of eligibility here.
Some donor rules have been relaxed
As of this past April, several eligibility criteria for blood donors have been relaxed, including the guidelines around tattoos and piercings, doing away with the upper age limit for seniors, and as well as the 12-hour wait to give blood after getting drunk or smoking weed.
Gay 'blood ban'
One group notably excluded from blood donor eligibility is sexually active gay men. After tainted blood was distributed in the 1980s, before there were viable tests for HIV detection, any man who had had sex with another man even once since 1977 was given a lifetime ban on blood donation by both CBS and its Quebec counterpart, Héma-Québec. In 2013, gay or bisexual men were allowed to donate once again — provided they had not had sex with a man in the last five years. In 2016, the timeframe was changed to one year.
The policy that blocks men who have sex with men (often abbreviated to MSM) is "clearly discriminatory," says Gary Lacasse, executive director of the Canadian AIDS Society. "Sexual orientation does not completely divulge the risk factor," he says. "It does speak a lot to stigmatization of the LGBT population."
"This policy is rooted in a bias," lawyer and human rights advocate Christopher Karas, who is gay, told HuffPost Canada. "I feel like I don't really have a purpose in society when I'm being turned away when I'm trying to help."
Marco Ouji, a communications officer at CBS, told HuffPost Canada in an email that the policy is not intended to be discriminatory. CBS and Héma-Québec are currently supporting research projects that he says "could evolve the current eligibility criteria for men who have sex with men."
CBS says they impose the one-year window on men who have sex with men because that's the demographic group with the largest proportion of new HIV infections. This is true in terms of a nationwide average, but also somewhat misleading: while 55.5 per cent of new HIV infections across the country represent men who have sex with men, those numbers vary wildly across the country, according to CATIE, a Canadian organization devoted to providing information on HIV and hepatitis. In British Columbia, Ontario, and Quebec, MSM accounted for just more than half of new infections, while in Alberta and Manitoba, about half of new infections came from sex between straight couples. In Saskatchewan, MSM is related to new HIV infection in only eight per cent of reported cases.
I'm a gay man. I'm married to my husband. Why can't I give blood?Gary Lacasse, executive director, Canadian AIDS Society
"That's where we take offence," Lacasse of the Canadian AIDS Society told HuffPost Canada. It's "completely untrue [to say] that MSM contributes to most of the cases, when it's a couple of percentage points higher. They're disregarding that at least 45 per cent of people who contract HIV yearly are heterosexual."
The Canadian AIDS Society, along with many other LGBTQ-friendly groups, would like to see CBS change to a model that evaluates the health risk potential donors based on their specific behaviour, not on their orientation. "I'm a gay man. I'm married to my husband. Why can't I give blood?" Lacasse asks. "A gay man and a straight man equals the same risk. We both have the same risk of contracting HIV."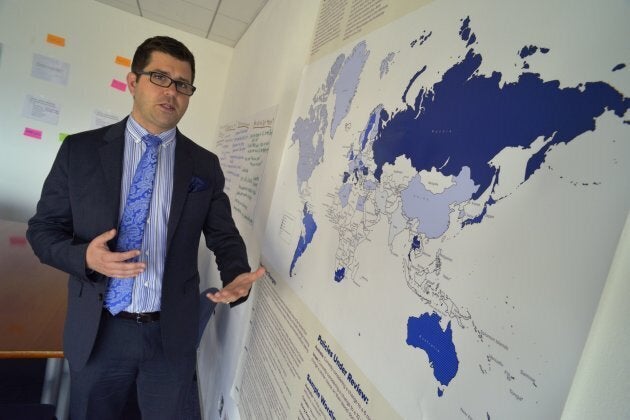 All donated blood is tested for HIV, regardless of who it comes from
All donations made to CBS go through antibody testing and nucleic acid testing to detect HIV. There is a brief window of time — approximately nine days — where newly-transmitted HIV will not be detected in the blood. Dr. Jonathan Angel of the Ottawa Hospital, an HIV researcher, explains that this means anyone who has contracted HIV within nine days of donating blood could potentially pass on the disease without knowing it. It's the same for everyone, regardless of their gender or orientation, he says. "The window is characteristic of the virus, not of the individual."
When asked if he thinks the MSM policy is discriminatory, Angel hesitates. The situation is "complex," he says, but in his view the ban is an example of CBS simply "fulfilling its primary role of protecting the population from known and unknown risks." But he also thinks the arguments against the ban are reasonable. "A lot of people are pushing the argument that for HIV, it should be less restrictive, as it is elsewhere. And if that's your focus, you're not wrong in arguing that."
Trans people can donate blood — in some cases
There are also different criteria for transgender people, in part because blood donors had traditionally been coded as either male or female and treated differently based on different risks associated with gender. That changed in late 2016, when CBS standardized their screening process for trans donors and updated their computer systems to account for more than two gender identities.
If they have not had lower gender affirming surgery, trans women who have sex with men are placed in CBS's "high risk" category because their HIV rates are higher than those of cisgender women. As a result, trans women who have not had surgery will be turned away from donating blood if they have had sex with men in the last year.
Both trans men and women who have had gender affirming surgery will have to wait a year after surgery before donating blood.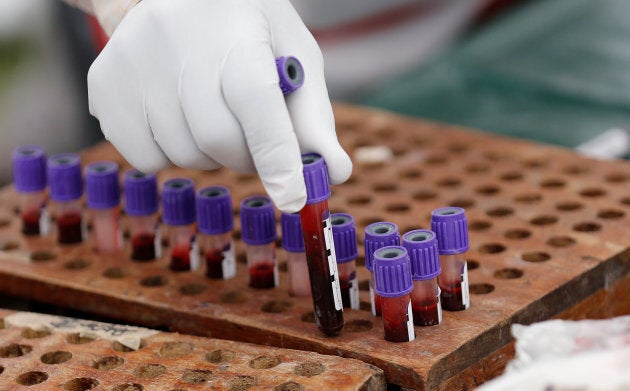 What's next?
Lacasse has been part of groups that have met with CBS to bring the one-year deferral period for MSM down to three months, which has been the policy in the U.K. since last year. That's only somewhat encouraging, because he says even a three-month ban relies on faulty logic. It's "not a complete removal of the ban," Lacasse says. "So that indicates that it's not behavioural-based."
Raffinan says CBS is committed to making progress, but that progress goes slowly. "The policy is being reviewed all the time," she says. For the ban to have gone "from indefinite to five years to one year is such a big journey."
Angel says he thinks the yearlong deferral policy will likely change to a three-month deferral soon, although he concedes that the numbers are fairly arbitrary. "Why not six months? Why not four months? Why not two months?" he says.
Lacasse also says he would like to see clearer guidelines and more respectful treatment of trans people. "We want to see respect for the transgender community," he says, adding that trans people have "enough issues [with discrimination] as it is."