Food brings families together -- and for the cast of "Blue Bloods," that is most certainly the case. In fact, most of its viewers would say it's the show's trademark, and what transforms the series from procedural to its own unique genre: a fully fleshed-out family cop drama.
"Blue Bloods" centres on the Reagan family, most of whom work in New York's law enforcement. There's Frank (Tom Selleck), the police commissioner; son Danny (Donnie Wahlberg), a detective; daughter Erin (Bridget Moynahan), an A.D.A.; son Jamie (Will Estes), a beat cop; and Frank's father, Henry (Len Cariou), the retired former police commissioner. Because of how closely linked their jobs are, the plots, more often than not, connect the criminal stuff to the familial.
Aside from the family ties and procedural aspect, which are gripping in their own right, what makes "Blue Bloods" so special is the family dinner that happens each week. Not only do the Reagans get together -- often butting heads as each member tries to get his or her point across -- it also gives the actors a chance to catch up with one another. HuffPost Canada TV was at the CBS International Press Junket in New York City, where cast members talked about their favourite part of the week and let the media in on some of their secrets.
Amy Carlson (Linda): "Tom has his own trick. You can't steal Tom Selleck's trick because that's just bad form. Once he called that trick, it was off limits. But Donnie's started to sneak it in occasionally."
Wahlberg: "Everyone has a technique for looking active at the dinner table. I'm learning. The next show I do, or the next movie I do, if I have to eat, I'm going to use Tom's trick. Tom picks up a roll or bread and butters it. So during all of his lines, he's just like this [pretends to be buttering bread] so he looks like he's having dinner."
Selleck: "He's telling my tricks? I eat. Everybody has their own style. It is a style we should all be aware of so we don't get into a rhythm that's predictable. One thing that's really tempting is to take a bite of food to punctuate the end of a line. I think you need to be aware of that stuff. I don't butter bread all the time, contrary [to what Donnie said] but I always make sure the butter is down at my end. So I can if I choose to."
Pity The Person Sitting Next To Donnie
Moynahan: "Donnie will eat anything. And he eats when the camera's not rolling. Then he complains about a stomachache."
Wahlberg: "I just made the silly mistake on the first scene of eating and that just became my thing. I don't have any tricks. Everyone has a trick, I don't have any tricks. I eat when the camera's rolling, I eat when the camera stops rolling. And when I eat string beans, for example, the kids will be like, it tastes better with salt, so I put some salt on it and it's so good that I just started eating and eating and eating and salt gives me gas so that's another problem. I see on Twitter, 'Gosh, he eats so much.' 'He never stops eating.' Next time I'm going to butter the bread."
Selleck: [Donnie] does eat a lot, much more than I do. He seems perfectly content to do that. If I'm eating a whole lot, I'd rather have a spit bucket. It's kind of gross but you can spit it out and still look hungry after eight hours of filming."
Can An Outsider Get An Invite To A Reagan Dinner?
Marisa Ramirez (Maria): "I don't know about that. Maybe if I drop by with some doughnuts or something for them."
Dishes They Hope To Never See/Eat Again
Moynahan: "There was a fish recently. You can't do fish. Fish will smell after a while and it doesn't smell good. I had to eat a moo shu pork calzone one time because it was written in the script so I had to keep eating it, commenting on it. That was not good and I will never do that again. I don't know why somebody came up with that concept, a moo shu pork calzone. You shouldn't combine the two."
What Makes Family Dinners So Special
Gayle: It's rare on a television show for almost the entire cast to be able to come together every eight days and see each other and just catch up on what's going in our lives as people, as well as to shoot the show. I think we have this familial bond on set as much as we do off set. It's great to have an incredible second family."
Cariou: "It's the uniqueness of our program that allows an audience to look at a family outside the workplace. When we did the pilot, the first scene that we shot was the family dinner scene. We were just meeting in the room the very first day. We did a little back story, trying to figure out what it was that made it unique because it was our executive producer, Leonard Goldberg's idea that we look at this family, to have a cop show where you really look at four generations of a family."
Selleck: "The first scene we ever shot was the family dinner, so it was like, 'How do you do, Will?' 'How do you do, Bridget? How do you do, Donnie?' I thought I was horrible and they were all really good and they all thought the same thing about themselves because it's pretty nerve-wracking. But I found out a couple things very quickly: They're really good actors and they're all good people too. You can work on an hour series and not see a fellow actor for a month, quite easily, because you're in different scenes telling different stories. In our show, once a show, once every eight days, we're going to all see each other so there's a lot of catching up, there's a lot of energy that is interchangable now.
My relationship with Bridget on-screen is very different than off-screen and we try not to let that infect the characters. But it feeds us and I really look forward, other than the eating, to family dinner because I'm gonna catch up with my friends. And that sense really helps us."
Wahlberg: "The family dinner scenes in the show, they're long, they take a long time to shoot, but it's really a great time for the cast to connect and talk and catch up. A lot of times the director's telling us to shut up because we keep talking in between takes, everyone's telling jokes. Tom has these funny jokes that he does every dinner scene, they're little stories, and each person at the table has to pick up on the gag and they all have a line that they have to do. It's just a great time. I think a lot of times the energy you see on screen in the dinner scenes is really helped by the love we have for each other when we're not shooting."
"Blue Bloods" airs Fridays at 10 p.m. ET on CTV and CBS.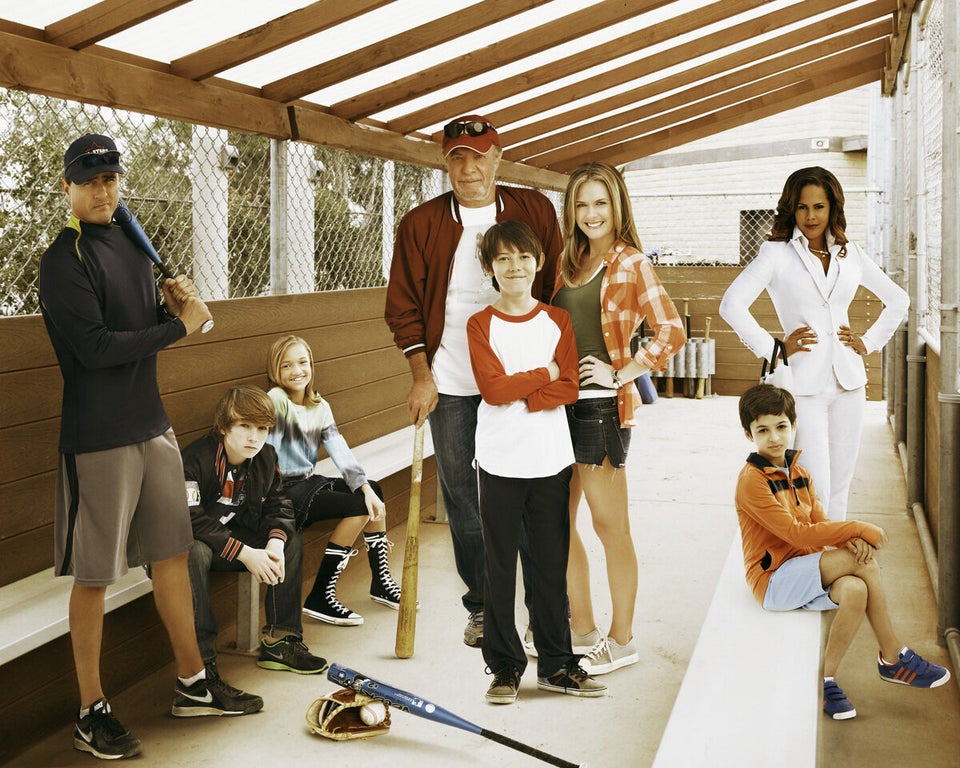 ABC's New Shows 2013-2014
Popular in the Community