If you want a glimpse of what it looks like when traditional partisan loyalties get scrambled beyond recognition, check out yesterday's epic Twitter dust-up between ex-Liberal boss Bob Rae and former immigration minister Jason Kenney over the issue of temporary foreign workers.
First, some background. Temporary Foreign Workers (TFWs) are, as their name implies, foreigners living temporarily (usually four years or so) in this country to do the various ugly work "Canadians won't," which runs the gamut from cherry-pickin' to burger-flippin'. There's about half a million of them here at the moment.
Big business-types love TFWs. They see them as a creative, market-driven solution to a lazy and spoiled domestic workforce. If, the argument goes, Canadians keep demanding higher and higher wages for unimpressive, unsophisticated work (which theyare), then it behooves any profit-minded boss to seek less fussy employees in other countries. Terrance Corcoran in the Financial Postmakes an analogy to free trade, which seems about right. At one time, Canadian businesses simply saved costs by outsourcing labor to the Third World -- today they bring Third World Labor to Canada directly.
The anti-capitalist left hates all this. They see the whole TFW program as the latest weapon brandished by big business in their long-running war to screw the working man out of a decent wage.
Writing in the Globe and Mail, Unifor muckity-muck Jim Stanford quotes all sorts of ominous figures indicating "what was supposed to be a 'last resort' program" is fast becoming Corporate Canada's new status quo. With "one in every five net new paid jobs created" over the last five years now filled by members of the TFW population, if you want to make the case for greater unionization of the private sector -- which has fallen to record lows -- TFWs are fast becoming exhibit A.
Everything seems neat and clean so far. Big business likes TFWs, unions don't. Pretty predictable left-right divide on the conventional economic spectrum.
Trouble is, Canada's political divide is defined less and less by economic issues these days.
Modern progressives, for instance, have slowly begun to sacrifice much of their traditional interest in workers' rights and central planning and whatnot in favor of "identity politics" -- the all-consuming obsession with crushing and censoring any opinion, act, or policy that whiffs of disrespect or intolerance for what we now fashionably call "marginalized groups," particularly racial minorities.
Modern conservatives, meanwhile, have an equally large and powerful faction far more interested in so-called "culture wars" -- defending the traditional norms, values, and institutions of Judeo-Christian bourgeoisie Canadian society from postmodern revision -- than capitalism per se.
And thus we return to Rae and Kenney.
Ignoring economic arguments altogether, Ontario's one-time socialist leader angrily tweeted that the "TFW issue has roots in Reform's anti-immigration bias," adding that the Tory government's "explosion in [the] 'temporary' category is all about segregating and excluding."
Rae was implying, as many progressives have, that TFWs form an offensive underclass -- but one of identity, not income. These foreign workers are not citizens, they're not permanent residents, they're nothing -- except unloved brown people huddling together in search of dignity. The tragic victims of cruel "othering," as sociology-types are fond of putting it.
It was a good progressive retort, and probably a good capitalist one, too. But such responses are problematic from a conservative culture war perspective, as Kenney's handling of the immigration file often was in general.
Today most conservatives (hell, the vast majority of Canadians) supportlimits on immigration for the simple reason that they see significant social costs associated with an ever-more diverse society, particularly one that officially discourages assimilation in favor of anything-goes multiculturalism (which also polls quite poorly, incidentally).
Helping factory owners shave a few bucks off their bottom line isn't the only cause animating the modern right -- they fret just as much about a country that's increasingly defined by ethnic ghettoization, declining rates of English fluency, growing ignorance of Canadian history and customs, theocratic chauvinism, and other unsettlingly familiar phenomena of social and cultural disunity sewn by endless immigration from the global south.
So here's where we stand:
Progressives have to somehow make the case against the growing presence of low-wage foreigners in the country while simultaneously avoiding any rhetoric that remotely resembles xenophobic judgement against the desirability of foreigners in our midst.
Conservatives, for their part, have to defend business' right to pursue its capitalist self-interest without sounding like post-modern "invite-the-world" sell-outs to their traditionalist base.
In short, it's getting increasingly impossible for any self-respecting partisan to take a coherent position on immigration without coming off as a heretic in the eyes of some of his ordinary allies.
Immigration is the debate that exposes ideological hypocrisy and inconsistency like few others -- which is probably why we rarely have it.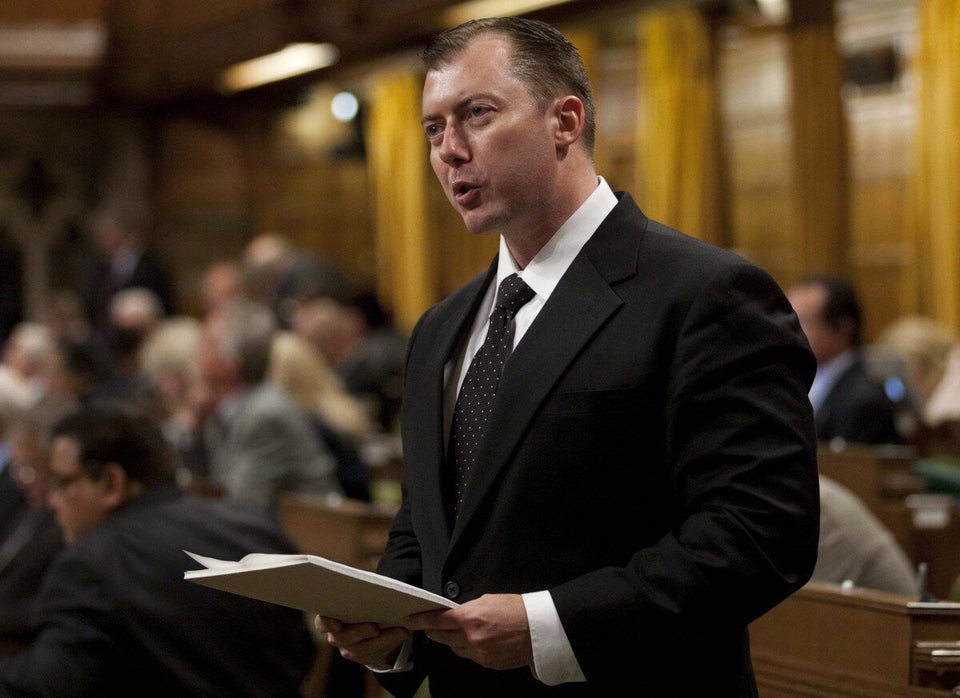 Former Reform MPs In Harper's Government