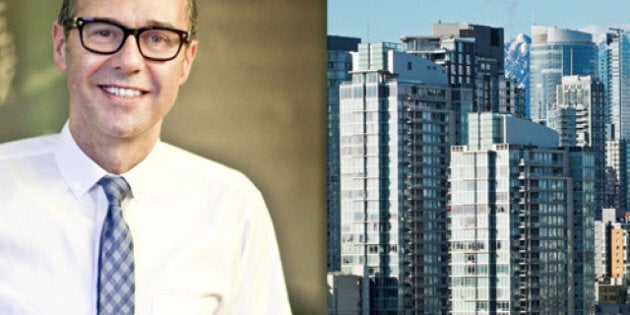 Talk of Vancouver's housing bubble and affordability crisis are overblown, says the city's most influential real-estate marketer.
Bob Rennie, who spearheaded some of the most pivotal — and controversial — real estate projects in the city over the past four decades, said a minority of high-end sales are skewing figures for the average home price. When you strip away luxury sales, which have "nothing to do with the local market," a very different picture emerges, he said.
No doubt, Rennie, also known as the "condo king," has a vested interest in touting the strength and affordability of Vancouver real-estate, particularly as recent data suggest that Canada's hottest market could be headed for a cold snap.
But his civic engagement, relationships with high-ranking politicians and personal success — his company, Rennie Marketing Systems, generated $1.15 billion in sales last year — gives him a unique perspective on what's happening on the ground floor.
As he told The Huffington Post, you can't know the local market until you dig into the numbers, and consider how major shifts in the buying patterns of boomers and the development of affordable housing on transit lines have already changed the game.
But when it comes to his legacy, Rennie, a prolific collector and founder of the Rennie Collection is currently championing a unique vision for the redevelopment of the Vancouver Art Gallery, says, "I'd like to be known for the art and museum more than real estate."
Vancouver's real estate prices have earned it a reputation as one of the least affordable places to live in Canada. What do you make of that assessment?
If you took the condo sales for 2011, the average condo was $490,000 [and there were] 21,000 sales. But if I took out the top 20 per cent, the average drops to $313,000. So what's happened is those high-end sales in greater Vancouver are being lumped into our averages and that's giving us the moniker of the most expensive place to be.
So I'm putting fences around those areas that are fuelled by offshore and the crazy high-end sales because they have nothing to do with the local market. When you start to look at having a supply of 16,000 plus condos with an average of $313,000, that you need an average income of $52,000 [to buy] it works out fine. When you look at single-family housing, I think the average is $880,000 but if I take out the top 20 per cent, that drops to about $660,000.
There's lots of supply in the range that local incomes can handle, but the problem is that we're all comparing that we want to be in [neighbourhoods like Toronto's] Rosedale and Forest Hill, and first-time buyers can't get there.
You have said that to improve affordability, planning should be more regionally focused. What do you mean by that?
The mayor of Vancouver is trying to create rental stock and has a taskforce on affordability, but I do have a concern that we trying to solve it all on the most expensive land in Canada. Why don't we look at the region and make affordability a regional solution? When you start to look at Surrey, they have in the permit process 18,000 condos coming. So let's look at spreading that affordability out. First-time buyers all want to live at centre-ice, but maybe you're going to have to do that in two or three moves.
The trouble is you have mayors and councils, they all want to get reelected so they all want to carry the flag that they solved it, but I think that we're going to have to do it holding hands together.
There's been a lot of bubble talk in Vancouver lately, but I understand that you aren't buying it.
We really dug into it and looked at the population from 55 to 74 years old. In Greater Vancouver they're sitting on $88 billion in clear-title housing stock. And that 55-to 74-year-old, they're very risk-averse right now. They don't have the money left [in their other investments] that they thought they'd have. So I believe that aging baby boomers are no longer going to buy up like they used to.
That $88 billion, it was worth $66 billion in 2006. And even if it comes off a bit, that demographic is going to be buying down. They're going to start spreading the wealth and helping their kids while they're still alive because their kids can't do it without them. That's going to be a lot of money that's going to move around the region, and that shows me a lot of buyer support.
It sounds like you're forecasting a fundamental shift in buying patterns.
If you look at the Occupy movement, we should all start to understand that the 99 per cent now have a voice. The 1 per cent don't control it anymore, and that's going to control how we develop communities.
The baby boomer is so automobile dependent because they needed it to socialize. Today youth does not need a car to get a date. Everything is done on their iPhones. It's just a completely different culture. We're really trying to tie that into our product design. Is youth going to be as competitive with the jewelry of home ownership as their parents were? I don't think they are.
But what to do with all this? That's the challenge.
What will happen to the city's real estate market when interest rates rise, as they inevitably will?
We surveyed almost 2,000 [condo] pre-sales from Surrey all the way to Vancouver [in 2011] and only four per cent of sales had less than 15 per cent deposits. So you've got people sitting with real equity in their purchases.
The markets are giving us lots of notice of what's going to happen. People are starting to hedge and take five and seven year mortgages. But I don't think we're going to get out of bed and have a three per cent interest rate hike, so if rates go up a quarter per cent, if rates go up a half per cent, we're going to get warning.
The soundbites outweigh logic right now, and we're all looking for every reason we can to say the sky is falling. But I think that real estate in Vancouver is looked at as a treasured asset. There's a culture of that here that you cannot rip apart.
Has foreign interest in the city's real estate from buyers in China and Hong Kong made the market more vulnerable?
If you look at Asian culture, it's long-term. It's not the short-term flip. When people are buying in [the city of] Vancouver as passive investors, you have to put 35, 40 per cent down to have the rent cover the mortgage and one of your maintenance fees or your taxes, so it is longer term.
The conservative estimate is that we'll have 94,000 people move here in the next 14 years. That's 35,000 more doors that are needed in the city, and that's just Vancouver not Greater Vancouver. And we're out of land, and nobody builds rental property. So the passive investor is secured knowing they'll have a tenant. Everybody's buying for long-term capital appreciation.
Whether it's having lunch with former mayor Larry Campbell or placing calls to high-placed city officials to get projects approved, you've had a lot of influence in Vancouver — a lot more than some might expect from a real estate consultant.
I've done this for 37 years, so I've always stayed politically engaged, civically and provincially. Larry is a buddy.
I took it upon myself that I can't just benefit from the city, I have to give back and the only way to give back is through engagement. My job, I've always felt, is to dumb down a room and really bring out some common sense issues.
When we sold out Marine Gateway in March, 414 units sold in a day. It was on the Canada Line. Twenty per cent of the product didn't have parking. I actually phone the city manager and I said, "Screw the planning department, and screw the community groups. The consumer has spoken. They want to live on transit, and they'll buy without parking." I think that our elected officials need to hear what's really going on.
In areas like the Downtown Eastside, it's, "How can I make everybody else understand that we can have change without gentrification?" I feel I'm the one that has to do it.
Is that why you spearheaded the Woodward's project, which is now seen as a major turning point in the controversial redevelopment of that area?
I have a belief that I can move the fortunate in with the less fortunate as long as I have housing stock zone and legislated in place forever for the less fortunate. I can't move the less fortunate in with the fortunate. It doesn't work. That housing stock is all zoned and in place for the rich and they bought knowing it was there.
Woodward's was such a success with 200 non-market [social housing] units and 536 market [units], that the community groups have come out with the virtual hard stop to any development in the area. But Woodward's shouldn't sit in isolation. It's not that we need more Woodward's but we need bite-sizes of it, where the fortunate and the less fortunate walk down the street together.
That's why I championed SFU [Simon Fraser University's School for the Contemporary Arts] being [housed] there, because the students are probably the best bridge between the fortunate and the less fortunate, between the street and the tower.
Which upcoming projects are you most excited about?
Transit-oriented is big. We've got 1,100 units coming late this year at the Joyce SkyTrain station in the southeastern part of Vancouver, and 400 of the homes are under $349,000. I think the market will really like that.
And then on the other side, at 57th and Granville Street, at the old Austin C. Taylor Estate, we're going to put in just over 500 townhomes and condominiums on the 10 acres there. There will be four homes in the mansion. I expect I'll move there. I'm absolutely in love with it.
So those are two extreme ends of it.
You're 56 years old, but it doesn't sound like you're getting ready to retire.
No. Because of my museum in Chinatown, I have 20 years of collecting left to do. I'd like to be known for the art and museum more than real estate. I think that shaping it [the city] on the arts and culture side would be a great challenge. You end up only being known for the last thing you do anyways, so maybe it will be the arts and culture side.
So you're essentially staying in the real estate game to finance your art collection?
Absolutely. You know, I'm not a developer. My clients have made a tremendous amounts of money, and they've been good to me and life's been good, but we're way over our ski tips for what we do in the art world around the world. I want to stay participating.
CORRECTION: An earlier version of this story identified a former premier as "Larry Campbell." Larry Campbell is, in fact, the former mayor of Vancouver.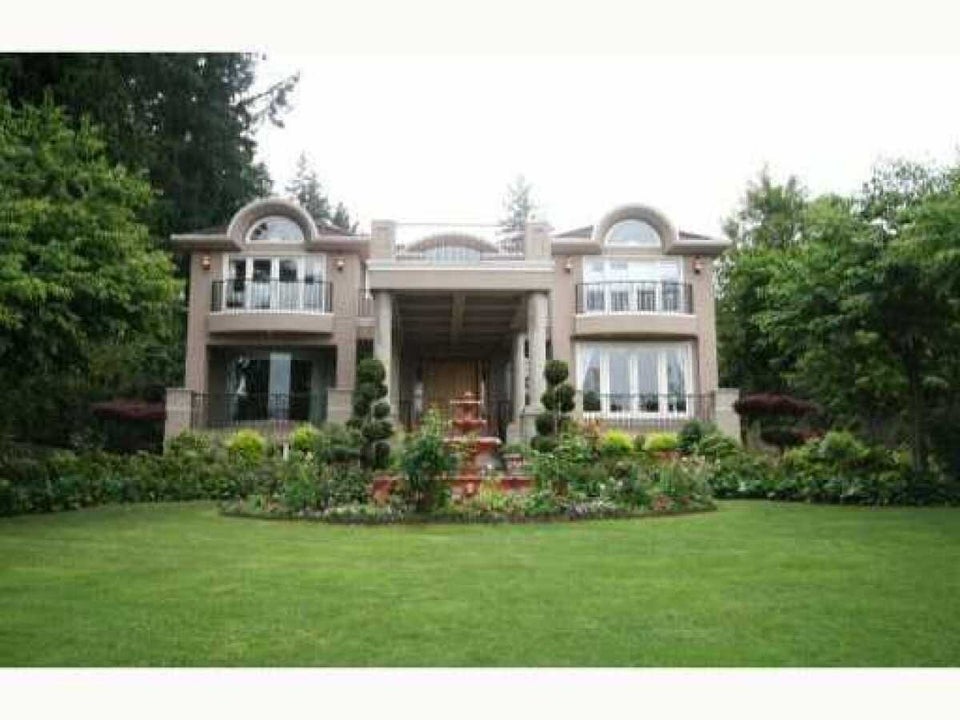 Most Expensive Houses For Sale In Canada - June, 2012