B.C. should tax homebuyers who sell properties within months of purchase to discourage speculation, says a high-profile Vancouver condo marketer.
"It's not about foreigners. It is speculation we should be concerned about," Bob Rennie told more than 1,000 people at a downtown Vancouver hotel ballroom on Friday.
The speculation tax would be "a visible, measurable gesture," perhaps with the rate dropping the longer someone owns the home, suggested the owner of Rennie Marketing Systems. The money collected from the tax could then fund grants of $5,000 to $15,000 to help young, first-time buyers.
He added that the financial aid should only go to people who can prove they don't have parents with the means to help them with down payments.
Vancouver Mayor Gregor Robertson supports Rennie's idea.
"We definitely need taxation tools that discourage speculation on real estate. It's clear that rampant speculation on real estate is driving up prices in Vancouver," Robertson said in a statement.
On top of pushing for provincial action, Robertson has been lobbying for the federal government to return to funding affordable rental housing.
"Their complete absence in supporting low and middle income housing is making it extremely difficult for people, especially young people, to live and work in Vancouver," he said.
A Vancity report this week said salaries are not keeping pace with Vancouver's runaway real estate prices, leading to an exodus of millennials (those born between 1980 and 2000). The current household income of $123,000 needed to pay for an average mortgage in the city will rise to $197,965by 2025, said the study.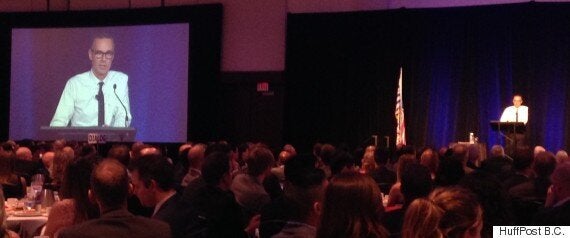 Rennie also stressed that supply is drying up in Vancouver, which is no longer creating new single-family homes, and challenged developers to build a lot of density all at once to cool down prices.
"If we don't change things from today's climate [of] 'I want a detached home' in a city that can't provide it, we could end up with our worst fears of Vancouver only as a resort city," he said during the hour-long address.
Rennie said that he hates "the racist undertone that is rampant out there" in discussion and debate about Vancouver's housing market.
"The conversations aren't about foreign. We all know it. They are about China," he said.
According to polling data commissioned by his company, Rennie said 61 per cent of Asian baby boomers are helping their kids with home purchases, compared to 42 per cent of non-Asian parents.
"So it's all of these Asian hipsters buying. We say they're offshore, but they're local."
Rennie said he does not support a housing sales tax on foreign investors because it would send a negative message to overseas businesses in the needed technology, manufacturing, or liquefied natural gas sectors that they could be targeted to.
Rennie's annual speech to the Urban Development Institute is scrutinized by the real estate and development industry.
Rennie is known as the "condo king" who started his career as a real estate agent and worked on the Olympic Village re-development. He brushed aside criticism that he's trying to drum up condo sales, saying, "it's the least of my worries."