The Conservative incumbent in the northern B.C. riding that includes the so-called Highway of Tears said "a lack of a job" is one of the reasons for missing and murdered aboriginal women.
Several of those incidents happened along a notorious area of Highway 16 between Prince Rupert and Prince George.
"If I thought an inquiry would save one life — one life — I absolutely would do it. There's already been 42 studies that have been done," answered Tory incumbent Bob Zimmer at the event in Fort St. John. (Watch video above.)
He pointed out a recent RCMP study that looked at the issues and causes behind the cases, then said: "One of the major drivers of missing and murdered aboriginal women is lack of economic activity or, simply put, a lack of a job."
"We have tried to do things where we bring economic activity or jobs to reserve, and different other legislation to see that through. And ultimately, when people have a job, they're not in despair and they can stay on reserve and that's where we want them to be. We want them to be happy where they live. And go from there with their families.

I know a lot of them don't want to move off reserve — they want to stay there and I support that. We just want them to be able to live there happily and healthy."
"So we had almost 1,200 women murdered because they didn't have a job? And if they wouldn't stay on the reserve?" Dickie asked incredulously.
"Women are still going missing today," she continued. "They're still being murdered. Again, the 42 studies, they obviously have not worked. We need an inquiry to get to the root causes of those things."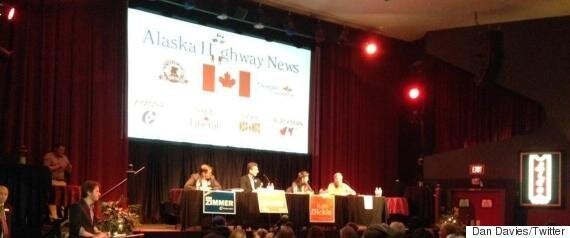 The debate at the Lido Theatre in Fort St. John, B.C. was organized by the Alaska Highway News. (Photo: Dan Davies/Twitter)
In rebuttal, Zimmer asked Dickie — a Fort Nelson First Nation councillor and former chief — if she had actually read the RCMP study.
"As an aboriginal woman, I live the life of an aboriginal woman," Dickie replied to applause from the crowd. "There are four women in my community that have been murdered and without those cases being solved."
When Zimmer asked again if she had read the "very comprehensive" report, Dickie said, "I don't need to read it because obviously it has not worked — there are still women missing and being murdered."
Liberal candidate Matt Shaw said, "The fact is, it's a bloody national emergency. It's a genocide on a small scale," adding that the government needs to take action.
Conservative Leader Stephen Harper has been firm in his refusal to host an inquiry into Canada's missing and murdered aboriginal women, saying Tuesday that it's "way past the time" to study the issue.
NDP Leader Thomas Mulcair and Liberal Leader Justin Trudeau have both pledged to start an inquiry, should they form government on Oct. 19.
On Tuesday, a former Conservative MP from B.C. suggested that women who went missing or were killed along the Highway of Tears were "putting themselves at risk" by engaging in "risky behaviour" like hitchhiking.
John Cummins, who represented the Delta—Richmond East riding for 18 years, was part of a political panel on CBC Radio discussing why aboriginal issues have not been more prominent in the current federal election campaign.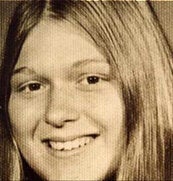 Highway Of Tears - Missing And Murdered Women