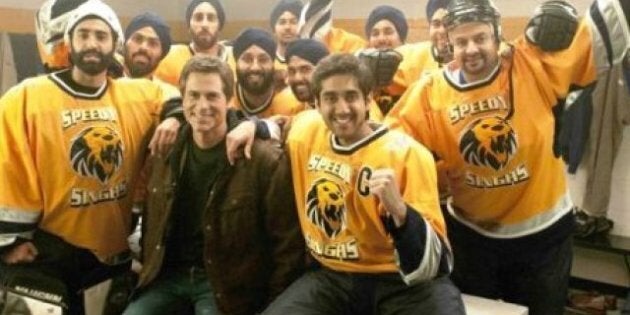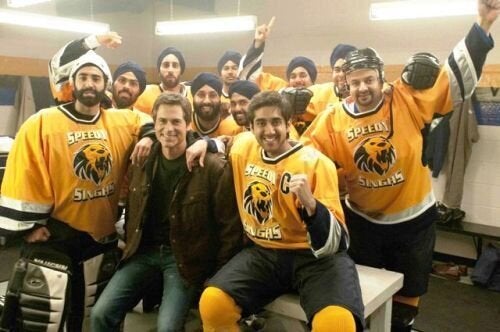 As the IIFA's unfold in Toronto, Bollywood and Canadian cinemas seem to be a natural fit, as seen in the 2011 film Breakaway, which will be released this September.
Breakaway, the 2011 film produced by Indian-born Canadian Ajay Virmani, has something for everyone, regardless of which 'wood' you associate yourself with, be it 'Holly' or 'Bolly'. Written by Vinay Virmani, Breakaway is set in Toronto, Ontario. It tells the story of a young man, Rajveer Singh (played by Virmani himself), who is torn between the traditional Sikh Indo- Canadian cultural expectations that are placed on him, as well as his major dreams of becoming a local hockey star.
Virmani wrote a script that goes beyond a cliché hockey romance; it challenges stereotypes of identity and race. With a star studded cast including Rob Lowe, Camilla Belle and Anupam Kher, The film has something for everyone, regardless of your culture or geographic location.
Bollywood has always had a strong following in Canada. North American viewers make up approximately 25 per cent of Bollywood's international revenue. Because of this international viewership, discussions about a co-production treaty between Canada and India began to brew last September. This treaty would increase Bollywood productions in Canada, creating a ripple effect of jobs for the Canadian population and promoting Canada as a desirable tourist destination.
Blurring the boundaries between Hollywood and Bollywood, Breakaway brings Bollywood flair to Hollywood actors, all while showcasing Toronto and its unique Indo-Canadian population. It can be considered a 'Bollywood integration film,' merging the two film markets. Vinay Virmani, writer and star of the film, talks about the integration of markets that is now applicable to the entertainment industry. The bold lines which once separated Bollywood and North America are now disintegrating, showing signs of globalization.
Virmani states, "It is exiting to see that the entertainment industry is now integrating different cultures."
Actors of a certain descent are no longer bounded to act in their country of origin; people can move within different industries. The audience that Breakaway will attract will be incredibly diverse. "It's going to be a great mix of different people," says Virmani.
From Bollywood fans, to Canadians in search of a feel good hockey film, to cinophiles looking to get a glimpse of famous Hollywood stars such as Lowe and Belle. No matter what your initial reason for seeing the film is, you will leave having experienced the mixture of two different film worlds, and cultures.
As most great Bollywood films do, Breakaway ends with a closing scene of choreographed song and dance. Where it differs from other films is that these highly skilled dancers and singers are recognizable to most North American viewers; the famous rapper Ludacris, shares the stage with Bollywood sensation Akshay Kumar. Not who you would expect to see groovin' side by side, the pair once again prove that when Indian spice is brought to Canadian cinema, people across the world will be watching in awe and excitement.
Photo courtesy of Vinay Virmani