ESPN host Bomani Jones put on a masterclass in starting a discussion about racism in sports Thursday.
And all he did was wear a T-shirt that had white people all hot and bothered.
Jones, host of "The Right Time," was filling in on "The Mike and Mike Show" when he wore a "Caucasians" shirt, which is a spoof of Chief Wahoo, the Cleveland Indians mascot and a caricature of a Native American.
Co-host Molly Qerim asked Jones why he wore the T-shirt, and his answer was simple: "It was clean."
He noted that the tee is just like the Indians' jersey, though the team's name has been replaced with "Caucasians." The mascot was also given paler skin with a dollar sign replacing the feather.
"To have a problem with a logo of this would be to have a problem with the Indians," Jones said. "But if you're quiet about the Indians and now you've got something to say about my shirt, I think it's time for introspection."
The shirt generated plenty of chatter on social media, with some opposing Jones' wardrobe choice, while others applauded him.
Later in the segment, Jones' hoodie was partially zipped up to cover the shirt.
According to TMZ, ESPN said that, "As the show progressed, we felt Bomani had made his point and had openly discussed why he was wearing the shirt, and we wanted to keep the focus to the topics of the day."
Two years ago, a letter to Ottawa's Westfest Music Festival complained that Ian Campeau of A Tribe Called Red, an indigenous EDM group booked to play the event, had worn the same "racist" shirt.
Campeau posted the letter on his Instagram, and Westfest organizers said they received "way, way more positive feedback" over the shirt than negative comments.
Shelf Life Clothing, which made the shirt about a decade ago, said it saw a spike in sales after Campeau wore it.
"He's fulfilling the intent of the shirt, which is an indigenous person flipping the role instead of having a grinning Indian on a white guy's shirt," designer Brian Kirby told HuffPost Canada in 2014.
"The prophecy for the shirt was fulfilled years after it was created."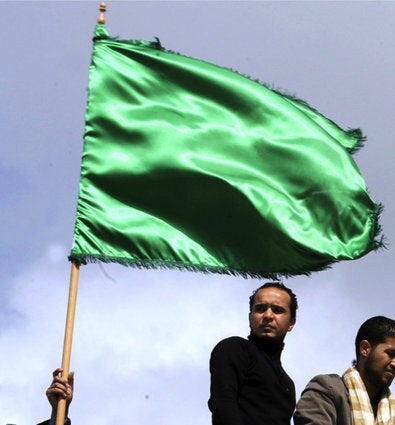 How Racist is Your Flag on a Scale of 1 to Confederate?