While all eyes are on the athletes at this year's Olympic games in Rio, our attention has turned to Boomer Phelps who is truly winning with all his epic onesies.
The three-month-old son of Olympic gold medalist Michael Phelps showed off his latest outfit on Wednesday. Decked out in a Team Daddy onesie, patriotic pants and little gold booties, the wee one cheered on his famous father on day five at Rio.
"Way to go daddy!!!! #usa #rio2016 #pantsonfleek," the photo was captioned on Boomer's own Instagram account.
But this isn't the first time Boomer has stolen the spotlight (and our hearts) with his onesie game. We first took notice of the baby boy when his mother, Nicole Johnson, posted a photo of him sporting Olympic gold back in July. The sweet snap instantly melted our hearts.
And luckily, the adorable outfits didn't stop there! Since then Boomer and his mom have been posting non-stop photos of the wee one slaying with his Olympic fashion.
Just take a look at Baby Phelps decked out in his Team USA gear:
Even his diaper is patriotic.
And here he is sending Papa Phelps some positive gold-medal vibes.
Of course, no Olympic season would be complete without Boomer sporting his dad's personal logo, MP. Clearly, the baby boy is his dad's number one fan.
Seriously, could this kid be any cuter?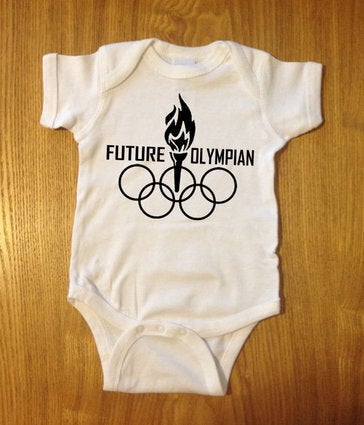 Olympic Baby Onesies That Win Our Hearts