Peaches no longer lives in Toronto, but that doesn't mean she's not concerned that her beloved city is being run by an alleged crack-smoking mayor.
During a recent visit home for a screening of her quasi-autobiographical transsexual musical "Peaches Does Herself" at the LGBT Film Festival, she teamed up with electro duo #entertainment to record a send-off for the city's embattled mayor titled "Bored of Rob Ford."
Ford has made international headlines — and fodder for Jon Stewart, Jay Leno and Jimmy Kimmel — after journalists from Gawker and the Toronto Star reported being shown an iPhone video of him appearing to smoke crack. Rob Ford has responded to the allegations by saying "I don't use crack cocaine nor am I an addict of crack cocaine."
"It couldn't be avoided," Peaches told Huffington Post Canada of how she first heard about Ford's crack video scandal. "It was world news and then I landed in Toronto and it was everywhere. Rob Ford is a complete idiot and a horrible representation of Toronto. No class."
The song is mainly sung by #entertainment's DJ Betti Forde, former member of the band Stinkmitt which toured with Peaches and Eagles of Death Metal in 2006 and also cut a song with her called "Fan Etiquette." The two have been friends for at least 10 years.
"We were just having a good laugh about the whole thing," Peaches adds of the quick recording session in Forde's bedroom. "I love how we got some 'Tears Are Not Enough' lyrics in there."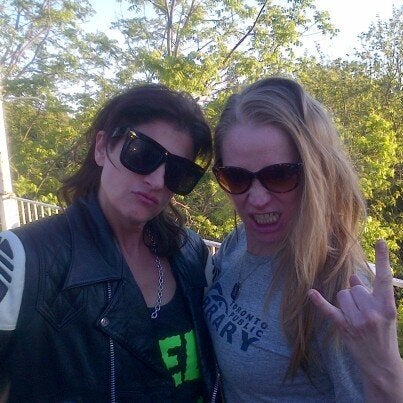 Produced by Ryan Carroll and written by Forde, the electro-rap song pays homage to Canadian pop-culture like 1985's Ethiopian famine relief single "Tears Are Not Enough" and fictional hoser brothers Bob & Doug McKenzie, but it also references some other serious allegations that have been levelled at Ford by the media and detractors.
"If we take a stand, every woman, trans and man / This is Peaches with a Public Cervix Announcement: Rob Ford, take off eh, ya hose-head!" Peaches says on the track, mashing references to Canadian New Wave legend Carole Pope and American "sexecologist" Annie Sprinkle as well as Bob & Doug.
Forde, whose real name is Maren Hancock, wanted to do this track last summer because Mayor Ford has famously opted to go to his family cottage each year instead of attending Toronto's Pride Parade, which draws a million people.
"I was supposed to make it with Lady Miss Kier from Deee-Lite and perform it with her at Toronto Pride last year, but it was just too difficult to organize with her summer tour schedule," says Forde.
"So this year I had just started a new project called #entertainent with DJ and producer Dislexia and I asked if he'd be interested in doing a Rob Ford protest song, since we'll be performing for Toronto Pride on June 28, then I heard that Peaches was coming for the LGBTQ film festival and I thought, 'It would be awesome to have Peaches on the track because I'm sure she doesn't like Rob Ford anymore than I do,'" Forde laughs.
Dislexia made the beat in a few hours, Forde stayed up all night writing the lyrics, then a few days later Forde saw Peaches at the festival after-party. "I sang and rapped her the lyrics over this super-loud music and said, 'Hey, we need to do a song,' and she agreed." Forde recorded her vocals earlier in the weekend, and on the Sunday Peaches, Joel Gibb of the Hidden Cameras, OUT TV's Michael Venus of the show "The Face of Furry Creek," and friend David Carter all showed up to contribute additional vocals.
"We had a blast working on this," says Forde. "We didn't want the track to be too venomous. We wanted it to be humorous as well as cathartic."
Completed within a week, the clean version of "Bored of Rob Ford" is now for sale on iTunes with all proceeds going to local sex-positive agencies, such as the Toronto Hassle Free Clinic. The explicit version — which includes a line about Ford's sister effing a KKK member — can be heard on YouTube.
A video, produced by cultureshock.tv, is premiering right here on HuffPost Canada Music and features footage of the whole gang recording the track in Forde's bedroom, along with an animated Rob Ford monster tearing up Toronto.
Popular in the Community