BOSTON ― A week after a white supremacist at a rally in Virginia killed one person and injured more than a dozen others, thousands of counterprotesters in Boston turned out to oppose participants of a self-described "free speech" rally with a message of their own: White supremacy has no place in this country.
Crowds marched to gather at the historic Boston Common park, where the rally was being held, with swarms of people chanting "make racists afraid again" and "who defends the Nazis? Trump defends the Nazis!" The rally remained peaceful, and the number of counterprotesters dwarfed the dozens or so of those who came in support of the event, organized by members of the so-called "alt-right."
One aerial video of the demonstration appeared to show "free speech" protesters gathered under a veranda with a large crowd of counterprotesters standing across the lawns surrounding the park.
On Twitter, President Donald Trump slammed the rally as having "many anti-police agitators." Later, he praised the protesters in Boston, but did not specifically identify which group of demonstrators his message was intended for.
"I want to applaud the many protesters in Boston who are speaking out against bigotry and hate," the president tweeted. "Our country will soon come together as one!"
Boston police said they made up to 33 arrests by the evening. There were reports of scuffles between police and protesters as thousands flooded the streets outside Boston Common after the rally.
Organizers of the Boston Free Speech Rally, including Fitchburg State University senior film major John Medlar, stressed that the intention of the event was to "maintain that every individual is entitled to their freedom of speech and defend that basic human right."
In a Facebook post, the group added that it would not be "offering our platform to racism or bigotry" and has repeatedly disavowed any connection with the Charlottesville, Virginia, protesters.
There was some confusion Saturday when Medlar didn't immediately show up. Police delayed allowing demonstrators to enter their permitted part of the park.
Ron Villareale came dressed in vintage soldier clothing for the free speech rally. He said the violence in Charlottesville has "nothing to do with Boston, it was a thousand miles away."
Villareale said he didn't know who the speakers were for the right-wing event, but he decided to show up and defend free speech.
He carried a sign with him but refused to show HuffPost.
"If there's six KKK members in the entire state of Massachusetts I'd be surprised," Villareale said. "This isn't a Klan rally."
Odell Ruffin, a 58-year-old black Bostonian who showed up to protest, said he's "tired of the BS."
"Here they don't have their torches, their shields, they don't have cans of tear gas. They say they want to make this country theirs. It was never theirs," he said. "They don't own this country. Slavery is over but they want it to still continue. I guess it's one of those situations where they feel cheated that they've lost something they stole."
Just a couple of hours into what was supposed to be a nearly five hour rally, the alt-righters gave up and went home.
After the "free speech" rally was abandoned, Boston Police Superintendent-in-Chief William Gross told counterprotesters to remain positive and celebrate their victory against hate. He also told the anti-racism demonstrators that he was proud of them.
"They want to put us down because of what we look like, our lifestyles, where we came from ― it's not happening in Boston," Gross said in front of reporters.
Despite the rally promoters' assurance that bigotry wouldn't be accepted Saturday, Augustus Invictus ― a known Holocaust denier and an organizer of Charlottesville's white supremacist rally ― was invited to attend the Boston rally, but later pulled out.
"We're inviting him to speak about First Amendment issues," Medlar told CBS Boston regarding his decision to include the conspiracy theorist. "Some people can be wrong on some issues and right on others."
The issue about which Invictus happens to be wrong is the slaughter of millions of Jews and other groups at the hands of Nazis. Invictus also spoke at the group's last rally in May, telling those present to arm themselves for the coming civil war.
The member of "Proud Boys," a group known for brawling with antifascist protesters, told WBUR his appearance was ultimately canceled.
"The right doesn't threaten rallies to shut them down," Invictus told WBUR. "The right never threatens violence. The right only responds with violence when attacked."
Gavin McInnes, who heads the Proud Boys, and internet provocateur Tim "Baked Alaska" Gionet were also scheduled to speak but later backed out.
Last week, a car driven by a white nationalist mowed down more than a dozen counterprotesters in Charlottesville after neo-Nazis swarmed the city. Heather Heyer, a 32-year-old paralegal passionate about social justice, was killed.
Heyer's mother, Susan Bro, said at her daughter's memorial service that white supremacists "tried to kill my child to shut her up."
"Well guess what?" Bro said. "You just magnified her."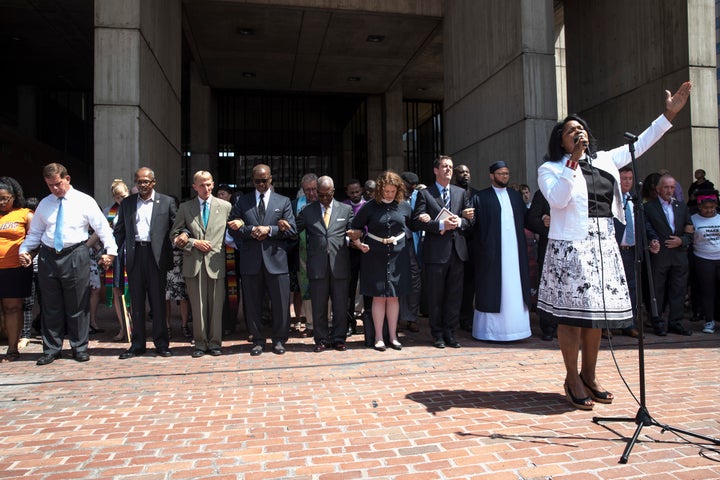 Security was tight, with fences and lines of police officers separating rally-goers and counterprotesters. An FBI spokesman told CBS Boston the bureau would stand ready "should [law enforcement] request assistance or resources to address criminal activity or threats to national security."
In setting ground rules for the event, the Boston Police Department banned weapons of any kind at the gathering, including shields, open flames, firearms, knives, fireworks and flagpoles. Those bringing backpacks or large bags were subject to search, the department said in a statement released before the event. Vendors in the area were also asked to remain closed Saturday.
While just more than 600 people expressed interest in going to the Boston Free Speech Rally on Facebook, 25,000 people joined a page to "Fight Supremacy" in a counterprotest to Saturday's rally.
After last week's violence in Charlottesville, the number of counterprotesters who said they were interested in Saturday's rally shot up exponentially.
Black Lives Matter Boston ― one of many groups of counterprotesters that helped organize the "Fight Supremacy" group ― said in a statement to HuffPost that they were attending the rally to "stand in defiance" of white supremacy and "amplify the voices and truths of the marginalized."
"We encourage individuals intent on combating white supremacy to be deliberate and purposeful in supporting those who are most affected," BLM Boston said. "This means following the direction of Black and Indigenous leadership — including and especially Black queer and femme leadership."
As of Friday night, the "Fight Supremacy" group had raised more than $34,000.
The "Boston Free Speech" group, meanwhile, asked on its Facebook page for donations to purchase an audio system for the event. A link to its fundraising website showed just two people had made donations totaling $9. The page was later taken down.
The outrage toward white supremacists was magnified further following last week's violence when Trump remarked on Tuesday that both sides were to blame and that there were "very fine people" on both sides.
Those "very fine people" were seen carrying torches and chanting Nazi slogans including "Blood and soil!" and "Jews will not replace us!"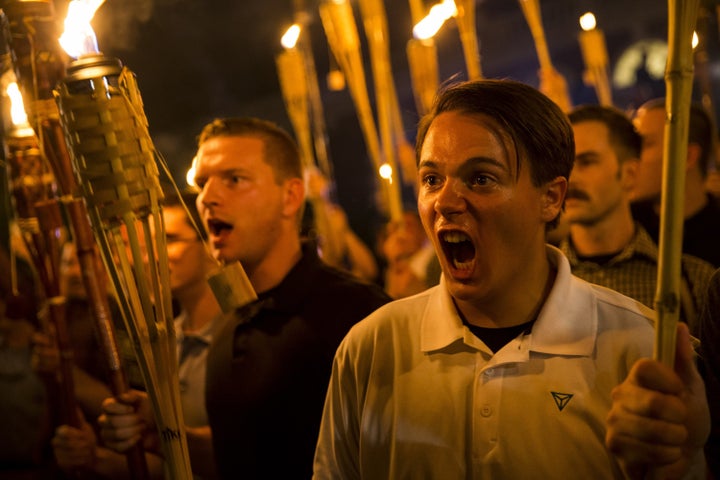 The white supremacist protesters in Charlottesville are now beginning to learn an important lesson: Free speech is not consequence-free.
Internet sleuths quickly identified many of them seen in pictures taken during last weekend's rally. Some of those identified from Charlottesville have lost their jobs. And white supremacist Pete Tefft of North Dakota was disowned by family members after they discovered his involvement.
Video taken the day of the rally showed one white supremacist scared shirtless as he tried taking off identifying clothes when confronted by counterprotesters.
"I just came here for the fun, I'm sorry," he said.
White nationalist Chris Cantwell was featured on a short but enthralling documentary by Vice about the day's violence.
"We're not nonviolent," the self-proclaimed fascist shock jock says in the documentary. "We'll fucking kill these people if we have to."
Cantwell was also seen crying on video, which he said was caused by fear of being arrested over his role in the violent rally.
His OkCupid account was also banned. The dating website said there was no love lost.
See more photos from the "Free Speech" rally below:
This article has been updated with new details, including comment from protesters, Trump and Dougherty.
Andy Campbell and Carla Herreria contributed reporting.