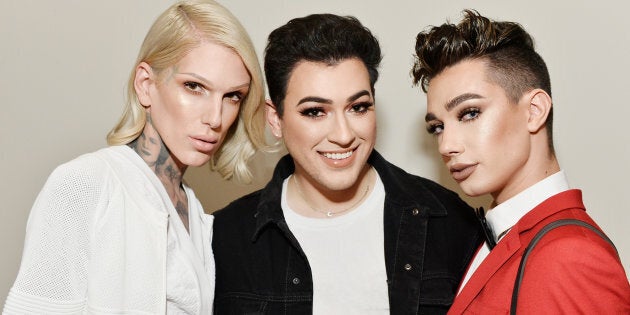 The photo sharing app was the first visually focused social media platform, where regular people (yes, like us!) could say something through images. Before it, we were mainly influenced by models and celebrities in unattainable images from magazines, advertisements and pop culture.
Out of Instagram, people who previously didn't have a chance to express themselves emerged from the shadows because they finally felt comfortable sharing. Maybe it was because they started seeing others like them on social media. Maybe it was because influencers started using the medium to denounce damaging beauty ideals. Whatever it was, it worked.
David Vincent is Lise Watier's international makeup artist. As someone at the forefront of beauty, he sits on a unique perch in which to observe how social media has almost singlehandedly changed the game, and not just as it pertains to beauty.
"[Instagram and YouTube have] allowed the makeup world to evolve and be more fun and accessible — having multiple personalities showcase different products, and provide consumers with the opportunity to choose — a la carte — what content and information they subscribe to and engage with," he tells HuffPost Canada.
One of the most groundbreaking trends to emerge from Instagram and social media were "beauty boys" — males who are makeup artists or who just love wearing makeup. They may be straight, gay, gender fluid or transgender but at the end of the day, this came secondary to their immense talent and interesting content.
A brief search with the hashtag #malemua #boyswithmakeup and #boywhoglam reveal how incredibly large the community is. Vincent sees this bold shift as an incredibly healthy direction for the beauty industry to go in.
"This new wave of acceptance has affected the beauty industry and will continue to do so," says Vincent. "It provides two major opportunities for the industry: First and foremost, it allows beauty and fashion brands to be leaders in breaking down the barriers between traditional gender roles and what society considers to be 'normal'; and second, it opens up an entirely new consumer base for brands to engage with and teach."
The rise of "beauty boys" is a long time coming but we can only hope for more progress when it comes to inclusion. There's still a lot of dissent and beauty brands that haven't shown many strides to change damaging social norms.
For all the beauty boys and anyone who has been afraid to show who they are, Vincent has this advice:
"Don't be afraid to try! You can always remove makeup and re-apply - be creative and be open to ongoing learning. There is so much content available online, which is fantastic. Learn from the experience of others and show the world what you love."