OTTAWA — Conservative leadership contender Brad Trost says fellow MP Chris Warkentin should be stripped of his parliamentary duties for failing to be impartial and threatening to make public a clandestinely recorded phone call.
In a letter obtained by The Huffington Post Canada, and addressed to interim Conservative Leader Rona Ambrose Tuesday, Trost complains about Warkentin's neutrality as the deputy House leader and question period coordinator and casts doubt on his "fitness for the office."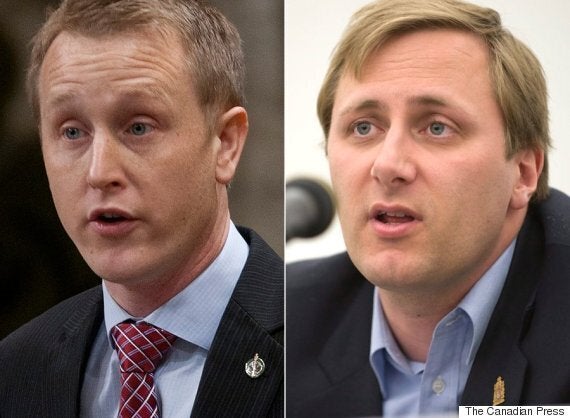 Conservative MPs Chris Warkentin, Brad Trost. (Photo: The Canadian Press)
Warkentin, an Alberta MP, has championed Saskatchewan MP and former Speaker of the Commons Andrew Scheer for the Tory leadership.
On Monday, Trost says Warkentin blocked him obtaining a speaking slot in the Commons on the grounds that leadership candidates can't be given extra spots outside of those regularly scheduled. Trost wanted to go after Guy Giorno, a former chief of staff to prime minister Stephen Harper, over his $79,000 in moving expenses.
In a Twitter post, Trost said Giorno should follow the lead of Prime Minister Justin Trudeau's top aides, Katie Telford and Gerald Butts, by repaying some of his moving costs. Last week, the government revealed it was planning to pay $126,669.56 for Butts' family's moving expenses from Toronto to Ottawa and $80,382.55 for Telford's family's cost.
"...what's good for the Grit is good for the Tory, so when Guy Giorno said in the news that he charged $79,000 I think he should do the right thing — not that he did anything unethical or illegal, but he should do the right thing by the Canadian taxpayer and pay some of that back so we as Conservatives can continue to hold the Liberals to account," Trost said. "We need to have cleaner hands than they do, we need to do what's right."
Trost writes in the letter that he is not aware caucus agreed to a rule that curbs speaking slots for leadership candidates or of the leadership election organizing committee asking for such a rule.
"This appears to be a "rule" that has been manufactured either by Mr. Warkentin himself or his staff in order to prevent my making a Member's Statement that might bolster my campaign," he writes.
Ambrose's office responds
But Ambrose's office says there is a rule that prevents leadership candidates from using their slots to push their candidacy forward.
"Statements by members are allotted on a rotation," Ambrose's spokesman Mike Storeshaw told HuffPost. Leadership candidates can't ask for more slots and they can't use their statements to talk about anything other than constituent issues, he said.
Trost acknowledged Wednesday that he was wrong and that there are rules in place. The rules, he said, were sent to him and other leadership candidates late Tuesday night
"So no, there was no discrimination or political games played against me by anyone on that level," he told reporters.
In his letter, however, Trost writes that when he complained to the media he had been prevented Warkentin called to object to him making the issue public. Then, "Mr. Warkentin revealed that he had been recording our telephone calls and threatened to release the recordings publicly.
"This, too, strikes me as highly irregular and very disturbing," Trost writes.
"I am very concerned that the Question Period Coordinator and Deputy House Leader would see fit to record any private telephone conversation, let alone release it publicly."
Trost tells Ambrose he doubts Warkentin's ability to remain neutral and "his fitness for the office" to which he has been appointed. He asks Ambrose to "instruct him to refrain from making statements or engaging in any activity which might indicate that he favours any candidate over another."
"Additionally, I am very concerned that the Question Period Coordinator and Deputy House Leader would see fit to record any private telephone conversation, let alone release it publicly," Trost writes. "I would like to receive some assurance from you and from Mr. Warkentin that this is not an accepted practice among Caucus Colleagues."
Wednesday, when Scheer officially launched his leadership campaign, Warkentin's name was not included on the list of 18 MPs and two senators who support his bid.
Scheer declined to say whether Warkentin had been told to remain neutral.
Warkentin did not a return a request for comment.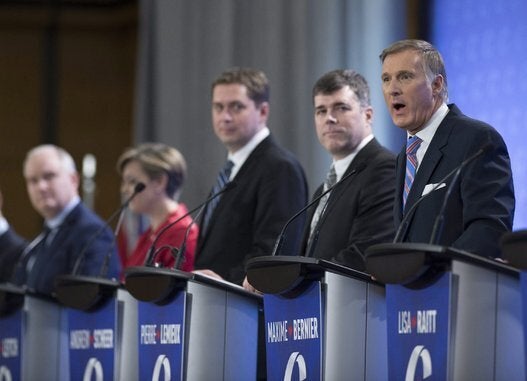 Conservative Leadership Candidates