OTTAWA — Social conservative MP Brad Trost is exploring a bid for the Conservative leadership, The Huffington Post Canada has learned.
Trost, a vocal anti-abortionist who fought to keep the definition of marriage as the union of one man and woman in the Tory policy book in May, confirmed he is in the exploratory stage of a bid.
"We still need to figure out if we can put together a professional team, if we can put together a decent amount of money, and what support there is out there that would sell membership at the grassroots level," he said.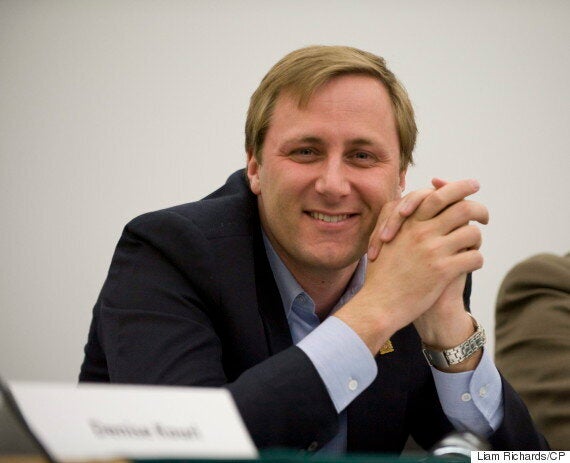 Brad Trost speaks at a candidate's forum at the University of Saskatchewan in Saskatoon on April 21, 2011. (Photo: Liam Richards/Canadian Press)
Trost has been gauging his support since the Conservatives' convention in Vancouver and things are "accelerating," he said.
The Saskatoon—University MP and former geophysicist said he was approached two or three times in April to run and declined.
"It's not as glamorous as people on the outside think, it's a lot of hard work and most people lose at it. Let's be blunt, most people's political dreams end in loss."
But Trost said he changed his mind when he didn't see anyone in the current or possible slate of Tory candidate that would push forward the values and beliefs he holds. If there was anyone, Trost said, he would be just as happy to vote for them.
"The reason I'm starting to look at it in a very serious way is I think the party would benefit, and I know the membership and people who share my views would be supported by a full spectrum Conservative who was unambiguous in his beliefs," Trost said.
There might be candidates who share his values, he said, but they are a "little bit concerned about being too bold about them."
"I know the membership and people who share my views would be supported by a full spectrum Conservative who was unambiguous in his beliefs."
So far MPs Michael Chong, Kellie Leitch and Maxime Bernier are the only declared leadership candidates, though Lisa Raitt, Tony Clement, Andrew Scheer, Jason Kenney, and former MP Peter MacKay are also interested in the job.
Trost is friendly with Chong, with whom he has worked championing the rights of members of Parliament, but they don't share similar views on the environment — Trost, for example, is adamantly opposed to a carbon tax — or the same social conservative viewpoints.
"The social issues are what I am best known for, and that will definitely be part of my campaign," Trost told HuffPost Tuesday.
The family is central to his thinking of society, he said. He strongly believes in parental rights, and even if he recognizes these often touch on provincial issues, he is opposed to the imposition of sex education curriculum.
And while he doesn't plan to make the focus of his campaign, Trost said he was very unhappy the Conservatives dropped the "traditional definition of marriage" and he would champion a return to it.
"Would I definitely push a policy platform for it? I haven't figured that one out yet, that I will state when the leadership campaign gets fully put out there."
At the Conservatives' convention, Trost responded to the vote to scrapping the definition of marriage as the union of a man and a woman by suggesting the party was moving to the centre, becoming "Liberal-lite," and would alienate many core Tory supporters.
"We need to have the nuclear family otherwise you have the social welfare state replacing it," he told reporters. "Next election, I will say homosexual marriage, gay marriage is wrong, I will be public about it."
Trost said he expected the debate to work its way into nomination races and the leadership contest.
"For me, it's not just a matter of politics either, it's a fundamental principle. The language of equality and comparisons, to me, that's socialist language."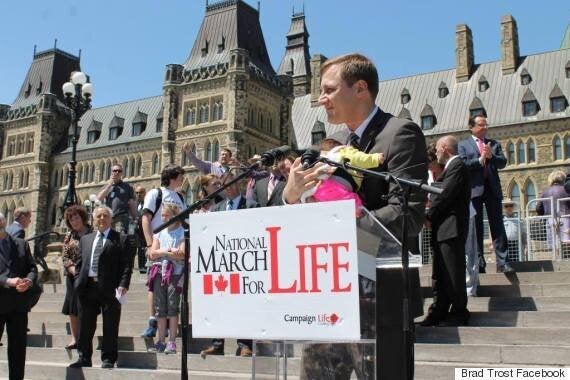 Brad Trost speaks at the National March for Life in May 2015 in Ottawa. (Photo: Facebook)
Not that Trost, who was first elected in 2004, wants to be seen as a single-issue candidate.
"I would like to see our defence budget increased — not just with regards to the Liberals but relative to when we were in office," he said.
"I am a fiscal conservative, I used to get kidded about my privatize the CBC petition on my website… For people who have followed my career, they know I have different interests."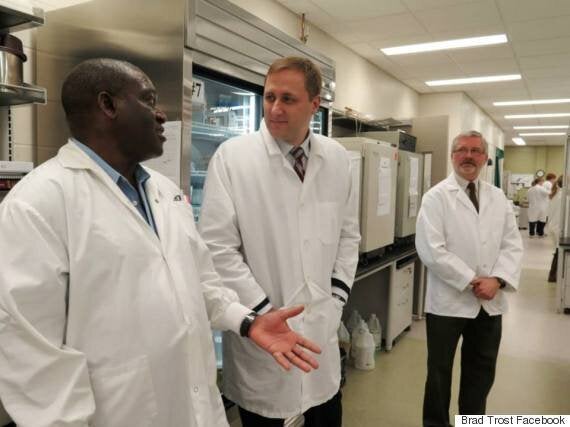 Microbiologist Dr. Dale Godson, left, leads MP Brad Trost and the media of on a tour of the microbiology lab at the University of Saskatchewan in March 2015. (Photo: Facebook)
The Saskatchewan MP is also a strong advocate for free speech and for greater use of the notwithstanding clause.
"I think the notwithstanding clause is in our constitution for a reason and we should be proud democratic conservatives and use it. If we believe in the legislation, we should stand behind it."
In this contest, Trost thinks his biggest challenge won't be raising money or signing up new members but running against former cabinet ministers and who have larger public profiles and better name recognition.
"I'm a nobody, let's be blunt. I'm a backbencher," he told HuffPost.
"Brad is a no-nonsense, straight talking guy who would stand on core conservative principles..."

— Jack Fonseca, political strategist
Jack Fonseca, a political strategist at the anti-abortion group Campaign Life Coalition, said Trost is exactly what the Conservative movement needs right now.
"Brad is a no-nonsense, straight-talking guy who would stand on core conservative principles including the sanctity of human life, traditional family values, small government, freedom of religion, and fiscal responsibility," he wrote huffPost in an email.
"I believe that Brad's honesty, integrity and absence of political duplicity would eventually shine through and attract huge numbers of Canadian voters, most especially social conservatives and ethnic voters, but also libertarians and a large portion of the thirty-three or so percent of disaffected voters who sat out the last election because they've come to view all politicians as equally two-faced and corrupt," he wrote.
Trost expects his views on abortion, gay marriage, and family rights will be both blessing and a curse.
"I'm not worried about winning or losing...I'll let the chips fall where they may," he said. "People game these things out well far advance and you never know how a campaign goes."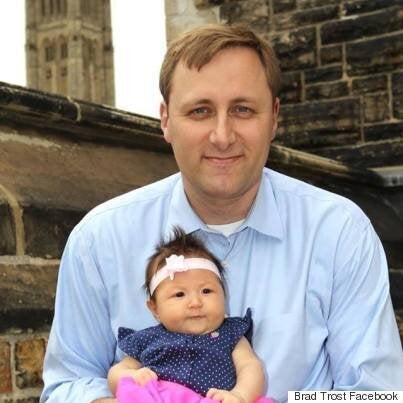 Brad Trost is seen with his daughter in June 2015. (Photo: Facebook)
Trost, who has a 15-month old named Isabel Anu with his Mongolian-born wife, said his mother joked: "What if you win?
"I said, well, we'll figure that out when it comes."
Like every leadership candidate, Trost said he wants the party to move in his direction, but he understands that not everything he advocates will be adopted by the Conservative party.
What the party needs now, he said, is someone who presents a coherent vision and can say: "Hey, this is what I believe, this is good policy.... This is what I think is good for Canada....This is what I value. Come and join me."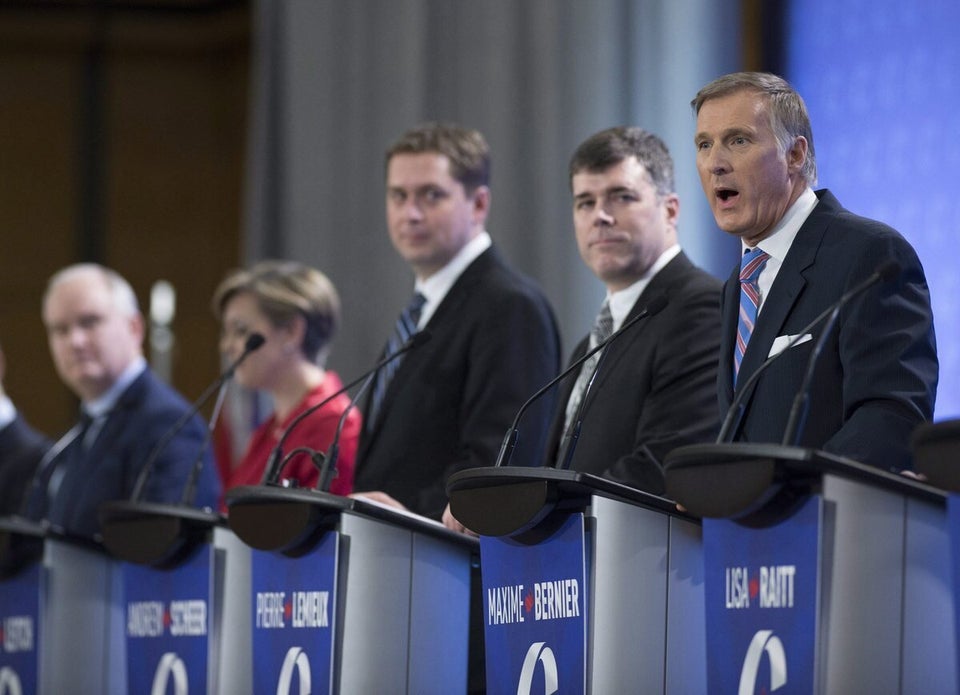 Conservative Leadership Candidates