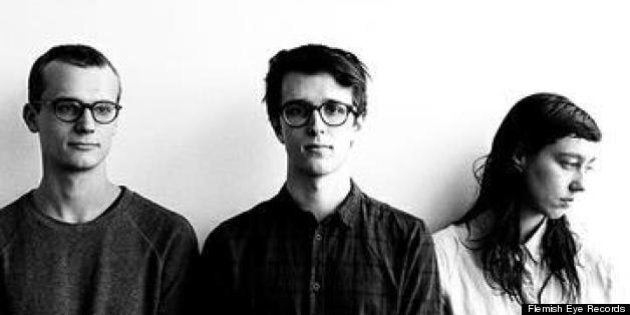 Montreal four-piece Braids appeared on music fan's radar two years with their album, "Native Speaker." Its ethereal dream-pop melodies were woven tightly together with guitar riffs, keyboard loops and singer Raphaelle Standell-Preston's vocal acrobatics. But since the band wrapped up their tour supporting said record, they've gone through a number of changes, most significantly the loss of band member Katie Lee.
Although Lee is a predominant contributor to the band's upcoming release, "Flourish // Perish," the keyboardist decided to leave before the completion of the album.
"She's very much a part of this record and it's really hard for me to listen to it because of that," Standell-Preston admits, adding that the two have yet to speak to each other since Lee left. "We didn't have an easy falling out."
The experience of losing a member has left a bitter mark on the band, but is the running theme throughout their new material.
Braids will also be releasing a 12" prior to the full-length, a transitional set of songs if you will that offers fans the last works of the band as a four piece.
"That was the pinnacle of us writing as a four piece," Standell-Preston explains. "'Amends' was all about Katie and I fighting, having huge ego battles and me realizing how hot my ego can get."
Standell-Preston, who now continues on with members Austin Tufts and Taylor Smith, reflects back on their time in the studio as both emotional and cathartic (she recalls many times where she cried during takes), but has admittedly moved on from those feelings. Now, she looks forward to the performance aspects of the songs, hoping to "find the musical elements and pockets we can sit in."
Article continues after slideshow
Another thing the trio must now work out is their new guitar-free live sets, a decidedly lighter and cheaper touring option, but also something to reflect the new songs' major shift to synths and computerized electronics in place of their six-stringed instruments.
"I really became disenchanted with the guitar, it was this gross sound and I couldn't make it do everything I wanted it to do," Standell-Preston says, of her feelings towards her instrument-of-choice when they were on the road. "So I switched over to synth because I was trying to make my guitar sound like a synth anyway.
"It just all feels so different on this new record; we just heard things in our heads and rather than seeing if we could play them on our instruments over and over again, we would just plug the ideas in the computer and try to learn them later. It was a much more fluid approach. We might come back to guitars eventually."
Standell-Preston defends electronic music, referring to the genre as the "most emotional and human form of music" and believes that, whether people are flocking to it for its trendiness or not, that "people are naturally progressing towards making art that reflects their environment and I think that's electronic music."
That being said, Braids' signature sense of emotion will still very much be intact.
"I think that's the defining thing about Braids, how immediately emotional it is," Standell-Preston says. "I don't think that will ever go away. I'm really proud of just how emotional the record is and how that translates."
CORRECTION: The piece originally stated that "Flourish // Perish" album title was ex-band member Kate Lee's idea. The band came up with the title after her departure. We regret the error.