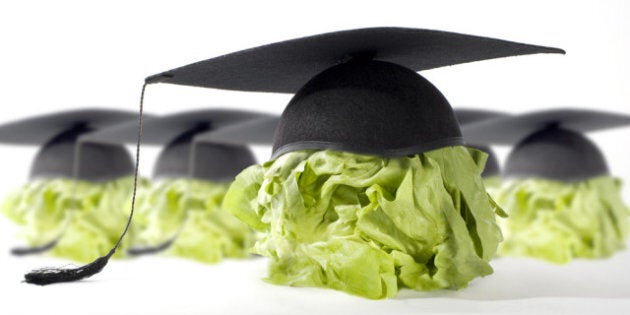 We might be striving for physical perfection when we put healthy meals on our plates, but it's possible we've been focusing on the wrong organs all along.
Baycrest Health Sciences, an academic institute associated with the world-renowned geriatric centre, has put together "Mindfull," a cookbook focused on keeping as much emphasis on the brain as the body when it comes to food — and they have plenty of science to back it up.
"Things like high blood pressure, diabetes and high cholesterol are all considered risk factors for dementia, but we want to educate people that those diseases also harm the brain directly," says Dr. Carol Greenwood, a professor in the Department of Nutritional Sciences who created the book alongside recipe developer Daphna Rabinovitch and food expert Joanna Gryfe.
Dr. Greenwood notes that it's not only the potential hardening of arteries in the brain that can increase with an unhealthy diet, thereby restricting bloodflow (much the same way they do in the cardiac system), but there are unique properties associated with hormones as well. When the brain lacks insulin, for example, the hormone that is used inefficiently by those suffering from diabetes, it can contribute to some of the pathologic events associated with Alzheimer's disease.
"When don't have that signal working properly," Dr. Greenwood explains, "we set up an environment that actually facilitates the Alzheimer's process to occur."
And what would a healthy cookbook be without some hints on maintaining a healthy weight? The extra dose of science in Mindfull helps apply tips to real life — for example, the fact that the more we eat the same food, the less pleasure we get from it, but as soon as a new food appears, the cycle starts all over again. So if you're hosting a party with a lot of weight-conscious folks, don't offer more than three selections so as not to compel them to overeat.
Mindfull is available as an e-book, and includes recipes from such diverse Canadians like Michael Smith, Mark McEwan, Top Chef Canada winner Dale Mackay and Laureen Harper. All proceeds go to the Baycrest Foundation.
Wondering what exactly a brain-healthy recipe entails? Check out these options below: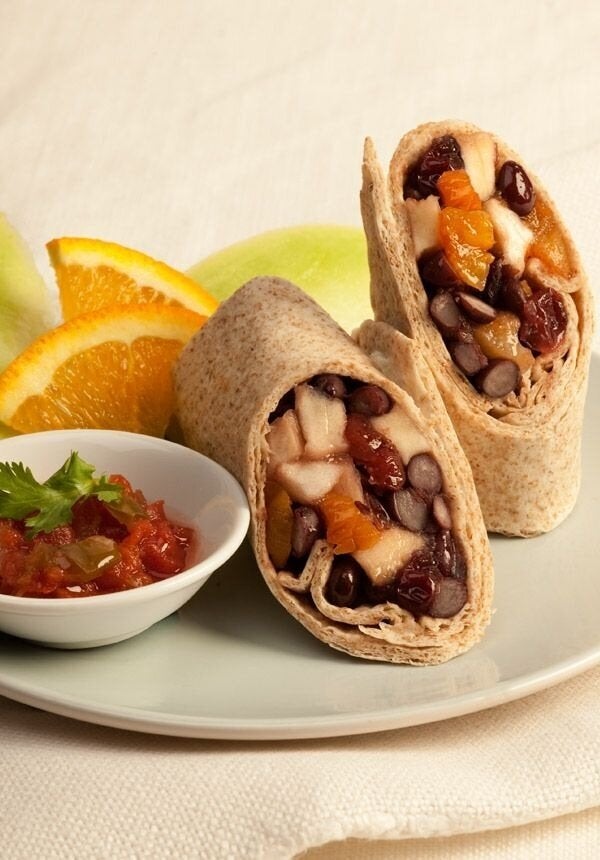 This recipe comes from Nettie Cronish, author of more than 5 vegetarian cookbooks, who works, cooks and teaches in Toronto. With so many tortillas to choose from, this morning meal can feed everyone – gluten-free, vegan or vegetarian. Add your own condiments: fruit or veggies, salsas, grated vegan or organic cheeses, hot sauces or extra fruit. The choice is yours.
1/4 chopped dried apricots
1/4 cup chopped dried apple or mango
1/4 cup dried cranberries
1 cup apple juice
1 cardamom pod, cracked, or 1 small cinnamon stick
1 can (14 oz/398 mL) pinto or black beans, drained and rinsed
1/4 tsp salt
4 10-inch tortillas (e.g., whole-wheat, corn, sprouted, unbleached,flax, pesto)
1/4 cup salsa and/or grated cheddar cheese (optional)
In a saucepan, combine apricots, apples, cranberries, apple juice and cardamom; heat over low heat for 5 minutes.
Add beans; bring to a boil. Reduce heat; boil gently, uncovered and stirring often, for about 10 minutes or until liquid has almost evaporated. Discard cardamom. Add salt.
In a skillet, warm each tortilla over medium heat for 2 minutes, turning once.
Place ½ cup of the filling down the centre of each tortilla, leaving about a 1-inch border at bottom and top. Fold bottom edge over filling; fold sides over. Roll up from bottom. Slice each tortilla in half. Serve at room temperature.
Nutritional Analysis per Serving: Calories 180; Protein 6g; Carbohydrate 36g (12%DV); Fat, total 2g (3%DV); Fat, saturated 0.5g (3%DV); Fat, trans 0g; Cholesterol 0mg; Fibre 6g (24%DV); Sodium 330mg (14%DV).
TIP: For extra kick, add 1 tbsp salsa and/or grated cheese overtop each burrito. Transfer burritos to a parchment paper-lined baking sheet. Bake in preheated 300°F oven for 5 minutes or until cheese has melted.
Curried Lentil And Wheatberry Salad With Mango
Wheatberries are the whole, unprocessed wheat kernel. This means they contain all three parts of the grain: the germ, bran and starchy endosperm. Only the hull, the inedible outer layer of the grain, has been removed. Consequently, wheatberries retain all of the grain's vitamins, minerals and phytochemicals.
Wheatberries have an exceptional nutrient profile; they're high in fibre, low in calories, and packed with vitamins and minerals. A half-cup (125 mL) serving of cooked wheatberries is a great source of manganese, selenium, phosphorus and magnesium.
Serves 8 (1-1/3 cup each)
2/3 cup uncooked wheatberries
1/2 cup uncooked green lentils
1/3 cup uncooked orzo pasta
1/2 cup dried currants
6 green onions, sliced
1 ripe mango, peeled and diced
1 sweet red pepper, seeded and diced
1/4 cup cider vinegar
2 tsp honey
1-1/2 tsp ground cumin
1 tsp Dijon mustard
1/2 tsp each ground coriander and salt
1/4 tsp each paprika, turmeric and ground cardamom
Pinch each cayenne and black pepper
1/3 cup canola oil
Add wheatberries to a large pot of boiling salted water. Boil for 40 minutes. Add lentils; cook for 20 minutes. Add orzo; cook for 10 minutes. Stir in currants. Drain well; transfer to a large mixing bowl. Cool slightly, about 10 minutes. Stir in green onions, mango and red pepper.
Meanwhile, in a small bowl, whisk together vinegar, honey, cumin, mustard, coriander, salt, paprika, turmeric, cardamom, cayenne and pepper. Gradually whisk in oil. Pour dressing over salad, tossing gently but thoroughly until well coated. (Salad can be covered with plastic wrap and refrigerated for up to 2 days. Bring to room temperature before serving.)
NUTRITIONAL ANALYSIS PER SERVING: Calories 380; Protein 14g; Carbohydrate 63g (21%DV); Fat, total 9g(14%DV); Fat, saturated 0.5g(3%DV); Fat, trans 0g; Cholesterol 0mg; Fibre 9g (36%DV); Sodium 170mg (7%DV).
Roasted Squash Soup With Roasted Pumpkin Seeds
Anne Desjardins, creator of this recipe, is the brilliant chef and owner of the restaurant l'Eau à la Bouche tucked away in the postcard-worthy village of Sainte-Adèle in Quebec.
1 butternut squash (about 3 lb)
1 onion, peeled and halved
2 cloves garlic, unpeeled
2 tbsp olive oil
2 cups (approx) chicken broth, preferably low sodium
1/2 tsp salt
1/2 tsp apple cider vinegar
Dash hot pepper sauce such as Tabasco
3 tbsp yogurt
2 tbsp pumpkin seed oil
2 tbsp roasted pumpkin seeds
Cut squash in half lengthwise; scoop out seeds. Place squash on an aluminum foil-lined baking sheet along with onion and garlic. Brush oil all over vegetables.
Roast in centre of preheated oven, turning onion and garlic a couple of times, until golden brown and softened, 40 to 50 minutes. Let cool slightly. Peel garlic.
Using a spoon, scoop out cooked squash; transfer to a blender or food processor along with onion and garlic. Pour in 1 cup broth. Purée until completely smooth. Return mixture to pot, adding remaining 1-1/2 cups broth. Whisk in salt, vinegar and hot pepper sauce. If soup is too thick, whisk in ½ cup more stock. Heat over medium heat until steaming.
Pour 3/4 cup of soup into each of 8 teacups. Top each with 1 tsp yogurt. Drizzle with 1 tsp oil and then 1 tsp pumpkin seeds.
NUTRITIONAL ANALYSIS PER SERVING: Calories 130; Protein 3g; Carbohydrate 14g (5%DV); Fat, total 8g (12%DV); Fat, saturated 1.5g (8%DV); Fat, trans 0g; Cholesterol 0mg; Fibre 2g (8%DV); Sodium 170mg (7%DV).
Thai Shrimp on Lemongrass Skewers
The spicy citrus flavour of the lemongrass skewer gives these shrimp a little extra zing from the inside out! Adventuring away from the typical toothpick or bamboo skewer is a great method to add unexpected flavour and an element of surprise to your cocktail nibbles. Shrimp can be swapped out for any firm whitefish, such as halibut, sea bass or swordfish.
Prep time: 15 minutes plus 20 minutes marinating time
2 small fresh red hot chili peppers, seeded
1/2 cup loosely packed fresh coriander, leaves and stems
1 lime, zested and juiced
1 tbsp canola oil
1 can (14 oz/398 mL) light coconut milk
1 clove garlic
1 piece fresh ginger (about 1 inch)
2 tsp low-sodium soy sauce or tamari
Pinch each salt and pepper
12 black tiger shrimp, peeled and deveined (about 14 oz total)
12 stalks lemongrass (each 3 to 4 inches long)
In a blender, purée peppers, coriander, lime zest and juice, oil, coconut milk, garlic, fresh ginger, soy sauce, salt and pepper until smooth. Pour mixture into a bowl. Add shrimp; marinate at room temperature for 20 minutes.
Shake excess marinade off shrimp and discard marinade. Skewer 1 shrimp onto each lemongrass stalk.
Arrange skewers in single layer on a parchment paper-lined baking sheet. Bake in centre of preheated oven until shrimp are pink, about 10 minutes.
Nutritional Analysis per Skewer: Calories 70; Protein 8g; Carbohydrate 1g; Fat, total 3g (5%DV); Fat, saturated 2g (5%DV); Fat, trans 0g; Cholesterol 75mg (25%DV); Fibre 0g; Sodium 210mg (9%DV).
Winter fruit compotes are a great way to include fruit in your diet during the winter months, as they rely heavily on dried fruits. Adding crystallized ginger to the compote brightens up the flavour; it can usually be found in the baking section close to the candied peels.
2 oranges
1 lemon
1/2 cup stemmed, halved dried figs
1/2 cup dried apricots
1/4 cup dried cranberries
1 3-inch cinnamon stick (or 1/2 tsp ground cinnamon)
3 cloves
2 tbsp finely chopped crystallized ginger (or 2 tsp grated fresh ginger)
2-1/2 cups water
2 tbsp (approx) honey
1/2 cup pitted prunes
1 Granny Smith apple, peeled, cored and cut into 1/4 -inch slices
1 Bosc or Bartlett pear, peeled, cored and cut into 1/4 -inch slices
Using a sharp knife or vegetable peeler, cut 2 x 3-inch strips of peel from orange and set aside. Juice oranges to make ¾ cup of juice. Cut 2 x 3-inch strips of peel from lemon.
Place orange and lemon peels, orange juice, figs, apricots, cranberries, cinnamon, cloves, ginger, water and honey in a medium-sized pot. Bring to boil over high heat. Reduce heat to medium; cook, uncovered, for 20 minutes. Add prunes, apple and pear. Add more water, if necessary, to ensure that fruit is just barely covered. Cook until all fruit is softened, about 10 minutes. Remove orange and lemon rinds, cinnamon stick and cloves. Cool before serving. Taste and add more honey if necessary. (Compote can be covered with plastic wrap and refrigerated for up to 5 days).
Nutritional Analysis per Serving: Calories 390; Protein 3g; Carbohydrate 96g (32%DV); Fat, total 0g; Fat, saturated 0g; Fat, trans 0g; Cholesterol 0mg;Fibre 8g (32%DV); Sodium 20mg (1%DV).