Pregnant women in Brazil are being warned to think twice about kissing, amid mounting global concern over the Zika virus spread.
Brazilian scientists announced that they have found the virus in two infected patients' saliva and urine at a Friday press conference
The mosquito-borne virus is commonly spread through bites, but there have been reports of transmission through sex and blood transfusions, and this discovery has brought on more concerns as it spreads rapidly across the Americas. The World Health Organization (WHO) declared it an international emergency this week.
President of the Brazilian federal biomedical research institution, Paulo Gadelha, has said transmission via the two bodily fluids requires more research, but he advised caution.
"We cannot say today that there is no possibility of transmission," he told reporters Friday.
Gadelha warns pregnant women not to kiss strangers, as carnival celebrations get underway across the country, as well as to refrain from sharing cutlery, glasses and plates with others who show symptoms of the virus.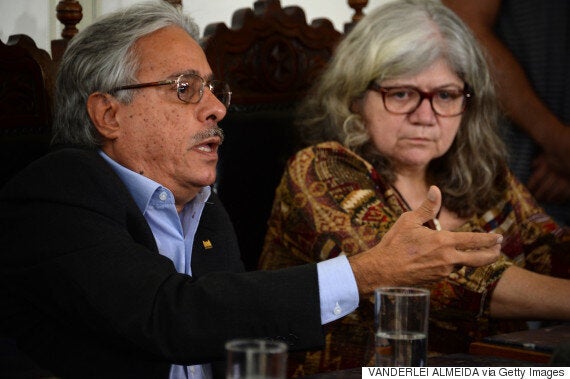 Paulo Gadelha, Oswaldo Cruz Foundation president, and Myrna Bonaldo, lead researcher, address reporters in a press conference in Rio de Janeiro, Brazil Friday.
Carnival, the five-day festival which marks the beginning of Lent, is widely-known for street parties, drinking and boisterous displays of affection.
Possible links between the Zika virus and a rare birth defect, microcephaly, which causes brain damage and an abnormally small head, have been a large concern. Cases of the abnormality have risen sharply in Brazil in correlation with mothers having shown symptoms of the virus in their first trimester.
Men have also been encouraged to use condoms with pregnant partners if they've recently been to a country where the virus is present, or abstaining from sex altogether for the duration of the pregnancy.