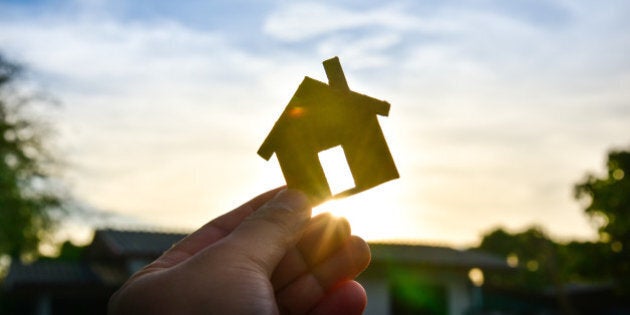 It wasn't even a year ago when a small idea popped into the head of Steve Zaleschuk.
Unbeknownst to him at the time, the thought would snowball into something big, and fast. Zaleschuk, a resident of Sturgeon County, Alberta, decided to get into the big business of building tiny homes.
With 30 plus years of construction experience on his side, Zaleschuk started his business, Finished Right Contracting (FRC) last fall. He educated himself on the tiny home movement, researched materials, and tiny home building plans, developed a website, and simply got to work. He hasn't looked back since.
Zaleschuk builds the homes on an 80-acre farm not far from Morinville, Alberta (close to the City of Edmonton). His latest labour of love is a micro-cabin for Parks Canada. The cabin is a small square building with large tinted windows and a beautiful wood exterior. It's part of a pilot project that may see many more tiny cabins erected in national parks across the country. According to Zaleschuck, FRC was one of only two tiny home builders asked to build a prototype.
Pretty good for someone who just went full-time with his dream less than a year ago.
Currently, tiny homes are not permitted within the boundaries of many urban Alberta municipalities. According to Zaleschuk, the City of Edmonton, for example, says no to tiny homes, though it does appear to be a grey area whether they are actually legal there or not. Other communities, like the Town of Stony Plain, says Zaleschuk, do allow them in certain designated zones, such as mobile home parks.
Establishing space friendly to the micro-structures does appear to be moving quicker in some parts of Canada over others. In Northern BC, for example, tiny home communities, or micro-villages, have started to pop up. In Victoria and Vancouver, "micro-housing" is being considered as a way to address affordable housing and homelessness.
Back here in Alberta, Zaleschuk's is confident our province will follow suit. He says he's been bombarded with emails from people interested in learning about the ins and outs of tiny home living.
Luckily for Zaleschuk he's got a great resource and champion for FRC on his side, helping him spread the word about his business. His very first customer shared her tiny home story online on her blog and emailed media she thought might be interested. She even allows people to rent out her miniature home on the weekends so they can try out tiny living for themselves.
It was this that led the well-known Canadian home renovation channel, HGTV, to catch wind of Zaleschuk and his tiny houses.
"They came out and filmed me making [a tiny house], it's crazy. The episode -- it's season 3 of 'Tiny House, Big Living,' episode eight or nine I think -- has already aired in the States...it should be running in Canada this fall."
And HGTV is not the only one to take note; Zaleschuck says both the CBC and Maclean's Magazine have also interviewed him regarding the tiny home movement.
So what's the big deal about tiny homes?
The allure of tiny homes has a lot to do with simplicity and attainability.
"People are really interested in tiny homes because it's about freedom -- financial freedom and freedom with your time. It takes way less time to clean a 250-square foot home versus a 2,000-square foot home."
Zaleschuck also adds, when purchasing a micro-home people can afford to include indulgent touches because it ends up costing way less than it would in a regular sized house, for obvious reasons. These mini-mansions give people the ability to live in luxury, even if it's in a small way.
And if you're wondering, the price of an average tiny home is, for the most part, also pretty tiny (think of it as a mini-mortgage). "We can realistically build a home starting at $39,900 -- that's on the very low end -- up to infinity, depending on the finishes and what's needed in the home." Zaleschuk estimates a typical tiny house will cost about $60,000.
"It seems like tiny home owners have a different mindset. They want to live in a house that is eco-friendly, with a smaller carbon footprint..." The entrepreneur says residing in a tiny home also gives people perspective, it forces them to ask, 'what do I have versus what do I need?'
FRC builds tiny homes (either as a main residence or as a guest house), micro-cabins, speciality sheds, ice fishing shacks, and any other related project clients may want or need.
It's no doubt, says the carpenter, however, tiny homes are the bread and butter of FRC. Those buildings range in size from about 150-square feet to 410-square feet and can be built to accommodate any requirements. For example, Zaleschuk recently completed a tiny home for a family of four that needed three separate bedrooms.
The builder estimates his homes will last 50 to 60 years, or longer.
Another aspect contributing to his success is the fact Zaleschuk will deliver to locations found throughout the country -- his micro-cabin for Parks Canada is heading east, destined for a national park in Quebec. Two of his upcoming projects are headed to the Northwest Territories, and one has even had to take a ferry ride to its permanent home located on Keats Island (off the south B.C. coast).
When asked how he thinks his buildings -- which have an average weight of about 11,000 to 12,000 pounds for a 24-foot home -- manage over their long journeys to their final destinations, Zaleschuk simply laughs, saying, "they could roll them there if they wanted to. I'm not worried; [these houses] are built to withstand the trip."
Zaleschuck says he's obviously very delighted with his early success and will keep running with it, remarking things don't appear to be slowing down.
"I have close to 400 emails in my inbox right now, [it's surreal]...I joined a 'Tiny Homes Enthusiasts of Edmonton' group; we started off with a handful of people, now there are hundreds and it's growing each day."
FRC shares stories of its projects online, including building plans, photos for inspiration, and information on how you can get started with your dream of owning your own tiny home with big heart.
This blog first appeared on the Morinville News website here.
Follow HuffPost Canada Blogs on Facebook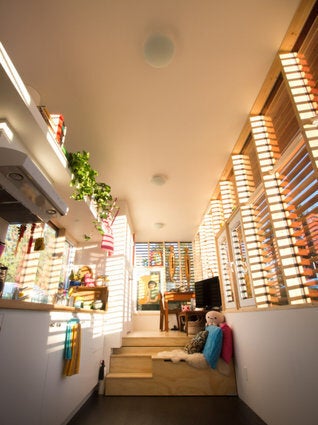 North Vancouver Tiny Home