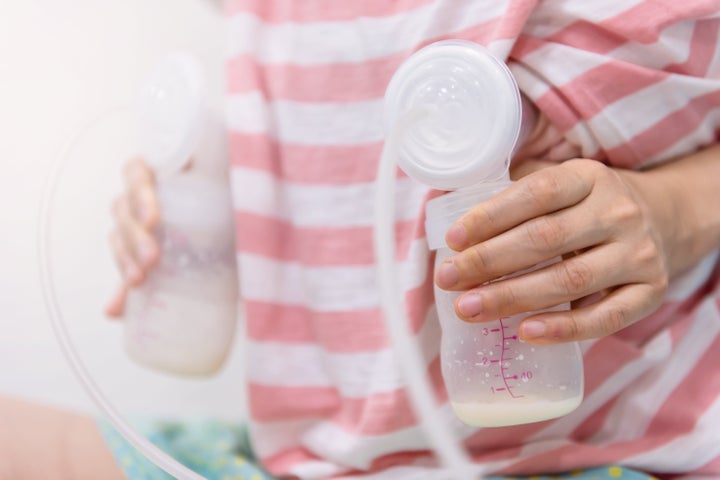 Working moms have enough to juggle without getting lip service from airline gate agents when they need to travel.
But that's exactly what a reporter says happened to her as she tried to bring a TSA-approved breast pump on a recent Delta Airlines flight.
"He tried to take it 3x so I nicely explained. Then he says this: 'Well, where is your baby?'" NBC News correspondent Jo Ling Kent said in a tweet Friday.
"Well, sir, perhaps you haven't met a working mom before."
Kent's tweet went viral, and left many people shaking their heads over the agent's alleged misguided comment. Some pointed out that, if Kent's baby had been with her, she may not have required a breast pump (although many women do choose to pump exclusively).
Others pointed out that it's a breast pump, not a baby pump.
And, many wondered what year it is that women are still being questioned about their baby-feeding choices.
A Delta representative eventually apologized over Twitter, and called the incident "disappointing."
Disappointing, yes, but not surprising.
According to a recent U.S. survey, 24 per cent of people think breastfeeding or using a pump in public is inappropriate. And, 61 per cent believe it's inappropriate to breastfeed or pump in a restaurant.
So, where exactly are people supposed to feed their babies? Right, in the home, where new moms should be banished for at least a year. Cool, cool.
WATCH: Mom loses her job after requesting to pump at work. Story continues below.
Working parents who also happen to lactate face some additional challenges. That same survey found that one in three people didn't believe an employer should have to provide a lactation room.
Moms Rising's "I Pumped Here" campaign notes that 60 per cent of pumping moms don't have adequate workplace accommodations or break time.
Travelling with a breast pump can be a huge pain
So, there's the stigma, and the logistics. And then, travelling with a breast pump is a whole other struggle, as Kent's tweet points out. And she's hardly the first to have issues.
In 2018, a U.S. mom says American Airlines humiliated her for trying to board with a breast pump, and eventually forced her to pay to check the device. In 2016, a family alleged that security at the Calgary airport swabbed their breast pump — and patted down their baby!— after both were deemed "high risk."
Also in 2016, a Toronto mom was told she couldn't use the electrical plug for her pump on a flight to London, and told to manually pump, instead (eventually, the airline staff allowed her to use the plug for just seven minutes, according to Today's Parent).
"We shouldn't be telling women how to pump, where to pump, how to breastfeed, where to breastfeed," Elizabeth Arnold told Today's Parent.
So, can you fly with a breast pump?
Given all the issues, you might think breast pumps are forbidden on planes. But they're not! According to the U.S. Transport Security Administration (TSA) website, breast pumps are allowed both in carry-on baggage and checked baggage.
While Porter planes don't have outlets, moms and lactating parents are welcome to use a manual pump or one with its own power supply, a representative told Yahoo Canada in 2016.