An Australian café is offering breastfeeding moms free tea and a place to relax.
Natala Bain, the owner of The Willows Café and Wine Bar in Sydney, posted a sign outside the café that reads, "Pop in, have a FREE cup of tea if you need a pit stop. No need to eat, no need to ask — please relax."
As a new mom herself, Bain knew firsthand that breastfeeding can sometimes be stressful.
"I'm a young mom myself and I had just had my first child, and thought that it's a good thing to do. It's really to make breastfeeding moms feel welcome," Bain told Mashable Australia.
The sign has been up since last summer, but after a patron shared a photo of it in March, it went viral with more than 1,000 likes and 700 shares on Facebook. Many commenters are now lauding Bain and her café for its inclusiveness.
"The Willows has to steal," she wrote in a Facebook post last summer. "100% backing the breastfeeding Mummy's!!!!"
When one commenter questioned Bain for seeming to only support breastfeeding mothers and not bottle feeding mamas, the owner wrote back: "The sign is just to let mother's know that they can feel comfortable breastfeeding here... Bottle feeding is not an issue in today's society."
This sign shows a stark contrast to other establishments that urge breastfeeding mothers to cover up or hide away. Earlier this year, the Daily Mail UK reported that a London restaurant required a mother to either fully cover up or go to the back room.
With more businesses like The Willows Café and Wine Bar offering themselves as safe-havens, new moms have more options for themselves and their babies.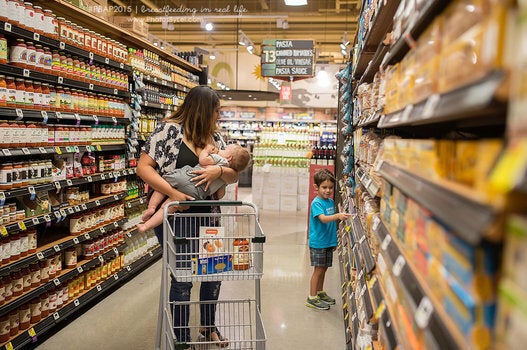 Candid Photos Of Mums Breastfeeding In Public
Popular in the Community