Do you ever feel like there is so much going on with your body that you don't understand? Especially as women, there are so many things that researchers just haven't figured out about our complex systems. This World Breastfeeding Week, I'm reminded of how difficult it can be for women to find information on an important aspect of so many of our lives.
Even in a relatively well-developed medical system like Canada, women often feel alone in their struggle with breastfeeding. Lactation consultants can help, but rarely are they available at three in the morning when you can't get your newborn to latch. At those times, new mothers in Ontario can call Tele-health to speak to a registered nurse. But what about moms in other provinces and territories?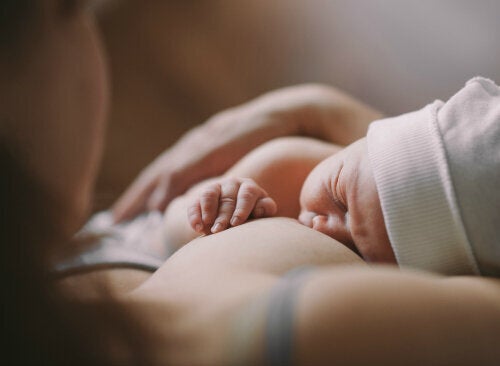 No one told them breastfeeding could hurt like this
Recently, online influencer @anne_theriault started a hashtag on pregnancy, birth and postpartum: #NoOneToldMe. Theriault encouraged women to speak up about things that surprised them along the way. The responses on breastfeeding were especially poignant.
Some women were overwhelmed by the pain:
#NoOneToldMe about breastfeeding back. So much time hunched over feeding & holding babies, my posture is a hot mess & lower back seizes up.
#NoOneToldMe breastfeeding with an inverted nipple genuinely feels like a hot poker being held to your breast.
#NoOneToldMe that breastfeeding would be so painful that I'd need creams and consultants and daily Advil for nearly two months.
Many women had difficulty breastfeeding altogether:
#NoOneToldMe that I wouldn't be able to breastfeed and I felt like I starved my baby the 1st 5 days of her life. #guilt
#NoOneToldMe any of the info I slowly painfully collected about breastfeeding, even though I thought I'd researched it well.
#NoOneToldMe that the study about only 2% of women that can't breastfeed is hogwash and unscientific and that I was not a failure or alone.
All the women who spoke up felt as though they hadn't been given enough information, support, or the right tools to cope with the complex and difficult process of feeding their babies.
More in common than you think
Women in the developing world often face a similar lack of knowledge about and difficulty with breastfeeding, but resources to help them cope are even more scarce. In some communities, colostrum, the yellow fluid that is a baby's first meal, is considered unclean. In others, tradition dictates that babies breastfeed only a few months, instead of the ideal six months.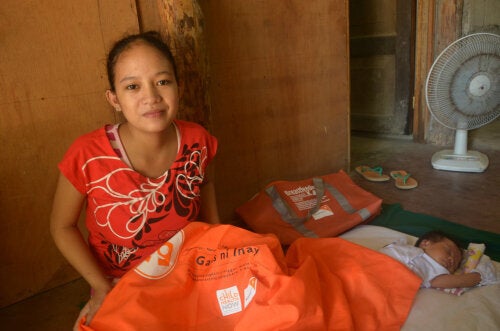 Jane, from the Philippines, knows the struggle first-hand. She was only 16 when she became a mother. Still a teenager, Jane didn't have what she needed to care for her newborn.
"I didn't know how to care for my baby," Jane said.
Neither of her parents had completed their education, and were similarly ill equipped. This can be an entrenched issue in many communities. Often grandmothers will encourage new mothers to introduce other foods and liquids (like water) to babies before they are six months old. In some cases, this can be harmful, especially in areas with a lack of access to clean drinking water.
A new journey for nutritious breastmilk
World Vision invited Jane to attend Buntis (meaning "Pregnant") Congress for expecting women. While women using the hashtag #NoOneToldMe formed an online support community, Buntis Congress takes things to the local level. Women are able to learn from each other, and from the facilitators.
At Buntis, Jane discovered the importance of breastfeeding, and tips to help her cope. The teenager is now on her way to keeping her baby healthy.
Support groups like Buntis are just one of the ways that World Vision equips moms for breastfeeding in our projects. But there is so much more.
#NoOneToldMe that I wouldn't be able to breastfeed and I felt like I starved my baby the 1st 5 days of her life.
We've recently undertaken a journey, in partnership with the Canadian government, with communities in five countries to ensure optimal nutrition for children's first 1000 days. Those 1000 days are one of the most important windows in a child's life in terms of growth and development. In fact, 45 per cent of child mortality under the age of five is from nutrition-related causes.
In Bangladesh, Kenya, Myanmar, Pakistan and Tanzania, our team will focus on encouraging early initiation and exclusive breastfeeding for babies six months and under, and appropriate feeding practices for infants and young children. We'll do that through gender equality advocacy, training of community health workers, and establishing baby-friendly hospitals.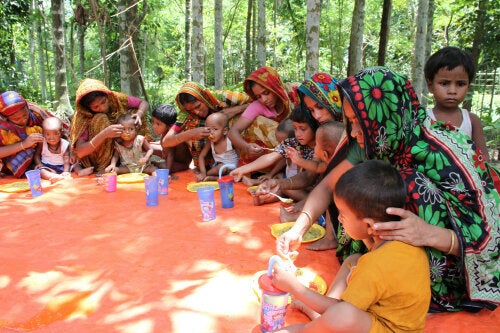 Solidarity with other moms
Two things that breastfeeding mothers share around the world are the need for accurate information and support from their communities. We're working to achieve that through our 1000 day journey project. With this in mind, we're inviting you to join an online Buntis Congress.
Let's keep #NoOneToldMe going. Tell us about your experience breastfeeding! Let us know what you learned, what you wish you had known, and what you would say to new moms here in Canada and in the developing world by using the hashtag #NoOneToldMe and @worldvisioncan. We'll also share some barriers that women in developing countries face when breastfeeding, and how World Vision is giving women the tools to make breastfeeding work for them.