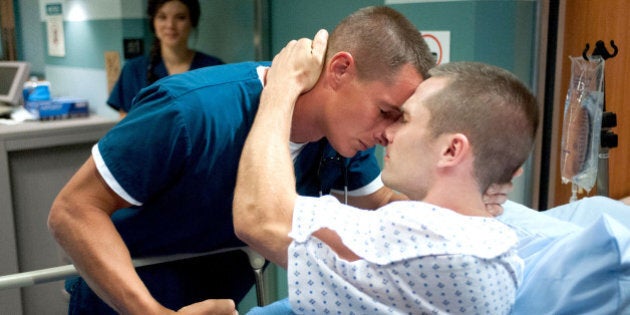 When viewers return for a second helping of "The Night Shift" (Season 2 premieres tonight on Global and NBC), things have settled down slightly from the traumatic events that went down in last summer's Season 1 finale. T.C. (Eoin Macken) seems a little more at peace, Ragosa (Freddy Rodriguez) is dealing with the ramifications of that tumour, and Drew (Brendan Fehr) is finally out in the open about his sexuality.
To get the scoop on Season 2, The Huffington Post Canada sat down with Fehr to find out what's next for Drew, representing a member of the LGBT community, and working with fellow Canadians.
HuffPost Canada: What can you tell us about Drew's journey this season?
Brendan Fehr: We use the end of Season 1 as a jumping point. Obviously he's out now and Rick (Luke Macfarlane) is back. We're back to the tragedy of it, in terms of Rick having had his leg amputated and the toll that takes on him. As a caretaker, what does that do to our relationship? To be perfectly honest, I'm not entirely sure where we're going with it because we haven't filmed that far yet, but so far I have an idea. As an actor it's a great storyline to do. I get to work with Luke again, who I really love. We just had a hell of a time hanging out both on- and off-set, so it's one that I'm almost looking forward to, as much as the fans. Even though I don't know where that ends up!
Personally, is it nice for you to be able to team up with another Canadian for that kind of storyline?
Yes, there is always that added element, but it's really just nice working with nice people. You really don't care where they're from, or what they believe or any of those things, as long as you have that great working relationship. Sometimes the differences between two people makes it interesting and kind of fun, because you get to bitch and moan and banter. When you don't agree on everything but can do all that respectfully and in an intelligent way, I think that's what makes our cast. We all come from different backgrounds, ethnicities, countries, cultures, religious beliefs and everything else, but as much as we disagree on all those things or we can't find that common ground, our common ground is just our love and respect for each other. Obviously Canadians always love other Canadians though.
There was a similar storyline between two female characters on "Grey's Anatomy," where one had to have her leg amputated. Have you seen it or heard about it?
Oh, OK. I didn't actually know that! No one has brought that to my attention. I've watched two episodes in my entire life. It's very interesting. I recognize to a certain degree that the LGBT community is going to be watching this, but I really don't do it for any one of those groups. The character is being written and fleshed out by these writers and it's the story that they want to tell. I'm trying to tell that story too, and obviously I have some input in terms of what I like and what I don't like (and you can tweak some things), but I want to make it on a more universal level in terms of the struggle he's going through so that all people can relate.
That said, do you feel an obligation to accurately portray a character within that LGBT community?
Absolutely, you want to tell that character's story. I do a lot of research and want to show I'm not totally oblivious to the gay and lesbian community's struggle and the oppression and what they're fighting for. But even within that own community they don't all agree with each other. Because of that you can't just say you're speaking to a whole community. So I want to play him as accurately as possible to tell a story that will be entertaining and authentic. There's a line in an episode where Drew says he doesn't want to be the gay doctor. That doesn't mean he's ashamed of it, but it's a label. And I'm not sure it's that label has any value.
How has Drew's relationship with T.C. changed since Season 1?
We've kind of grown apart a little bit. I'm not sure, I see the direction T.C. is going and I'm not sure Drew ... I think Drew has a little bit more respect for authority and maybe had a different approach to being in the military. They had different experiences with their superiors in the army. I don't need to rebel like that, I don't need to question everything in the way he questions it. And so you see me and Topher (Ken Leung) start to get a little closer. I think we see our friend going off the rails, so we have a little bonding over that.
Can you tease any cool surgeries coming up?
At this point in the series I'm right in between. I get to be on some surgeries but I'm not the lead guy or head guy. I'm still kind of learning and making some mistakes. I get some of the more boring cases in terms of the illnesses, but they're either funny or dramatic. Or they're prank-related, where the case itself may be boring but the scenes and the storyline we're telling through that are obviously some things that we make out to be of value, and something that's going to fit in with the tone.
Before this people knew you from "Bones." Any chance of Jared Booth returning?
I wish! There's nothing in the works. I mean Hart Hanson knows where I am -- hello Hart! -- but I would love to go back. That was one of the shows ... really I thought that was a great show and obviously it is, I didn't think you could have any more fun than you had on that show. And then I got on Night Shift and realized you could. But that's just a testament to that cast and crew.
"The Night Shift" returns, Monday, Feb. 23 at 8 p.m. ET on Global and at 10 p.m. ET on NBC.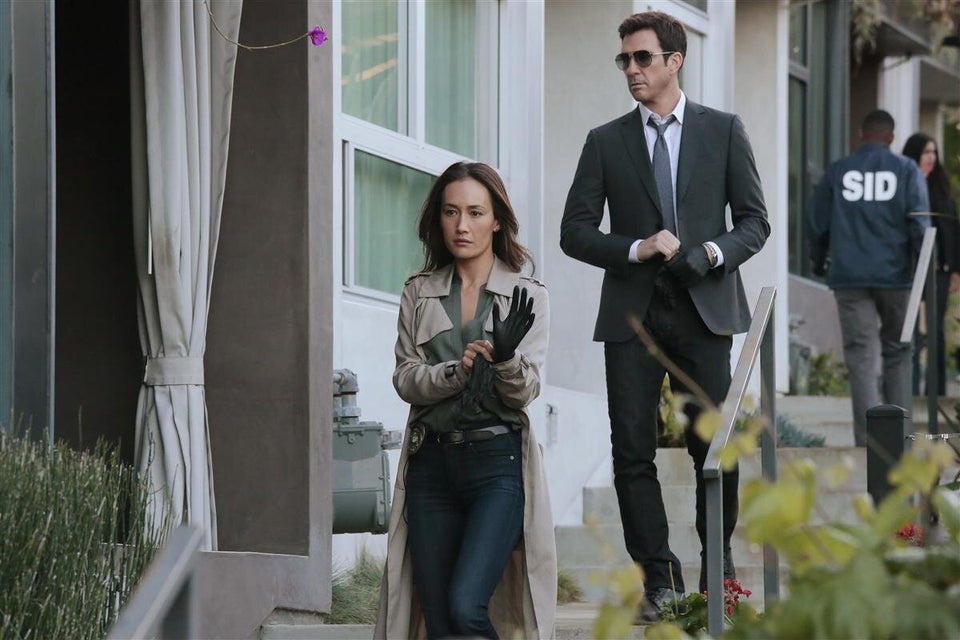 Shaw Media TV Fall/Winter 2014-15