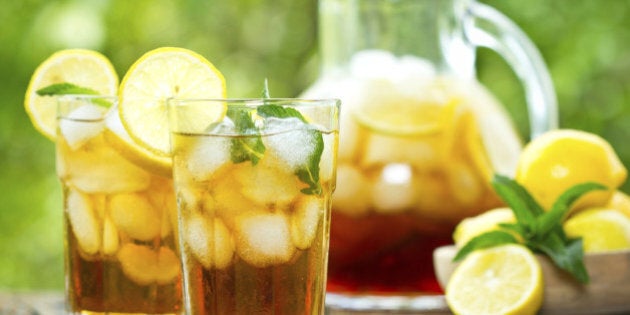 With summer upon us, it's time to perfect everyone's favourite thirst quencher: iced tea! And who better to seek advice from than Certified Tea Sommelier Raelene Gannon. As an author, consultant and one of only a few certified tea sommeliers in Canada, I knew I was in good hands. Discover Gannon's top tips for brewing the best iced tea, along with my suggestions for adding flavour without extra calories.
Typically, varying water temperatures will give different flavour profiles. When the cold brew method is used it extracts different attributes from the tea compared to when a hot brew method is used. Gannon explains, "The cold brewing method does not result in the cloudiness you get from the conventional hot brewing method. Plus, the cold brew method gives a smooth, more flavourful taste. It can easily be done the night before with the brewing taking place in the pitcher overnight in the refrigerator."
Gannon recommends four to five tea bags for every litre of water/ice cube mixture. If the tea is loose, you can put it in T-sacs or infusers. And it's a ratio of 2/3 water to 1/3 ice cubes. "One of my favourite summertime combinations is to combine four bags of strawberry peach black tea with 665 millilitres of cold water and 335 millilitres of iced cubes in a pitcher and refrigerate overnight. The next day you'll have a delicious and refreshing summertime tea," Gannon explains.
Experimenting for the Perfect Brew
Tea pitchers can make iced tea brewing easy, since many of them have integrated tea leaf infusers. In general, black teas, green teas and herbal teas are great iced. Mixing two or three teas together, like strawberry, rhubarb and green teas or lemon, raspberry and black teas, will create a unique iced tea brew and is a fun way to experiment. My recent favourite is peach honey blossom with ginger! Gannon describes one of her tea blends -- white champagne raspberry -- as the perfect option to carbonate for a special occasion if you're adventurous with your Soda Stream. She recommends serving it in a champagne glass with a couple of fresh raspberries tossed in.
Part of the classic iced tea is presentation. Make sure you are using a variety of glassware that suit the tea flavours and emphasize the tea colour. For the peach honey blossom with ginger, I serve it in a high ball and garnish it with an orange peel twist. Gannon emphasizes, "Iced tea tastes best when it's freshly made. Make only what you will drink in one day. And if you have any remaining at the end of the day, use it to make iced tea cubes."
Why You'll Love Iced Tea Cubes
Ideally, for optimum freshness and flavour, homemade iced tea should be consumed only on the day it has been brewed. Fortunately, Gannon's innovative iced tea cubes ensure nothing goes to waste. Simply pour the leftover tea into ice cube trays and freeze. For added pizzazz, add mint leaves, lemon or orange zest to the ice cube tray and then fill it with the tea. You can use the iced tea cubes for your next batch of iced tea or for flavouring other summertime drinks and cocktails.
Adding Flavour Without Extra Calories
Perfecting your own iced tea recipe with less sugar is far more flavourful and nutritious than store-bought mix or commercially produced ready-to-drink cans. Both black tea and green tea have antioxidants that help promote brain, heart and immune and health. When it comes to herbal blends, the health benefits depend on the components in the mixture. Since tea is mostly water and calorie free, it has the added benefit of being a great way to hydrate over the summer.
You don't want to overload this healthy drink with calories from simple syrup, honey or table sugar. Here are my three tips to guarantee a delicious and refreshing iced tea without the extra calories. First up, add a few fresh or frozen berries or cherries. Pick the berry that complements your tea blend the best. For example, I've been using blueberries with my green tea blends. Next, try adding fresh mint leaves, a sprig of lavender, or minced ginger. These herbs will give the tea a new flavour dimension making it more interesting. And finally, citrus adds a tart essence that complements most summertime tea flavours. I use lemon and orange zest plus slices of the fruits. And I've been adding lime slices along with mint to black tea for a refreshing twist on the mojito cocktail, sans the sugar and rum.
Now that you have these expert tips from a Tea Sommelier and Dietitian, how will you experiment with this summertime classic?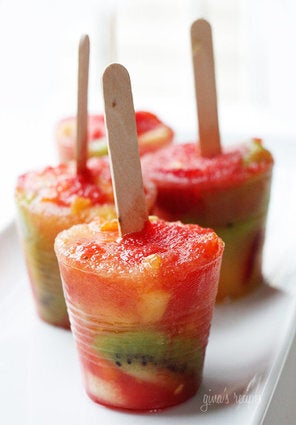 Healthy Popsicle Recipes To Keep Kids Cool This Summer