The U.K.'s loss may be Canada's gain, if Brits follow through on a sudden interest in working here following the Brexit vote.
Job search site Indeed.com says searches for jobs in EU countries doubled and searches for jobs outside Europe spiked 73 per cent in the U.K. in the immediate aftermath of Britons' vote to leave the European Union.
Canada was one of the top destinations for British job-seekers, with searches for Canadian jobs more than quadrupling in the wake of the vote. By comparison, searches for U.S. jobs jumped by 1.7 times their normal level, and searches for jobs in next-door neighbour (and EU member) Ireland jumped by about two-and-a-half times.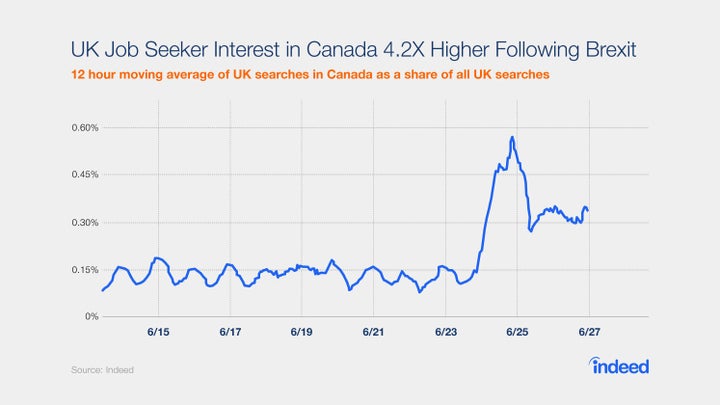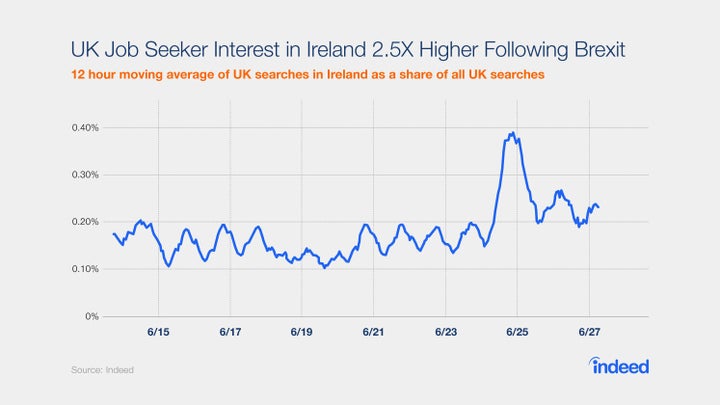 The results show "early signs of brain drain issues after the vote," Indeed said.
A "brain drain" involves talented people leaving a country to find work elsewhere.
"The free movement of workers has clear economic benefits."

— Mariano Mamertino, Indeed.com economist
"U.K. employers have historically benefitted from the ability to recruit talent from overseas, and many Britons have seized the opportunity to live and work in other EU countries," said Mariano Mamertino, Indeed's economist for Europe, the Middle East and Africa.
"While it's unlikely that the shutters will suddenly be brought down on the English Channel, the free movement of workers has clear economic benefits — and it's essential that British businesses can continue to be able to get the people they need to fill the jobs available."
Popular in the Community