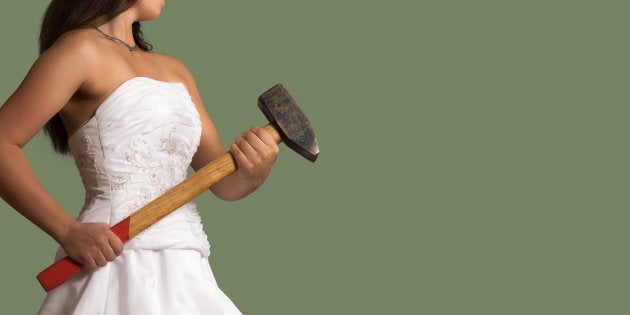 If you're planning a wedding right now, here's a quick and easy tip to reduce stress, strengthen your friendships and keep your wedding on track: don't ask your guests to give you $1,500 in cash. Seems reasonable, right?
Not for everyone, apparently.
An anonymous bride who was initially identified as "Canadian Susan" didn't follow this sage advice, and called off her wedding after her guests refused the bizarre and unreasonable request. As a result, her over-the-top, post-wedding-planning Facebook rant — in which she calls her friends "the C***S who have ruined my marriage and life" — has gone viral.
A follow-up post by someone claiming to be her cousin says Susan is actually American. Keep in mind this was posted in a private Facebook group, where content is user-submitted and unverified. And, of course anyone can make anything up on the internet.
Also consider that what you're about to read, fact or fiction, is truly a wild ride into the very real phenomenon that weddings make people do nutty things.
The post starts off with the writer, "Susan," expressing sadness that her upcoming wedding has been cancelled. She then talks about her plan to delete Facebook and backpack in South America, "exploring my soul and ridding myself of toxic energy brought on by my friends and family."
She and her now-ex-fiancé had saved up $15,000 for their wedding, she said. "Since our love was like a fairy tale, we wanted an extravagant blow-out wedding," she wrote. With some help from a local psychic — red flag alert — they decided on a destination wedding to Aruba. Total cost: $60,000. For those of you keeping track, that leaves $45,000 unaccounted for.
Story continues after video:
"How could we have OUR dream wedding that WE dreamed of without proper funding?" she asks. Good question — perhaps the answer is YOU can't. (This creative capitalization is surprisingly fun! I can see why Susan likes it SO much.)
She did what etiquette would agree no one should ever do: she asked her guests to foot the bill for the extravagant destination wedding she couldn't afford. "We'd sacrificed so much and only asked each guest for $1,500," she wrote. That's right, only $1,500.
It's unclear whether these are American or Canadian dollars, since we don't know for sure where Susan lives. Regardless, that's a ton of money.
Somehow, the maid of honour (which is spelled the American way, for what that's worth) offered $5,000, and the groom's family offered $3,000. And then "only" eight people answered yes to the RSVP with a $1,500 cheque.
Susan, of course, is horrified by that. But the fact that eight people were actually willing to go along with her request, rather than zero, is actually astonishing. If they were trying to cover $45,000, that meant 30 wedding guests got the request for $1,500. Eight out of 30 ain't bad!
For reasons that aren't specified and that are probably completely unfair, given just how kind and reasonable she's shown herself to be up to this point, some of the people who pledged money, including the groom's family and the maid of honour, began to rescind their offers. A GoFundMe account raised only $250.
Then her loved ones did the truly unthinkable: they told her that she was being unreasonable and asking for too much. Her fiancé suggested a cheap Vegas wedding, a suggestion she did not take kindly to. ("Am I some Hooch piece of f**king trash, a hooker?") They broke up.
The post quickly went viral over the weekend, and was retweeted by Chrissy Teigen.
Someone who identified herself as Susan's cousin added some background info: Susan has long been entitled but has never before been this obnoxious, she says. She grew up on a farm and in recent years has gotten deeply into the Kardashians, social media, and designer labels.
"When I try to analyze her and her entitled behaviour, I believe deep down she's very insecure about her status and how she stacks up to others," the cousin wrote. She also doubts Susan is actually going to go to South America — she's never been outside of the U.S., apparently — and says she suspects Susan may have been drinking when the post was published. It was only up for about 15 minutes before it was deleted, she says.
Like anything else in life, this is a teachable moment. Don't air your grievances on Facebook. (Especially after possibly throwing back a bottle of whiskey.)
Don't put so much emphasis on one day of your life that you lose touch with reality. And please, for the love of whatever deity you believe in, do not ask your wedding guests for $1,500 cash.