Most brides-to-be think about silhouette, fabric and embellishment when it comes to choosing their wedding gown, then wait for "the one" to declare itself based on its ability to trigger tears in the eyes of their loved ones.
For Jessica Grossman, however, there was another important factor to consider before saying yes to a dress — and that was whether it worked with her ileostomy.
An ileostomy is a surgical opening in the belly where the end of the small intestine is brought to the exterior of the abdomen. Intestinal waste is then secreted from the small intestine into a pouch, known as an ostomy bag, which is worn on the exterior and typically has to be emptied a number of times each day.
Grossman has had an ostomy bag since she was 13, when she and her parents opted for the life-saving procedure after realizing that she was losing her battle with Crohn's disease.
When it came to dressing her new body post-surgery, Grossman recalls, "I hadn't even figured out fashion yet and I was the worst dresser, so the struggle was mostly because of that and not because of the bag."
But she does remember thinking that she would probably have to have a wedding dress custom-made to accommodate her ileostomy when she eventually got married.
Her prediction couldn't have been further from the truth. The digital marketer, actress and blogger behind Uncover Ostomy dazzled on her wedding day last August in a fitted gown by Pnina Tornai — of "Say Yes to the Dress" fame — that she purchased at Kleinfeld in Toronto.
While she was conscious of her gown's ability to conceal her ostomy bag, that wasn't even her biggest concern.
"[Choosing my dress] was a process," she said. "Check one was making sure it was something I wanted to wear. Check two was making sure my ostomy didn't show, and then the other thing was, can I take it off to go to the bathroom? I have to empty my bag. It's a long, long event!"
Grossman's dream dress was a sophisticated, tight-fitting option, even though she knew a more billowy ballgown might make concealment easier. She also liked the look of satin, a preference that worked in her favour in terms of making her ileostomy inconspicuous, because the thicker fabric provided more structure. And finally, the dress she ended up choosing had a zipper in the back, which was important for convenience when it came to using the washroom.
Grossman explained that she knew she'd probably need to use the washroom a few times while wearing the gown (she is very tuned in to her digestive process out of necessity), and wanted something that she could easily take completely off, leaving her hands free to tend to her bag.
For someone who is so open about her own challenges, Grossman doesn't like to give blanket advice to others who might have ostomy bags or other medical equipment accommodations, because she feels everyone is different. For her, however, it comes down to accepting and loving who you are.
"When I got my ostomy it was because I was going to die. For me it has always been in my mind that this is why I'm alive, this is who I am. I don't give a shit if you like me or not," she explained.
No matter what you might be self-conscious about, you have to feel confident in yourself ... because that confidence shines through the clothes.
In high school, Grossman channeled that confidence into the first blog about dealing with ostomies in an effort to help others in a similar situation because, as she explains, "When I was looking for support after my surgery, there wasn't anyone [talking about it]."
In terms of choosing a wedding dress, specifically, Grossman's advice for brides with an ostomy bag is to avoid eating a huge meal on the day of, but then adds that most brides probably don't do that anyway.
On the topic of wearing white, she says, "Go for it." She doesn't think an ostomy should impede what you want, then slyly adds, "And get a backup dress. That was my excuse."
Grossman in the second dress she wore on her wedding day.
Her smile was obvious through the phone when talking about her second, slim-fitting white, beaded dress that she changed into for the reception. But her tone turned serious again when considering the big picture.
"The way I phrase it is that no matter what you might be self-conscious about, you have to feel confident in yourself and comfortable with who you are because that confidence shines through the clothes."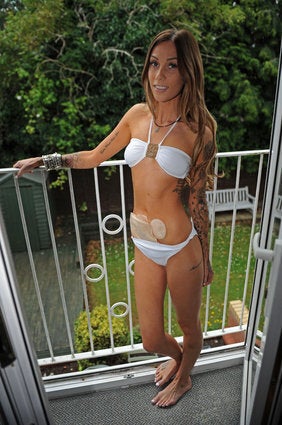 Aspiring Model Bares Colostomy Bags
Popular in the Community