Never bring a knife to a gunfight. And yet, the global tuberculosis (TB) community has been doing precisely that for decades -- fighting a protracted battle with antiquated, inefficient tools, including an insensitive diagnostic (i.e. sputum microscopy), a low-efficacy vaccine (i.e. BCG), and drug regimens that have hardly changed for decades.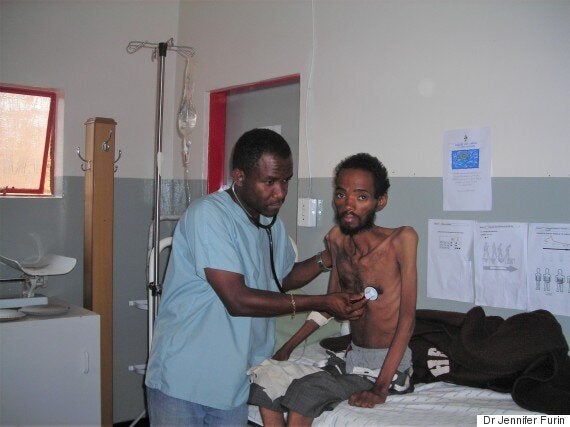 At long last, new diagnostics and drugs have emerged. For diagnosis, we have innovative rapid technologies, including the Xpert MTB/RIF (GeneXpert) test that can rapidly detect TB as well as drug-resistance. For treatment, two new drugs, delamanid and bedaquiline, are now approved for drug-resistant TB), in situations in which there is resistance or intolerance to the other second-line agents or a high risk of treatment failure.
So, we, the TB community, asked for new tools, and new tools have been successfully introduced and policy endorsed. But we are now learning the hard way that availability does not necessarily result in widespread access. In an analysis published in eLife, we summarized the uptake of new tools such as GeneXpert, bedaquiline and delamanid, and identify the main barriers to scale-up and patient access.
With the notable exception of South Africa, which has rolled-out GeneXpert MTB/RIF nationally and accounts for 50 per cent of global GeneXpert cartridge sales volumes, other low and middle income countries are still reliant on insensitive smears. India is an excellent case in point -- despite having the world's largest TB burden, the country is still heavily reliant on smears.
What about new drugs like bedaquiline and delamanid? Although there was initial excitement about the availability of these new drugs after more than a forty-year drought, global scale-up has not kept pace with the dire need for these drugs, and most patients with drug-resistant disease still endure prolonged, toxic therapies with poor outcomes.
But reporting that three out of four patients with drug-resistant TB cannot access the newer medicines they need is setting the bar low. When the number of estimated drug-resistant TB cases -- almost 600,000 per year -- is used, a more startling gap is revealed. This more ambitious benchmark puts the estimated need at 200,000 persons annually, meaning 191,000 people are denied access to these life-saving medications. Again, South Africa is one of the only countries striving to close this access gap: they account for more than 60 per cent of the global bedaquiline use. Other high burden countries are either not using the new drugs or are doing so only in small pilot projects.
So, why are we struggling to provide new tools to our TB patients? There are many barriers to adoption and scale-up of new tools: lack of adequate funding to national TB programs, regulatory hurdles, high cost of tools, restrictive policies, bureaucratic apathy, implementation failures, and, in the case of new drugs, a desire to protect the drug (as opposed to protecting patients) coupled with excessive concern about potential side effects -- a concern that is misplaced given the both the high death rate in people with poorly treated drug-resistant TB and the high rate of serious adverse events (e.g. deafness, psychosis) that occur using the older medications.
What can we do about this disappointingly slow pace of new tool uptake? Some positive examples and potential solutions are emerging. Bold ambitions followed-up with concrete execution can surmount many of the barriers to optimal use of novel diagnostic and treatment strategies. South Africa has been a pathfinder in scaling-up both GeneXpert and bedaquiline, due in large part to a forward-thinking Department of Health that is backed by an ambitious Health Minister and supported by academic and NGO partners. Other countries -- including Georgia, Swaziland, Belarus, France and Kazakhstan -- too have had success introducing bedaquiline, especially when they prioritized patient needs, were flexible with their innovations, and partnered with other supporting groups.
Furthermore, the early success of tools like GeneXpert and bedaquiline have demonstrated the impact of industry engagement in R&D, pushed countries to develop systems for conducting field trials for policy changes, and revitalized front-line health workers and civil society. It is also wonderful to see countries develop more ambitious plans for TB elimination (with a big focus on new tools), with India and South Africa being prominent, recent examples. Achieving elimination, however, requires changing actual policies, practices, and mindsets. Current experience with the new diagnostics and drugs shows we have a long way to go.
The clock is ticking and urgent action is needed if we are committed to ending TB in a mere 13 years. This means embracing innovation, increasing financial investments in TB, addressing implementation gaps, and making sure that new technologies are available in the service of those who are trying to survive. More importantly, the global TB community needs to learn from the HIV/AIDS experience, and not settle for less.
Madhukar Pai is a Canada research chair in epidemiology and global health at McGill University, Montreal. He is the director of McGill Global Health Programs and associate director of the McGill International TB Centre. Twitter: @paimadhu
Jennifer Furin is a lecturer in the Department of Global Health and Social Medicine, Harvard Medical School, Boston. She is an infectious diseases specialist and medical anthropologist who has spent the last 20 years working on clinical and programmatic management of drug-resistant TB in resource-poor settings.
Acknowledgement: The authors are grateful to Erica Lessem, Treatment Action Group, for helpful input.
Follow HuffPost Canada Blogs on Facebook