No longer just somewhere to wet it and forget it, today's bathrooms are 21st century sanctuaries that can totally enhance your physical well-being and the value of your home. So is your bathroom bubbling with ideas, or is it time to pull the plug?
As boys who navigate the globe with vigour akin to Kim Kardashian rushing to her next, tiresome photo opp' (are we the only ones who find the TV family dull?) we'll go crazy if we hear one more commentator squawking on about 'boutique hotel' this or 'hotel style' that.
In our opinion, it takes more than matching night stands, vertiginous cushion stacks and a waxy choc' perched daintily on a pillow to conjure the spirit of luxury.
For us, hotel style means much more: it's defined by a welcoming room, perfectly preheated and illuminated to 'cosy' prior to our arrival. It's that feeling of indulgence as a thick toweling gown is draped across travel-weary shoulders. It's the fresh flowers, the bedside 'next day weather' note or the friendly concierge who calls to establish that everything is tickety-boo. Little things, sure, but played properly they make such a difference.
But hold it: we're not suggesting hotel style is the exclusive domain of expensive hostelries. We've stayed in many a three star where enthusiastic staff went that extra mile to make us feel thoroughly indulged. Conversely, we've camped out in, ahem, 'five star' outposts where disappointment settled the moment we arrived. Aye, getting it right is less about 'spend' and more about how interested your host is in making your stay a night to remember . . . for all the right reasons.
The good news is that Canada, from our experience certianly, knows better than most how to proffer a tremendous welcome. Arriving in Toronto a decade past, we lodged (before buying our own condo) at the Four Seasons and, whilst its grandeur was certainly fading, the Canadian gem retained a nonetheless luxurious feel courtesy of wonderfully competent staff.
It's no surprise to note the new Four Seasons is similarly appealing with a welcoming team and esthetics that warrant its five-star rating. In Tofino, on Vancouver Island, we're all about The Wickaninnish The Wickaninnish , a fabulous outpost whose position on Chesterman Beach is undeniably one of Canada's most arresting locations. In Ottawa, we felt indulged at the Fairmont Chateau Laurier Fairmont Chateau Laurier ; next to the government buildings, it's a joy to behold. We could go on and on . . .
And the common denominator linking all these hotels? In a word, bathrooms.
A good bathroom, for us, is a necessity, both at home and on the road. This considered, what does your bathroom say about you? Is it a tranquil home spa or a chaotic scene awash with soap scum and squeezed out tubes of toothpaste? If your answers favour the latter category, maybe it's time to rinse away the past and embrace a glossier future.
Today we're focusing on the vanity of one formerly needy space, a room we enlivened with acres of stone and enough God damned mirror to keep even the vainest Kardashian distracted...
First we drew the proposed vanity (structured to allow sink insertion), factoring ample space for towel storage below. Our trusty contractor created a timber frame, supported on articulated metal brackets and, this done, we clad surfaces with toffee brown marble tile. These days, even big box stores like Rona and Lowes carry great stone options, but if you'd prefer a custom installation - with larger slabs of marble - try Ciot (http://ciot.com/ontario/en/) or use stone effect ceramic tiles from Saltillo - www.saltillo-tiles.com
Surfaces should be adequate enough to display products - as required - and there should be bags of storage to stash items when not in use. Within this project we had the luxury of space to install two basins, ideal for busy couples who like brushing their teeth in unison. For a great range of bathroom sinks try Unikstone http://www.unikstone.ca and for faucets try Moen http://www.moen.ca
A small mirror above each sink is all very well (see our before shot), but a huge custom mirrored section amplifies our plan. A competent glazier -- we use Adanac Glass, http://www.adanacglass.com -- will measure, supply and fit with ease. Installed correctly, your finished results will be sleek and beautiful.
A well dressed vanity should suggest order and cleanliness. Opt for mirrored trays, chrome lidded bottles and cut glass jars: scour the aisles at Homesense or Chapters Indigo for sensibly priced, well-designed options.
Easy to get right, but similarly easy to get wrong. Lights above mirrors, for example, cast unattractive shadows, whereas side lighting - as shown here - illuminates your face evenly. Home Depot and Canadian Tire carry a great collection of options whilst Union Lighting (http://www.unionlightingandfurnishings.com ) carry a range of on trend stock.
Adding shelving for bales of fluffy towels will give your bathroom a hotel/spa-like feel whilst being a great way of storing grooming paraphernalia without overcrowding your airing cupboard. Here, towel storage works particularly well due to the modesty wall we constructed between the sink and the WC - you don't want towels too close to the loo, for obvious reasons.
Collect free perfume miniatures and store in clear glass jars, wrap bars of soap with organic twine or pour budget supermarket bath oil into junk store crystal decanters to make a luxurious statement. In our quest for cute accessories, you're as likely to find us wandering the aisles of Dollarama as you are Holt Renfrew. Yup, we're not shy when it comes to tracking down the optimum deal at either end of the retail spectrum.
Our final vanity fare? When visiting hotels, get into the habit of taking notes and pictures and become sufficiently inspired to make your bathroom a luxury destination, one you'll be happy to visit time and time again. The best hotel souvenir we ever enjoyed wasn't a dressing gown or a pair of terry toweling slippers, rather a wealth of ideas - employed to this day - in our clients' domestic settings. Now go reflect on that...
The before - a Barbie doll house timewarp extravaganza...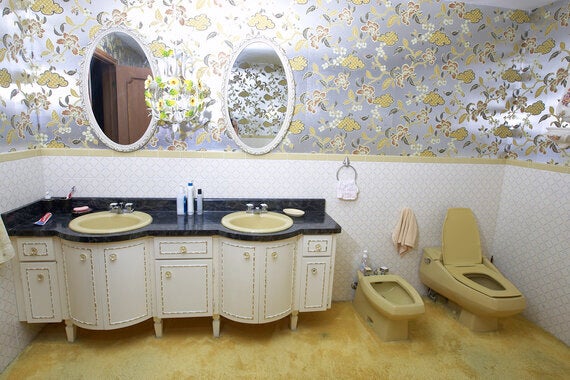 After - toffee marble and glass - a delicious combination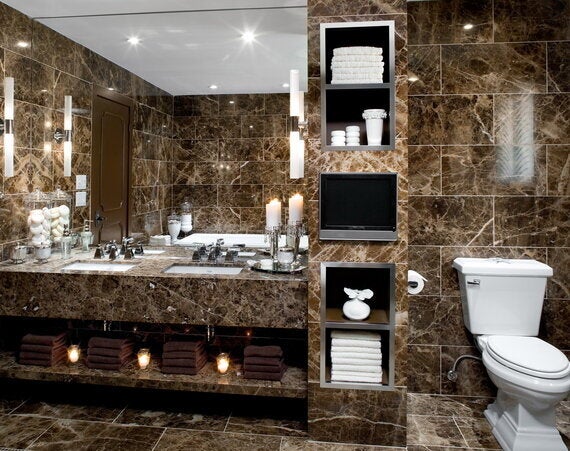 A balanced approach to design - the finished space oozes glamour and performs well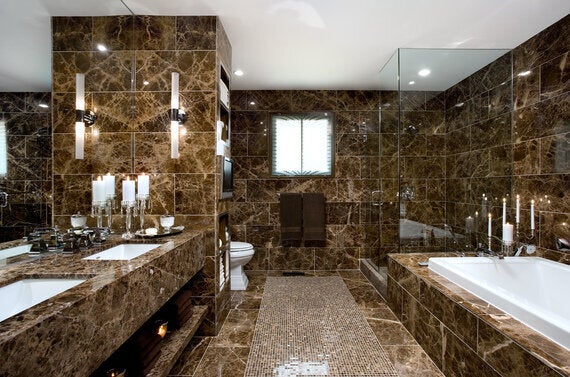 Dual vanities = dual efficiency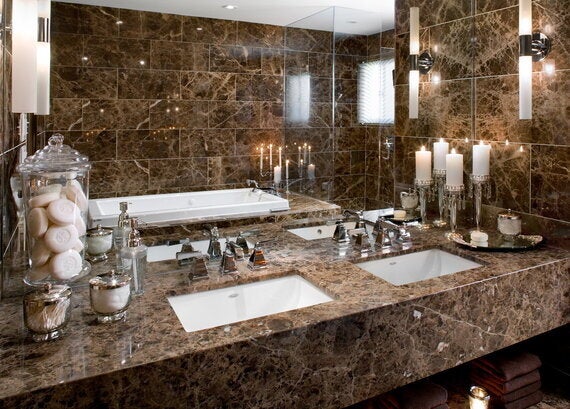 Set the scene with crystals and candlelight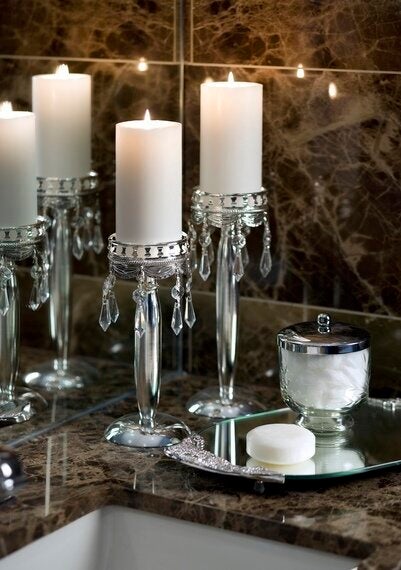 Follow HuffPost Canada Blogs on Facebook
Popular in the Community