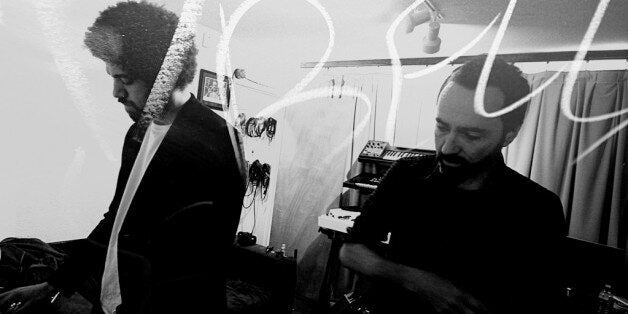 When Shins frontman James Mercer and wunderkind producer Danger Mouse (aka Brian Burton), collectively known as Broken Bells, decided to name their sophomore album "After The Disco," they were in a contemplative frame of mind. After finishing the lyrics to the record's first song, also called "After The Disco," about a year ago, the duo found themselves drawn to the post-party comedown implications of the phrase.
"We thought it was a cool line because it signified a lot of stuff that me and James have been talking about," Burton tells The Huffington Post Canada about naming the followup to the band's self-titled 2010 debut. "You know, we've had lots of fun and we've done lots of things. It's kind of like an ''after the party's over, what happens?' kind of thing."
One thing the pair didn't consider, though, were the ramifications of releasing an album with the word "disco" in it in February of 2014, still in the wake of the indie rock world's rekindled love affair with disco music. In a climate of music fans and critics hopped up on the reimagined grooves of Arcade Fire and Daft Punk's latest offerings, some listeners have taken the d-word a lot more literally than Broken Bells ever expected.
"I guess we were a little naive about that," Burton admits. "We didn't think we were making anything that had to do with disco. And if you listen to disco music, it's pretty obvious what it is. At least when I think about this record, I thought it was kind of a downer. I guess next time we'll know to be careful if we use a genre name in the title, but what are you gonna do?"
While Burton concedes that at least one musical moment on the disc might be just a little bit disco -- he admits that partner James Mercer's sweet falsetto chorus on the first single "Holding On For Life," "sounds kind of Bee Gees" -- he's far more eager to talk about the music's other influences, including classic science fiction.
Interview continues after video
An appreciation of the fifties and sixties sci-fi aesthetic is certainly evident in the artwork for "After The Disco" and it's even more prevalent in the videos for "The Angel and The Fool" and "Holding On For Life," which are based on a short story that Burton wrote and stars Kate Mara ("House of Cards") and Anton Yelchin ("Star Trek") as a pair of star-crossed space lovers.
"I think me and James both like the idea of when people had ideas of what the future would be like and we don't really see that so much anymore," the prolific producers says of the appeal of old school sci-fi. "Nowadays, all the futuristic stuff now has to do with the apocalypse and it's all dark and people are dirty and it looks like there are no advances in anything. In the past it was always this other thing. We kind of like that."
Burton believes that same vibe snuck into the music itself as well. "We do future music. What it would sound like, maybe what it could have sounded like, or make music that sounded futuristic with a little bit of a nod to that whole thing. It's not as deliberate as it sounds, but it's something we find musically that we've done."
Broken Bells' own future is far from catastrophic, too. Beyond their current tour, which includes appearances on The Tonight Show with Jimmy fallon on March 7, followed by sets at Coachella and Bonnaroo, Mercer and Danger Mouse have both declared that they intend to work together again. It's just a matter of finding the right time and headspace.
"It's just getting it to be something that I can put everything into," Burton says. "It's pretty difficult because me and James are both doing our things but when we're in there, it reminds me how much I enjoy doing it, so we'll see how it goes."
When asked what comes after "After The Disco", he gets philosophical. "We could have put a question mark at the end of the title, because you spend a lot of time thinking about the future and I guess it's more of a question of what do you think about now? What do you dream about now?
Now it's here. You spend youth thinking about getting older. I remember thinking what was I going to look like and how tall I was going to be, who was I going to marry and what my kids would look like and all of these things. And now you're here and it's like, OK, what do I do think about for the next fifty years? I don't know. I think the title could be more of a question that way."