The U.S. ambassador to Canada is stepping down from his position later this month after an order from president-elect Donald Trump's transition team.
"As requested, I have resigned as US ambassador to Canada effective 1/20," Bruce Heyman wrote on Twitter on Friday, adding that he and his wife will be moving from Ottawa "on or around that date."
His wife later added a statement of her own, calling it an "honour and complete delight'' to represent the U.S. in Canada. "We will miss all of you but promise to stay in touch."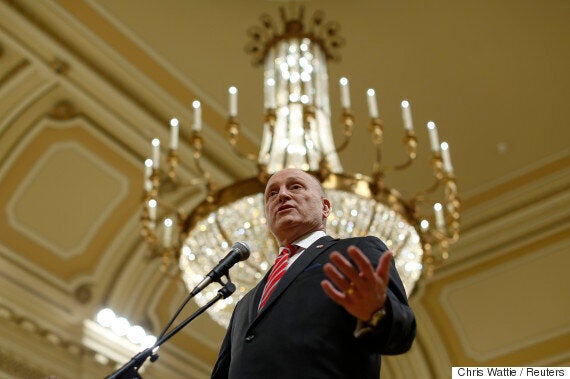 Reuters confirmed that Trump's transition team had issued a blanket request that ambassadors appointed by President Barack Obama vacate their posts by inauguration day.
According to The New York Times, the Trump edict ignores a tradition by both Democrat and Republican administrations of allowing extensions so diplomats have time to wrap up their personal affairs, such the school year for children or visa arrangements.
The president-elect does not want any of his predecessor's appointees around when he is sworn in on Jan. 20, said the newspaper, especially those like Heyman, who was a major donor and fundraiser for Obama.
Heyman has served as ambassador to Canada since 2014. He has three grown children and three grandchildren.
The abrupt mandate could leave countries including Germany, Britain, and Canada without a U.S. diplomat for several months as successors undergo a lengthy confirmation process.
A senior official on Trump's transition team told the Times the order was not malicious, and is part of sticking to a tight schedule of political and staff departures during the transfer of power between administrations.
Within a couple of hours of his announced resignation, there were nearly 100 responses on Heyman's Facebook page, with many urging him to remain politically active south of the border.
"Please continue to make a difference on your home soil," wrote Melanie Jean Wills of Gatineau, Que. "Your country needs people like you more than ever right now. Don't be silent."
Gerald Butts, Prime Minister Justin Trudeau's senior political adviser, commented on the news, saying the couple "served your country with honour."
"We'll miss you guys," Butts wrote.
With files from The Canadian Press