OTTAWA — Bruce Hyer called NDP Leader Thomas Mulcair a dictator who acts like Stephen Harper and the NDP-turned-Green candidate isn't backing down from his words.
In an interview with the CBC's Peter Mansbridge, Mulcair dismissed Hyer's comments, saying the Thunder Bay–Superior North candidate had left the NDP because he never wanted to vote with his colleagues.
"I haven't talked about it very much publicly," Mulcair began. "But Bruce simply informed all of us that he would never be able to follow party line on anything, so that's not dictatorial," the NDP leader said.
"I've got a whole caucus of nearly a hundred people who, under my leadership, have been able to take a strong fight to Stephen Harper… [Bruce] walked away from the party on a single issue," he said, adding he would leave it up to Canadians to believe what they wanted about the two men's exchange.
"I'm not going to respond to that in kind. I could go a lot further," Mulcair said.
In an email to HuffPost, however, Hyer called Mulcair's statements "a total fabrication."
"I always supported 95 per cent of the NDP party platform. I still support much of it! But I feel very strongly that my primary role is as the representative of my constituents," Hyer wrote.
"On some issues, an MP's responsibility is to put … constituents ahead of the party line. It is interesting that Mulcair immediately contradicted himself and said that I was 'someone who walked away from the party on a single issue.' Again and again, I see and hear a man who in his pursuit of power will contradict himself."
The party under late NDP leader Jack Layton never whipped, wrote Hyer, who ran successfully under the NDP banner in 2008 and 2011.
"He persuaded," Hyer stated. "After Jack's death, the NDP became the Non Democratic Party. Mr. Mulcair made it very clear to me that all votes would be whipped. The party whips told me that, if I did not vote the way the party and leader wished, that I would be 'punished' and they would not sign my nomination papers."
Mulcair "wanted to establish lockstep discipline and loyalty to him," Hyer added. "He wanted me to totally follow the party line rather than follow through on a commitment that I had made to my constituents over four elections. I wasn't prepared to do that."
In April 2012, Hyer left the NDP caucus to sit as an independent. That February, under the interim leadership of Nycole Turmel, he and NDP MP John Rafferty voted with the Conservative government to abolish the long-gun registry. Hyer told The Globe and Mail he was uncomfortable with his new leader's plan to bring back the registry and didn't want to support it.
"I don't want to be controlled by any party. I don't want to vote 100 per cent with any party all the time. And my first loyalty is to my constituents and the people who elected me," he told the Globe.
In an email late Thursday, Rafferty told HuffPost that Hyer had quit months after the long-gun registry vote because he had been left out of the NDP's shaddow cabinet.
"Bruce had a hissy-fit because he did not receive a minor role as small business critic in Tom's shadow Cabinet. That's it. Pure and simple," the incumbent candidate for Thunder Bay - Rainy River wrote.
Co-operating with Trudeau 'might be easier'
In 2013, Hyer joined the Greens. He and Green party Leader Elizabeth May occasionally disagree, but all Greens are free, under that party's policy, to vote as they wish in the Commons.
"Political parties are not even mentioned in the Canadian Constitution," Hyer wrote to HuffPost. "We need to reduce the powers of the parties, and restore the powers of MPs."
Aside from winning his seat, Hyer said he hopes the Greens will be able to work across party lines in Parliament.
"It is clear that the Harper Conservatives are past their 'best before' date," he wrote. "The most likely situation on October 19th seems to be either a Liberal or NDP minority…. It would appear that co-operating with Trudeau might be easier than working with Mr. Mulcair."
Earlier this summer, Hyer tweeted that he looked forward to Mulcair's victory.
He told HuffPost that he meant only "in a minority government."
"I do look forward to working with either the NDP or Liberals in a minority... especially if we hold the balance of power!"
Mulcair told Mansbridge on Wednesday that he hopes for an NDP majority.
A 2013 study by the Globe and Samara found that NDP MPs, unlike other parties, had unanimously voted with Mulcair since his election as their party leader in March 2012.
"[L]ooking only at private members' business (bills and motions introduced by backbench MPs rather than the government), since Mr. Mulcair became NDP leader last March, his caucus has voted unanimously 100 per cent of the time. The Liberal caucus was united 90 per cent of the time, and the Conservatives were united 76 per cent of the time," the newspaper found.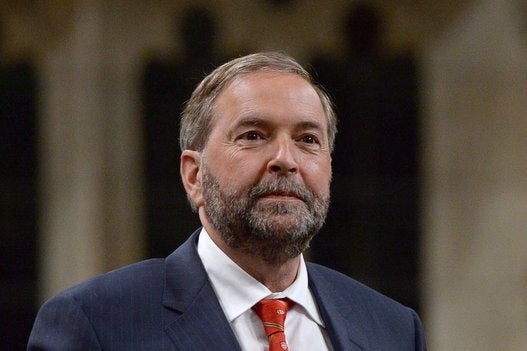 Politicians Who've Switched Allegiances