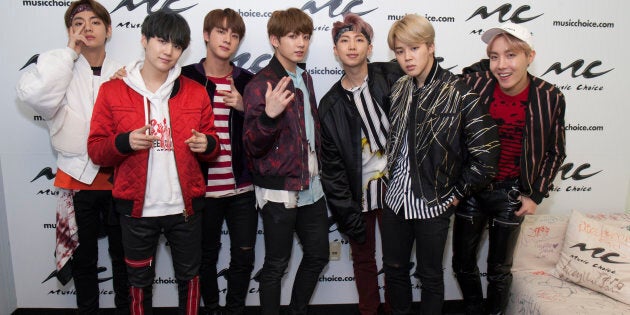 Grab your wallets, because there's some exciting news about BTS. The seven-member K-pop boy group have joined athletic line, Puma, as the brand's new global ambassadors.
The hugely popular boy band are known for their original style and striking outfits. In the music video for "DNA," we loved how Kim Tae-hyung, also known as V, paired a light blue jacket with a popping red tie, complimenting the colourful and dreamy essence of the video. And we must mention Jimin's Gucci Men's blue sequin bomber jacket, which retailed at $8,415 on Neiman Marcus. These boys know style. And after their successful past year in the charts, it's no surprise they were chosen by Puma.
"We've had various promotions with BTS as our brand models for four years in a row. They will gain even more love as global ambassadors starting this year," Puma said in AllKPop.
Last July, BTS announced their shoe line with Puma, called Puma X BTS Court Star. The shoes were traditionally themed in black and white. They also featured a logo, designed by the boy band, of a hand holding a flower - another example of the Korea-made artists leaving their mark.
As we await the official launch from our new Puma ambassadors, our credit cards are armed and ready.