Location: King street west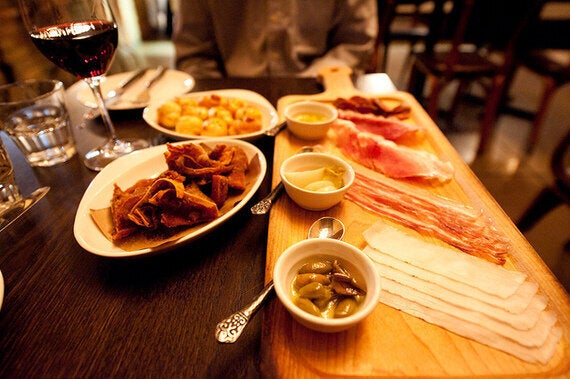 If Buca were a man I'd be totally nervous to date him because he's so good looking. A man of stature and pleasing height, he's got this industrial yet glamorous style to him --not going to lie, I'm pretty overwhelmed and I wish I wore heels. Piled high plates go by and let the oogling begin!
A gaped-mouth stare is something I typically shy away from, but not here. A procession of pizzas go by and I'm staring, mouth agape, right at the goods, undressing it with my eyes, imagining what it would look like on my plate, in my mouth...Buca is a man I want to get serious with. Yes, I've had some flings in the past, a little ramen, a regrettable meal at the Mandarin -- we all make mistakes, right? And they usually come with copious amounts of tears, bad Chinese food and sentences like "these are my buffet pants."
We are shown to our table and find ourselves seated amongst a good-looking crowd, an "in-crowd." There is very little I love more than first sitting down at a freshly set table in some chic restaurant. The initial menu scan, maybe some complimentary apertifs, the first sip of wine is indeed a holy one, the ritual of it all gets me every time. My eyes skim the page effortlessly for a couple of seconds before I lock eyes with it, "Tartufo Bianco," taleggio cheese, fresh white truffle all atop a glorious pizza smothered with duck yolk instead of the more typical al pomodoro.
Aside from the 32oz prime rib, said pizza is the priciest item on the menu, sitting at a whopping 50 bucks. Pangs of doubt cloud my pretty head. Dare I order the second most expensive dish on the menu? Is the serial dater turning soft? Do I actually feel bad for my date? He does seem to be a nice guy...NO! He is merely a conduit for my tasteful lifestyle, nothing more, nothing less. The waiter arrives, sheepishly I say, "I'll have the double stuffed ravioli."
The food. The prosciutto was perfectly conditioned, simultaneously warm and cool, though the fixings were a little dull. A very shy slice of taleggio cheese paired well with a chilled cranberry sauce to start. It should be noted most of the meats are cured in-house, a delicate balance indeed, with temperature and time being of the essence. The goose ravioli was by far the highlight, stuffed to the brim with goose meat, each ravioli is a plentiful package in and of itself.
The sauce, which risked being too heavy (fonduto di parmigano, a melted cheese similar in consistency to mozzarella) was lighter than air and balanced nicely with the heavier goose meat. A cacophony of colours the dish wasn't hard on the eyes either, and I swear I tasted hints of raspberry in that sauce.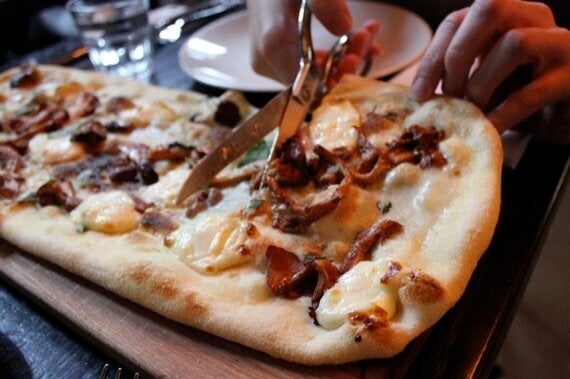 Some wine. I like my wine. I like it red, not too dry and in a bigass glass. I know a thing or two about tannins, how to pair a good wine with a nice cheese, but talk to me longer than 30 seconds about some region in Spain and I've stopped listening. Sure, sure some people have the more cultivated palate, can distinguish those floral notes, detect the oak, the smouldering fire and a whisper of cinnamon, but I smell bullshit. Or rather I don't smell much of anything besides wine.
If you do however enjoy talking about your wine as much as drinking it, the sommelier at Buca is the gentleman for you. Straight out of a Gucci ad in some quaint alley in Rome is the portrait he appears to have just stepped out of. It seems as if he is struggling to find English words to describe this breed of wine we've chosen -- a surprisingly sweet merlot from Spain. (Seriously everyone who works here seems straight out of Italy). I watch nervously as his hands boisterously move about, just missing the bottle of wine -- such passion in the sommelier, I'm sold, I love the wine.
Some advice. A little dessert. If you decide to come to Buca make sure you pre-eat because the portions are sparse and leave you wanting more. I'm getting the feeling opting for a second round of pizza is not an unusually occurrence at this resto. I also wouldn't recommend dessert. If it wasn't so late I'd totally tell you to hit up forno cultura across the street, the best bakery ever for some mind blowing pastry but sadly that ship has sailed for the evening. I compare my dessert at Buca to the likes of eating a just short of ripe banana. I know it has potential to taste good, all the makings of deliciousness are there -- gelato, pumpkin fritters...but a banana before its prime just tastes bad, as does dessert at Buca.
Needless to say I'd call this gentleman again and by gentleman I mean restaurant and by call I mean eat at.