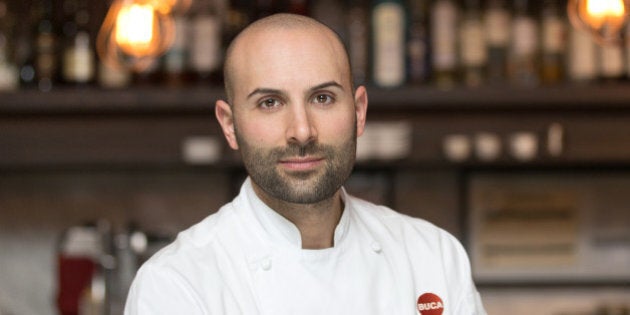 Rob Gentile is not satisfied with the fact that he opened one of Toronto's most buzz-worthy restaurants, Buca Osteria and Enoteca, before he was 30 years old. He has bigger fish to fry.
Four years later, the protégé of Canadian superstar chef Mark McEwan has gotten rave reviews for his inventive, obsessively local and made-from-scratch menu of rustic Italian fare, and now he's expanding into a mini-empire that includes a seafood version of his meat-centric restaurant and a traditional Italian bar, both rolling out over the next few months.
We spoke to the rising culinary star and newlywed about the evolution of local food, his tattoo collection, and the one event that changed his life forever.
How many tattoos do you have?
Six or seven. They all in some way describe me. I've always loved pin-ups and I have a pin-up on my leg and she's kind of wrapped in grape vines and she's eating a pig's heart. I have a knife on the inside of my arm here, a butcher's knife. My last one was a phoenix on my shoulder. It's an inspirational figure, it's a bird of fire, it's something that could never be killed or destroyed, it's always the most powerful. Then I have a quote here on my wrist that says "Now is all we have." And that's something that I try to live by and make sure that I push myself every day, and realize that the past doesn't exist, and the future doesn't exist yet, and in order to change the path of where you want to go and reach your goals, you've got to do it now in the moment, every day, not procrastinate, not let up.
I've heard Bob Proctor, one of the teachers of The Secret, was a huge inspiration for you.
I was a very different person up until the age of 26. There was jealousy in me, there was negativity in me, there was ego and egotistical ways about me. Being introduced to a completely new way of thinking changed my entire life, it changed the path I was on, it changed everything.
Bob Proctor was the first person that I had the privilege of hearing speak, and after Bob Proctor I went to see Anthony Robbins, I went to see T. Harv Ecker, I bought all the books by Eckhart Tolle, I'm a big Robin Sharma fan -- I've had the honour of having him come for dinner a lot.
The introduction into my life of the way the mind works, it just completely took me back and I couldn't understand why it took 26 years for me to figure that out, it just doesn't get taught to people.
Tell me more about the concept behind Buca.
When we first opened we were adamant on ingredients, we were adamant on making sure we followed the traditional practices of Italy and its culture and its cuisine, and we've travelled many times to Italy and researched and all sorts of things like that. What we realized is that the country is so diverse, there's so many different things that are being done within every town and city and province, it's just an incredible thing.
So what we do is we kind of bring all those things that may be traditional and special and artisanal to the restaurant. We cure all our own meats here, all the animals are brought in locally, we work closely with the farmers, we do all the salting and the aging here, make all the bread and all the pasta and we do a (famous) Roman-style pizza which is something that we came to love through our travels... We have our own vinegar barrel in the back, we age our own Concord grapes to make a vinegar from Concord grapes in the balsamic style, so we try to keep in touch with Ontario and Canada and local ingredients and we really treat all the ingredients in the way the Italians would.
What does "Canadian" food mean to you?
The first thing that comes to my mind when I think of Canadian food is ingredients. I think that in the last five years Canada has come so far in being able to produce and forage, and collect the ingredients that the country has to offer. I remember when Buca first opened it was very difficult to try to find all the things that I was interested in, and I couldn't tell you how many hours I spent on the phone trying to call people and figure things out. Where nowadays, you've got guys like Alex (Cruz) at Société-Orignal, ambassadors like Derek Dammann at Maison Publique in Montreal, Jeremy Charles (at Raymonds), you've got guys all across Canada that are really deep into the ingredients and the bountiful products that Canada has to offer.
We're seeing things come to our door that we could never have possibly imagined. I'm getting ingredients like agretti (wild grass that grows near the ocean) that are being foraged wild on the east coast that usually are only harvested in Italy and through these kinds of connections, I can say: "Guys, try to find this." And I'll send them like a species information of a plant. In Italy they go crazy for it, wherever it grows, and they do anything imaginable with it, it's a national treasure, where here no one ever heard of it. For the last two years, maybe three years that I've been trying to get it, now we get it regularly — when it's in season, of course. Canada's come to the point where we're actually creating a demand for all these amazing things that we have.
So for me, 100 per cent of this country is about the ingredients, Canada to me says ingredients. We have so much and it's not just ice and frigid temperatures. We have some really cool things to offer and it's starting to really come out, it's exciting, and it's only going to get better. Because the demand keeps going up and the chefs are pushing that movement.
What is one of the first things you crave to eat when you return home from abroad?
That's the pomodoro, man. It's the best. I say that in every interview. Good tomato sauce that's been harvested when it was in season, garlic, olive oil and pasta. We always have jars at home.
What's your favorite food to make for yourself at home after a boozy night out?
I'm a big breakfast fan. I love eggs. Runny eggs and toast and sausage, for me it doesn't get better than that. At night, if I'm out and we're partying I would have to say Chinese. That salty tang of everything — I guess you could say MSG — it hits the spot. Nobody goes home drunk and cooks for themselves.
What's your favourite poison?
I guess it depends what I'm doing. I'm not particular, I like everything. If we're out I like Jameson, I like vodka, I love a good cocktail. At the same time, I love a good wine, depending on what I'm eating. I love champagne and I'm a huge coffee drinker. I probably have about six espressos a day.
What would be in your emergency "survival pantry"?
It's easy. Tomatoes, olive oil, pasta, bread would be good -- because you could let it go stale -- wine vinegar, prosciutto, you could carve that thing for months. That's kind of how the Italians survived was actually that. Dried, preserved and cured. Done.
What is the wildest thing you've done in a kitchen, culinary or otherwise?
That's a tough question man, the kitchen is very sacred for me. I would have to say the craziest thing I've ever seen in a kitchen was at One with chef McEwan. With the [Hazelton] hotel and the construction and all that, we would always have problems with the hoods and HVAC systems. One day I guess they weren't working properly. Who knows what happened, but it started getting really hot in the kitchen, so hot that the exit sign right by the door started to melt, and it triggered the hood and the sprinklers, so on a Saturday night at about 7 o'clock, everything popped... it's just like gushing, so it was like all-out panic. The fryers were filled with water in a split second. So all the linen went down on the ground to block the kitchen from the water from going in the dining room, the fire department came, nobody could shut off the water, it was complete mayhem. The whole restaurant had to be evacuated and there probably about 250 people inside the restaurant. All the food was garbage. All the chefs were soaked.
What is the best restaurant that no one's ever heard of?
There's one place that comes to mind in Italy, but it's not a restaurant, it's just a little food stand. So out in front of the food market in Florence, there's a woman, I forget her name, she's a vendor, like with a hot dog cart, and what she sells is something called lampredotto. My mouth is watering just talking about it. It's the most incredible thing. Lampredotto is a type of tripe, so there's the typical tripe and then there's the lampredotto. In the anatomy of cow, it's the fourth stomach, it's a lot smaller. I've been trying to get it here for years. So basically what she specializes in is paninis with this chopped up tripe in it and it's braised and the bun is done banato, so it's dipped in the juice, and then you get lampredotto, salsa verde and chilies in a bun, and I'm telling you that's the first stop I make when I go to Florence, even if it's 9 a.m., I'm eating a lampredotto sandwich with beer. It's the most incredible thing.
What would you be doing if you couldn't be a chef?
I'm big on doing things with my hands. I love the idea of teamwork, and leadership, so it's tough to say. I love the outdoors, I love agriculture so anything involving the land and my hands.
What is your favourite cheap food thrill?
I'm a big fan of The Burger's Priest. When I'm like really ready to kill it… I've gotta stay away though, because it can get crazy because I'll go and I'll smash like three or four burgers.
What is the most memorable food city in the world?
I would have to say Greece. Athens. Don't get me wrong though, there were so many in Italy, even Spain was incredible, but I think that what topped it off about Greece and what made that come to my mind was the market. The market in Greece was something that I had never seen before. What I saw in Greece was just raw, it was like hardcore and it was probably the most intense market in terms of food and ingredients. And I've been to a lot of markets, even in Italy. Greece was crazy. We were videotaping in Greece, that's how much action there was. People like yelling at each other, there's animals getting tossed around, people doing butchery right beside everybody. It was intense.
Which Canadian restaurants have you been to and would recommend?
My favourite place to eat would be Maison Publique in Montreal. Derek Dammann is a genius. The way he treats Canadian ingredients is absolutely outstanding. They're like a shining star.
What's the most unusual and delicious food that you would suggest people try?
Something interesting would be the sanguinaccio that we do here at the restaurant... It's a chocolate-blood gianduia. Traditionally, blood is used many many ways in the sweet department, the dolce in Italy, and chocolate and blood specifically together are an outstanding combination.
'Grilled' is a new regular chef interview that runs every other week. Who would you like to hear from next? Let us know at canadaliving@huffingtonpost.com.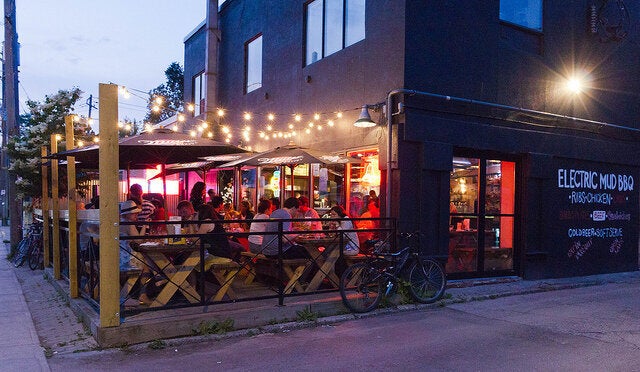 Best Toronto Restaurants (HuffPost Picks)
Popular in the Community