Buffy Sainte-Marie, adorned in feathers, beads and a bad-ass black leather jacket, is smiling brightly in a sky-scraping hotel suite facing the CN Tower. The charismatic, how-could-she-be-74-years-old Cree singer-songwriter and political activist is a far ways from Saskatchewan's Qu'Appelle Valley where she was raised. And far from the Kauai goat farm that she's called home since the 1960s.
Sainte-Marie left the rez more than a half-century ago to become a leading figure in the folk music revolution that was fomenting in Toronto's Yorkville and New York's Greenwich Village. Her subsequent mainstream success broke down North America's cowboys-and-Indians stereotypes as she stormed the "Tonight Show," "American Bandstand" and "Soul Train" stages. She moved onto "Sesame Street" in the late '70s (after her anti-war activism got her blacklisted by radio) and even nabbed a best song Oscar in the 1980s. In the '90s, she was named to the Order of Canada, among many other honours.
Accordingly, the raucous agit-rock record can also be heard as something of a soundtrack to the Idle No More movement. And much like Buffy's been keeping busy while seemingly off the radar, she says she's not alone.
"We've had an indigenous peoples grassroots movement all along. It didn't just show up because we didn't have anything to do that day," she laughs.
"The way I see Idle No More is that it's not a structure at all. It's not a corporation or a club with somebody the president and somebody the vice-president. It's not like that. it's not a hierarchical organization. It really is life in a circle. That is just who we are."
Sainte-Marie, however, also sees the Idle movement as much more than many of us think. Not only has the Canadian-born movement expanded southward, she says it now connects to "Planet Indigenous," drawing lines to the Sami people of Scandinavia, the Maoris of New Zealand, the Aboriginals of Australia and native peoples across Central and South America.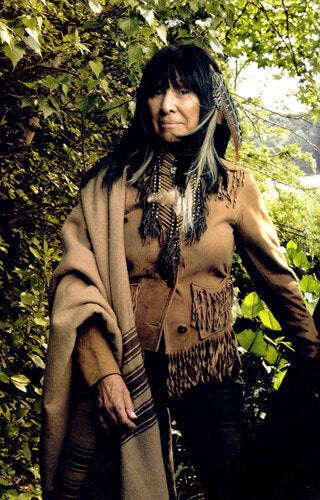 "We have a lot in common even though we don't spend a lot of time together. We have been colonized in the same way, so we have similar problems in decolonizing. But before the European colonial system ever got us, it's been torturing white people for thousands of years. It was perfected in the Roman Empire before it was perpetuated by the British Empire."
This ability to think global without losing a local perspective is how she was able to take aboriginal music mainstream decades ago, and it's how she's developed a worldview that looks out for her people while acknowledging that everyone is facing the same threats, be it Climate Change, corporate "racketeers" or violence against women.
Sainte-Marie tours with a red dress that she hangs on a coat tree onstage to "represent my missing and murdered sisters" and thinks there should be a focus on indigenous women but she also says there's a bigger issue at hand.
"It's just horrifying [but] I think it goes even beyond to the way that women are treated globally — there's a lot of missing and murdered women. What we really need to be dealing with in the big picture is decolonizing men," she says. "There's something that we allow and even encourage in men that shows up all over the planet. Boys need to be raised to be human beings instead of 'soldierized' at a certain age. They kinda have their heart ripped out of them."
Sainte-Marie would probably appreciate this acting as the segue to Prime Minister Stephen Harper, of whom she is no fan.
"Oh, come on!" she exclaims when asked how she thinks he's handled aboriginal issues. "Again it's even bigger than how has he dealt with First Nations, it's how has he dealt with everything. The man has no respect for life. Have you been to the tar sands? Oh brother, don't go. It's a nightmare. It's so much worse than I could've ever imagined. That's where Mr. Harper oughta live, we oughta build him a nice little house right there."
"When you talk to indigenous elders," she continues, impassioned, "they signed away these lands because they thought 'We've lived in poverty all our lives. We were raise in residential schools. But our children are going to get a hospital, roads, schools.' And what did they get? The surface of the moon."
But don't think that Sainte-Marie is discouraged. She says she's always finding little things that are being done in the right direction. Recently she even found a big thing right there in the land of the oilsands.
"The Alberta election, that's a change, that's inspiring to a lot of people. Sometimes people get to feeling so dis-empowered when it appears that things are going wrong. We can pick up on momentum like the Alberta election or like Idle No More," she says.
"What can government do? They can listen to their own people. But I'll tell you what citizens can do, when we elect one of these people — whether we think it's a good guy or a bozo — you got to stay on the case. You don't vote and go home and give them the keys to the car, he'll drive you right off a cliff. You have to help people to stay honest."
"I think it's great that they had the guts to do that. In the 1700s, I think it was the Cheyenne that described gold as 'the yellow metal that drives the white people crazy.' And it really does. Symbolically, it's incredible thing that they've done."
Sainte-Marie will also be an honourary witness and performer on June 3 at the Truth and Reconciliation Commission's closing ceremonies in Ottawa, something which hits particularly close to home as some of her own family were raised in residential schools.
"You talk about all the foster home kids, some of those parents they grew up without parents. They never knew a parent. How were they supposed to know how a family works? What they learned was how to be a bullying nun, how to be a pedophile priest, that's what they learned. That's what we've been living with."
She adds that the tragedies that her people have faced has been the topics of some her most famous songs, like "My Country Tis Of Thy People You're Dying."
"It was about genocide and I brought it up in the '60s and, of course, nobody ever thought about the genocide of the Americas. That song dealt with a lot of the same things that we're dealing with now. People know about residential schools now but then they didn't. See why I see progress? Truth and Reconciliation has ripped back the bedclothes of horror that Canadians have to understand in order to keep going on and keep on getting better."
In fact, she says, with eyes twinkling confirmation, that things are getting better all around.
"I'm very optimistic because I believe that we are ripening. Every single one of us is ripening every minute. I know I am. I'm 74 and I know that every day has been better for me. I have ups and downs but in general I've enjoyed every year more. I've got enjoyed every decade more.
"As I look around, we made a lot of progress since the '60s but at the time it didn't look like we were going fast enough. That's always the way it is. You're always on the cutting edge. The future isn't out there someplace, it's right now."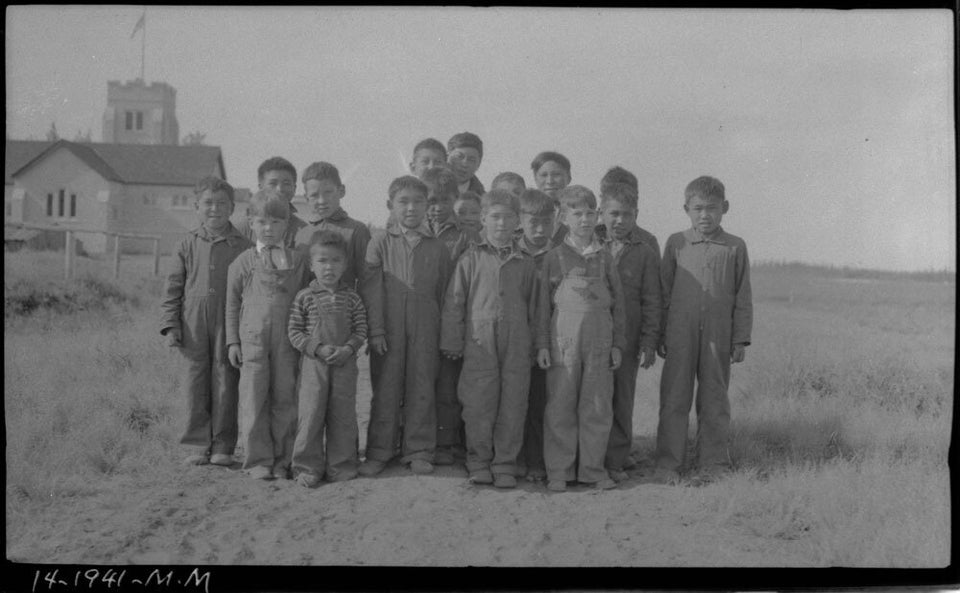 Residential Schools: A Photo History