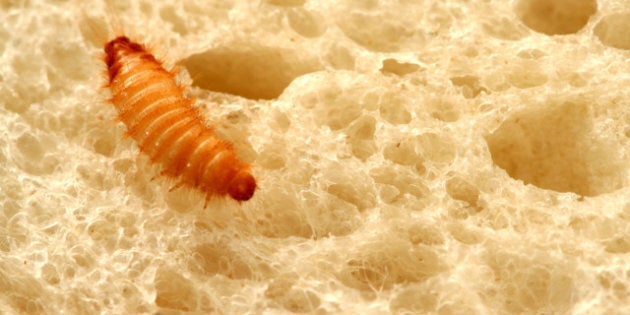 If you thought finding a fly in your soup was enough to turn you off your meal, try finding a maggot in your canned mushrooms or caterpillar remains in your spinach salad. Just about everyone has heard a horror story when it comes to food and insects, and part of that might be thanks to relaxed policies when it comes creepy crawlers and governmental food agencies.
In the United States, the Food and Drug Administration (FDA) is the body overseeing the protection of public health by assuring the safety and security of food consumed in America. However, due to what's described as by Organic Gardening as "a lax food-safety loophole," the FDA permits a certain degree of insects, such as worms or aphids, so long as their presence doesn't compromise the aesthetic quality of the food.
The Canadian Food Inspection Agency has some rules about labels when it comes to bugs and food with which produce can be sold. For example, for cabbage, 10 aphids on a head can still equal a no.1 grading during inspection, but any presence of worms on an edible portion of the head bumps a crop down to a no.2 grading.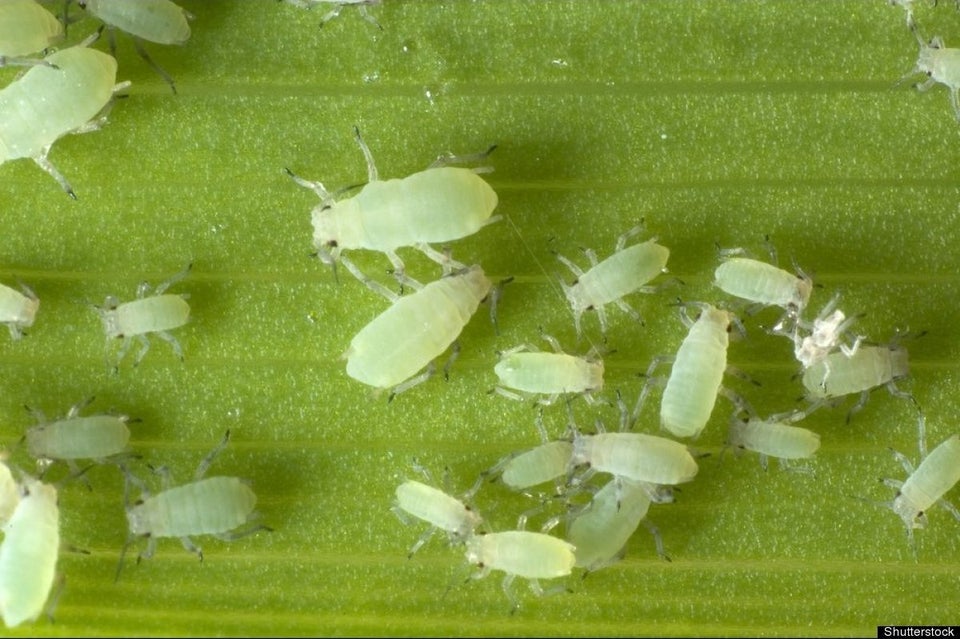 Eight Bugs You Don't Know You're Eating
TEXT VERSION OF SLIDESHOW HERE
To best avoid an unappetizing surprise when it comes to your food, take the time to inspect any produce while shopping and give all fruits and vegetables a thorough rinse just before cooking.
If you thought aphids were only a threat to your tulips and roses, think again. The number of whole aphids that the FDA deems permissible varies from vegetable to vegetable. On the low end, you can expect about 30 whole aphids/100 grams in Brussels sprouts and about 60 of the little buggers in frozen broccoli.
Also known as thunderblights or corn lice, thrips are winged pests and are about a millimetre in length. They feed by sucking out the nutrients in the vegetables you'd find in a frozen vegetable mixture. You can expect to find no more than 50 of them in every 100 grams of canned or frozen spinach or in a package of sauerkraut.
There's a good chance that you'll be able to spot if your food is laced with velvet mites since they're bright red (see photo), but you might have trouble with their cousin, the white mite. The white mite can often be found in grains, but has also been known to make its way into frozen vegetables too. Expect to find no more than 75 of them in your canned mushrooms.
Unless you're a Casu marzu connoisseur, the thought of maggots in your food is enough to make you throw up. If so, you'd best pass up canned mushrooms, which allow 20 maggots for every 100 grams of drained mushrooms, according to FDA standards.
There's a good chance you've seen a fruit fly before, buzzing around a fruit basket or a wine glass left out too long. There's also a good chance that you've been ingesting these flies with your fruit juice, since there's about five flies in every 1 cup of juice.
If you've ever wanted a reason to buy dried black-eyed peas instead of the canned variety, thank the Cowpea curculio. It's a type of larva that eventually grows into a small brown weevil, and there's about five of them in every can of peas.
You'd think it would be hard to miss out on something like a caterpillar in your food, but just because you don't see it doesn't mean it isn't there. Such is the case with spinach, which can be dotted with caterpillar larvae and larval fragments.
The next time you're shucking corn, keep an eye out for the corn ear worm, which fortunately doesn't go for the kernel, but rather, the silk in the husk. You'll also want to double-check canned corn since these worms tend to leave traces of their skin and larvae where ever they go.