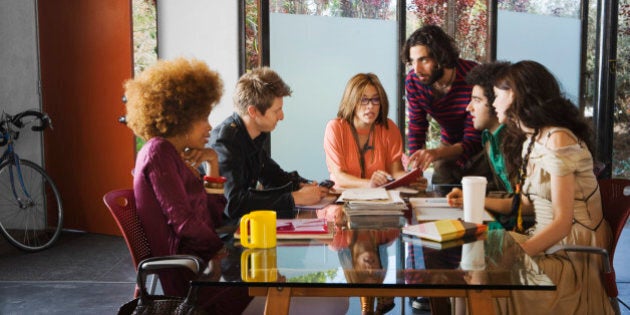 I recently read the book The Year of Yes by critically-acclaimed television creator Shonda Rhimes. I was expecting an entertaining, quick read. I was caught off guard when I read her thoughtful and spot-on (in my opinion) view on diversity.
In an acceptance speech she gave when being honoured by The Human Rights Campaign for representing diverse groups in the television shows she creates, she offered an alternative for the word diversity that seemed to put "token" in its place.
"I'm normalizing TV. I am making TV look like the world looks. Women, people of color, LGBTQ people equal WAY more than 50 per cent of the population, which means it ain't out of the ordinary. I am making the world of television look normal."
Creating diverse teams, at all levels of the organization, is necessary to do our best work.
It left me asking myself what we are doing as leaders and creative storytellers to make our corners of the world, not just a little more diversified, but normal. How is it that the marketing and advertising industry -- filled with so many well-meaning, empathetic, difference-tolerating, progressively-minded, solution-seeking people -- have seemingly accepted an antiquated normal of exclusion that is so counter to who we believe we are?
Shonda Rhimes' poignant remark so clearly drove home a message we all need to hear. It's not about creating a diversity program; this is on me. As SapientNitro's Chief Creative Director, Donald Chesnut, shared at the #MakeSomeRoom session at Cannes Lions International Festival of Creativity this year, we need to "stop nodding and do something."
Creating diverse teams, at all levels of the organization, is necessary to do our best work. It allows us to be nimble, creates an environment for cutting-edge thinking and reflects the customers, clients and communities we serve. We've been talking about this for far too long, it's time to take ownership and it can start with these three easy steps.
1. Look around you, who are the clients you are serving and the people at the middle ranks of your company? Does your leadership team understand them? Can they relate?
This isn't simply a gesture where you make sure you have a woman, someone who identifies as LGBTQ, and a visible minority on a team. This is a strategic exercise where you architect a team that will have the right people in the room that can challenge each other, question how things have always been done and represent the views of the people or clients you are actually serving. Picking the same four to five people who work well together, or have put in their time (even if they are diverse) is not going to create the fearlessness needed to do the best work.
2. Ask yourself, is this the team that can lead your people to bring clients the experiences, solutions and opportunities they didn't even know they were looking for?
Clients are often so entrenched in their business that they have a hard time seeing the entire ecosystem and how everything comes together. Every client is different and needs to start in different spots, but a well-designed, diverse team goes far beyond tactically solving a problem. Collectively, they can push clients intellectually and come up with innovative, unforeseen solutions to their business problems. This leads to the third step, which is critical for this to work.
3. Get your team aligned around a common purpose.
If you have created the right team, some conflict and disagreement is bound to happen, and should be encouraged. You can't challenge the status-quo if everyone is always in agreement. Of course, this has to happen in a respectful, productive manner. If you rally your team around a common purpose, on something or someone (clients or customers) where they feel they can have a real impact, a little positive turbulence can turn diverse perspectives into ground-breaking ideas and work.
Want to hear more on building diverse teams? Check out an interview I did on this topic at Cannes this year.
Follow HuffPost Canada Blogs on Facebook