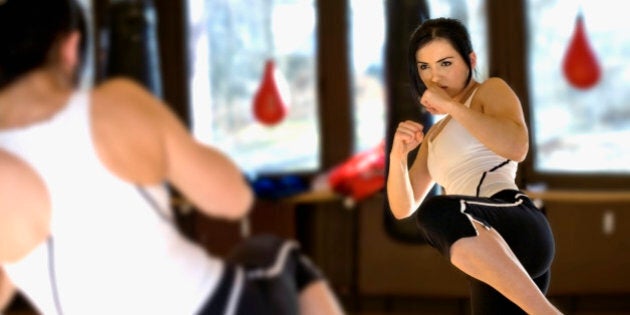 Practicing kickboxing for a healthy life, yes! But not only. Sheila Kim has had huge success in the Seattle area. She communicates her experience every day to a hundred members coming for a sport with many benefits.
Fashionable sport, kick-boxing classes are full. This trend surfs on the very high number of calories burnt in a session and a quick weight loss. To verify if this is true, and also a little because summer is approaching, I played the game. More a sports person in my mind than in a gym, I joined the class of the coach Sheila Kim in February.
After one month of practice, the quality of my sleep has improved significantly (especially in the late afternoon); I lost about four pounds and I look better. After two months, my balance shows six pounds less, my body is more tonic, my legs are much more slender. I have not changed my eating habits but I inevitably took more water than wine glasses. The result is very satisfactory, to a point that I decided to continue at the same three sessions per week pace.
I had the chance to be motivated and guided by Sheila Kim, which ensures that if students take pleasure during the class and they have fun, they regularly come back. "Beyond weight loss, you feel so good after a session of kickboxing. Tensions dissipate and you control your aggressiveness," she insists.
Kim, a native of Seattle, discovered kickboxing nine years ago. She did not like her body in the mirror and decided to change some things in her life, starting with her body. She wanted to put an end to her too many weight changes. "I was fat and needed to lose weight," she says.
At that time, Sheila worked for a company that organized a "biggest loser challenge," a challenge to lose weight. Sheila took the opportunity and found a gym that taught kickboxing. The practice of this sport soon gives her the willingness to eat more healthy, and it does work. Sheila soon sees the benefits on her body. The challenge then transforms into to the desire to make a career of it, that is how she became a part-time coach before leaving her job to devote herself fully to her passion.
Beyond weight loss, the coach talks about her well-being and a better mind, which led her to participate in bodybuilding competitions in the "bikini" category.
After all these years of practice, this passionate sees her dream come true: she is now owner of her own business. "I can say it was not easy, but it is so rewarding! In nine months, I have more than a hundred members, word of mouth is huge! "
Sheila actively practices kickboxing, CrossFit, and has been offering weight-loss programs for two years. The practice of this sport has many advantages, starting with the most dramatic: the number of calories burnt in an hour, about 800 for the most powerful athletes, and 500 for less beefy (approximate numbers that vary depending on everybody's corpulence).
Kickboxing helps building muscles and discovering some muscles that you were unaware of. Arms and thighs are refined; shoulders and buttocks are shaped; the lap belt is reinforced; the torso is raised. The most pleasant is with no hesitation the endorphin release and improved cardio-pulmonary resistance. The more we practice kickboxing, the more the body and the mind ask for it. The stress reduction undoubtedly contributes to better self-esteem.
This sport is not practiced in a ring, but in a room with punching bags standing on a base. The risk of coming out of a class with a black eye is zero.
However, if the kickboxing mainly attracts women, it is primarily because of its reputation more linked to fitness than boxing. This sport is considered very physical yet forsaken by men, who prefer to climb in the ring to exchange punches and improve their techniques.
And if you are not one of those for whom boxing is practiced only in a room with filthy walls that smells of old socks, then go to JABX KICKBOXING. Sheila will lead you with a glance.
Follow HuffPost Canada Blogs on Facebook
Popular in the Community