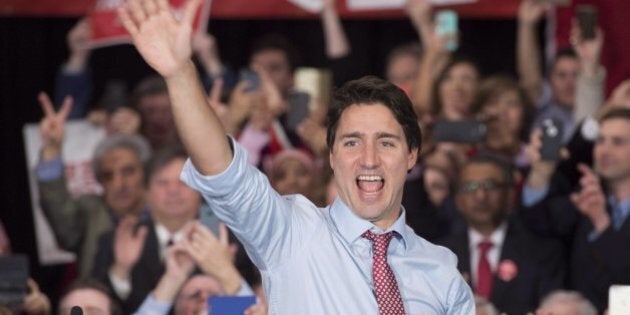 In politics, there is always a balance in elections between hard work organizing in advance and the zeitgeist taking over. This is especially true in a "wave election," like the one on October 19th. The metaphor commonly used goes something like this: "you build the boat and hope to catch the wave."
This is perhaps nowhere more apparent than with the youth vote. StatsCan recently reported a significant increase in the youth vote, from 55 per cent in 2011 to over 67 per cent in 2015. As Professor David Crane of the University of Saskatchewan noted, "Because more young people voted, that transformed Canadian politics," with the political science professor crediting the Liberal win to the increase in the youth vote.
But a lot of hard work went into earning those results. Here's the Liberal youth vote story:
Back in early 2014, Liberal national campaign director Katie Telford tasked the Young Liberals of Canada with designing and executing a strategy to engage, inform and turn out youth.
From the beginning, we knew that we had the most captivating leader in Justin Trudeau. His strengths as it relates to attracting youth voters go without saying. But simply counting on the now-PM's attractive attributes is not a strategy.
So we sought to build an organization that could deliver youth votes at the ballot box.
Our first step was to define our objectives. We decided early on that, while we would of course ensure we had messaging towards youth across the country, and support young campaigners in constituencies nationwide, our focus had to be tailored to where we could be most effective. We decided to focus our efforts organizing constituencies with campuses.
Hours were spent on excel spreadsheets, with young organizers sharing updated versions over Google drive, Facebook messages and, eventually, Slack, the workflow app. We settled on 80 constituencies where a 10 per cent bump in the campus youth vote could put the riding into the red column. (For our purposes, a "campus constituency" wasn't necessarily only the riding with the university in it; it might also include a riding with major student neighbourhoods.)
On about half of these campuses, there was a Young Liberals' club of some version or other already. These clubs had historically focused on things like pub nights with an MP or policy discussions. We went about harnessing these efforts, not replacing them. In other words, while we encouraged the continuation of such collegiate efforts, the purpose we pushed was to use them as recruitment opportunities to engage new youth, and then onboard them into our volunteer team on the campus. We also pushed for some tried-and-true recruitment strategies, such as a table in the student centre to sign up new members. More often than not, youth recruiters used iPads and tablets -- even smartphones -- rather than pen and paper to sign up their peers. In all, there were some 2000 active volunteers who contributed to over 305 campus-based events nationwide.
We also sought to harness technology and advertising in more innovative and slightly unexpected ways through a focus on progressive policy. For instance, advertising in gay bars in cities like Toronto, Montreal, Vancouver and Edmonton promoted a link to our petition to end the ban on men who sleep with men donating blood, a Young Liberal policy position Trudeau spoke in favour of. We ran similar ads on the dating apps Grindr and Tinder, to engage young LGBTQ Canadians. A significant number of new signups joined through our digital advertising, and they were looped back into their campus team.
Having assembled our teams on campuses, we then sought to put them to work. We started small in January 2015, with an email going out to the campus crews with a simple instruction: rent out a campus pub, buy some wings, and introduce your local candidate to some thirty or more students. Get those students to sign up as volunteers. Then tell them about the first opportunity to volunteer. Borrowing techniques from the Young Democrats of America, we then had our candidates pair up with a campus team to canvass door to door in a student neighbourhood or "dorm storm," identifying potential Liberal voters and volunteers. These teams would then grow from new volunteers, and the on-campus campaigning would continue -- we aimed to impel a virtuous circle.
As StatsCan reported recently, "youth were more likely to report electoral process reasons for hampering their voting." We sought to mitigate this problem, and former prime minister Stephen Harper proved our unwitting ally in this regard. His "Unfair Elections Act," which sought to tighten voting conditions, was a lightning rod for engaging youth in the electoral process. Getting young people to think about voting in spring 2015 was sometimes a challenge, until you showed them how the Conservatives were looking to make it harder for them to vote. There was then a visceral reaction, and youth would be quick to either sign up for emailed information about how to vote, or they would sign a "commit to vote" card to record their intention to vote for Team Trudeau.
In total, we collected nearly 10,000 "commit to vote" cards and online pledges. This information was recorded in our national database, Liberalist, and shared with local campaigns, who could then return to a students' residence with the cards those students had signed, reminding them that they had pledged to vote.
The trick was to get youth to vote early, whether through campus special balloting stations or advance polls. Youth received tailored e-blasts and text messages about information on where, when and how to vote, and a volunteer made sure to come by their residence to remind them to vote, and more often than not persuaded the roommates to tag along as well.
A lot of painstaking effort went into building a boat that would catch the wave we hoped was coming. And the wave came. Of the 80 constituencies initially targeted, we won 69 seats, often by a narrow margin, and no doubt thanks to an increase in the campus vote. That's a success rate of 86 per cent.
In Ottawa Centre, for instance, the Environment and Climate Change Minister, Catherine McKenna, credits an increase from 150 votes on Carleton University's campus in 2011 to 488 votes in 2015 with helping her pull off an underdog victory on election day.
The beauty of the program? Because of the natural academic and activist nature of campus clubs, those we recruited into the Liberal campus campaign teams have stuck around, helping to host seminars with the new Liberal cabinet and professors, contributing to inter-Party policy discussions.
So if anyone ever mentions the myth of a generation's apathy, we now have an answer: the 2015 federal election result.
Jonathan Scott and Marie-Pascal Des Rosiers were National Co-Chairs of the Young Liberals' Campaign. Toufic Adlouni is Vice-President Organisation of the Young Liberals of Canada and Justin Kaiser is President of the Young Liberals of Canada.
Follow HuffPost Canada Blogs on Facebook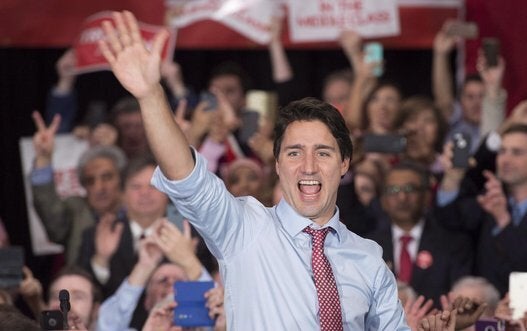 Trudeau's Cabinet