It all started in Silicon Valley where executives and athletes began adding butter and coconut oil to their coffee beverages to sustain energy levels and increase health benefits. Naturally, our first question was "why does coffee get to have all the fun?" Oh right...it doesn't!
We began researching ways of integrating this 'bullet proof coffee' concept into the world of tea all while maximizing health benefits and boy George we've come up with something tasty - Bullet Proof Tea!
While there is no specific blend that you must use in this recipe, we definitely feel that Tease Tea's Caramel Cardio Pu'erh tea makes for the perfect cup. Pu'erh is filled with gallic acid, which is known for high levels of antioxidants and is part of tannins, which compliment this fermented tea offering a nice body and texture! It is also known for its natural fat shrinking* capabilities.
1 Teaspoon Caramel Cardio Pu'erh tea
1 Tablespoon Coconut Oil
1/2oz Cream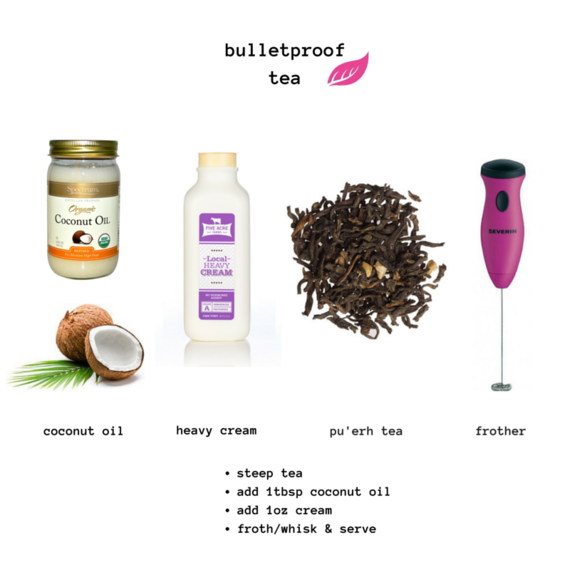 In addition to the high levels of antioxidants in pu'erh tea, coconut oil is known for reducing cholesterol and assisting in your mental health by reducing stress levels*. Adding a small percentage of cream will not only stick to the coconut oil offering a creamy indulgence but is chalk full of omega 3 fatty acids which are great for your overall health.
To see a video on how to make this recipe, watch here.