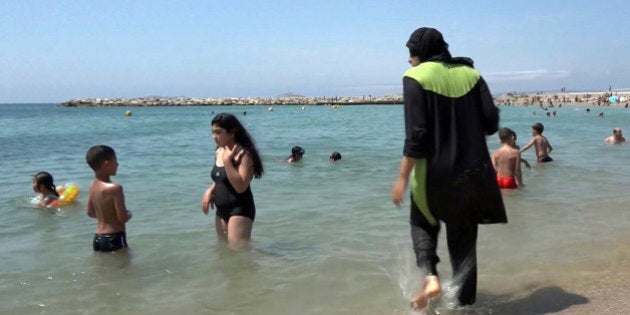 While I feel a sense of relief to hear that France's highest court has suspended the burkini ban, I am still in shock that a country that claims to be a beacon of democracy and human rights would establish such laws.
According to the BBC, the ban in Villeneuve-Loubet "seriously and clearly illegally breached fundamental freedoms," including freedom of belief. The ruling could set a precedent for up to 30 other towns that imposed bans on their beaches, chiefly on the Riviera.
Had it not been the tireless efforts of human rights organizations, the Human Rights League (LDH), and an anti-Islamophobia association (CCIF), bringing the ban in Villeneuve-Loubet to the court's attention, the open form of discrimination would still be in place.
It was an appalling scene to watch a civilized country like France -- which claims to uphold freedom of choice -- take away a woman's right to wear her religious attire as she deems fit.
We ought to ask tough questions in order to avoid future occurrences of these types of discrimination.
According to the Independent, armed police forced a woman on a beach in Nice to remove her burkini as part of the controversial ban. The incident occurred on the beach at the city's Promenade des Anglais, the location of the lorry attack on Bastille Day in which 84 people were killed last month.
Photographs show four police officers armed with handguns, batons and pepper spray standing around the woman, who was lying on the beach wearing a blue headscarf and matching top.
While we should applaud the court's decision to suspend this discriminatory ban and infringement of human rights, we ought to come together to ask what led a country like France to act in such a manner. We ought to ask tough questions in order to avoid future occurrences of these types of discrimination.
What was more troubling to see was the public's reaction to the ban, as though Muslim women did not deserve the same basic rights as other French citizens. Polls suggested most French people backed the bans, which town mayors said was meant to protect public order and secularism.
These people ought to understand that when you see someone whose rights have been violated and you don't stand up for him or her, you then forfeit your own rights. The system itself loses credibility for not protecting a citizen's freedom of choice.
If a society allows the infringement of innocent people's human rights, then there should be concern about the future of democracy. In abandoning the rights one of its own citizens, society condemns itself because an attack on one citizen is an attack on all citizens. It is also an attack on democracy as a whole.
The ban was condemned by organizations like Human Rights Watch, which described it as absurd and a "deep shame."
"Instead of encouraging all French people to live together peacefully and promoting equality and fundamental freedoms, which is the responsibility of the public authorities, the burkini ban and the revival of the endless controversy on religious symbols linked to Islam merely stigmatize practicing Muslim women, exclude them from public spaces - and sharing those spaces with their families and friends - and deprive them of their rights to autonomy, to leisure activities, to wear what they chose, and of course to practice their faith."
The woman on the beach did not pose any threat. Her attire was not a threat to the national security nor was it a weapon of mass destruction.
Why would French citizens threatened by a simple and harmless piece of garment?
It is frightening to see what bigotry and racism can do to the human intellect. It has a damaging effect on human judgment and perception, and can influence authorities of a democratic nation to act undemocratically without feeling any shame.
Banning the burkini is a double standard when nuns covering themselves up are allowed at the beach as indicated by Barbie Latza Nadeau in the Daily Beast.
"Go to any public beach in Italy and chances are you'll eventually see a woman wearing a veil and long skirt," Ms. Nadeau said. But she likely won't be a Muslim in a version of the controversial burqini. She will almost certainly be a Catholic nun in her summer habit either watching children in her care or, God forbid, just enjoying some sun, which is considered a human right here in Italy, where the sea defines the majority of the borders. "
We strongly reject and condemn extremists around the world who claim to know what is best for women and what they should wear, yet we seem to be following the example of the extremists whom we claim to abhor.
We should come together to tackle the hate, enmity and bigotry that exist even in civilized societies and try to rebuild the tattered bridges between us.
Follow HuffPost Canada Blogs on Facebook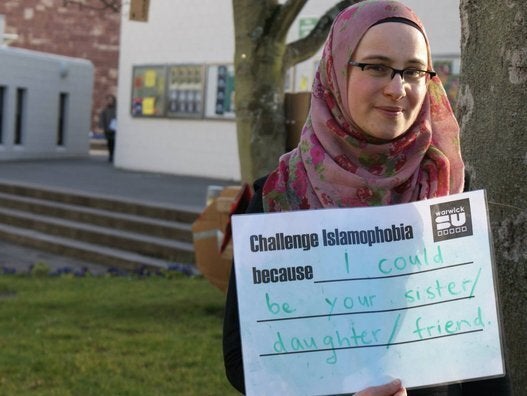 24 Reasons To Challenge Islamophobia