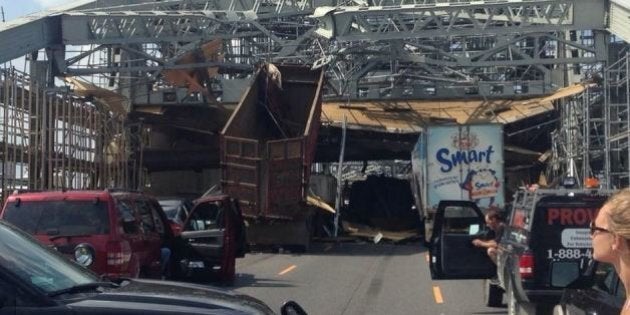 The scene on the Burlington Skyway, a bridge located in the Greater Toronto Area, looks unreal after a dump truck ran into scaffolding on the bridge Thursday afternoon.
While the Toronto Star reports those involved only sustained minor injuries, the damage to the bridge is quite extensive.
Drivers on the bridge, who will undoubtedly be stuck in major traffic delays, posted photos of the crash on Twitter.
Drivers and passengers are up and out of their cars, walking around as they wait. One Twitter user compared traffic on the bridge to a parking lot.
Those who travel on the bridge, take heed. The bridge could be closed for days, according to Burlington's Mayor Rick Goldring.

The Worst Traffic Congestion In North America