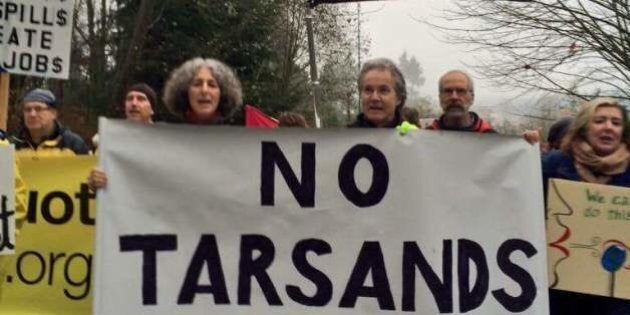 Thursday was a significant victory on Burnaby Mountain, as the B.C. Supreme Court denied Kinder Morgan an extension on their injunction and threw out charges of civil contempt against those who have been arrested to date.
I was on Burnaby Mountain when we heard this news, and the crowd erupted in cheers. We had just been hiking through the woods to Kinder Morgan's drill site, in order to observe two dozen more brave people engaging in civil disobedience. Amongst them was Ta'ha (Amy) George, an inspirational elder of the Tsleil-Waututh Nation, which has been at the forefront of this long struggle to stop the pipeline.
To really understand what is going on on Burnaby Mountain over the past weeks and months it should be seen in the context of years of frustration for those of us on Canada's West Coast sick of the attempts by Enbridge and Kinder Morgan trying to push their dangerous pipelines across the mountain and rivers communities we live in.
This is the latest flashpoint of a movement that has been steadily gaining in strength, part of a long tradition of activism for the climate, for democracy and for Indigenous rights.
The past week's events on Burnaby Mountain have been especially inspiring. I've been heading up to the mountain a lot, and I've been energized by the courage and determination of the diverse groups of caretakers and supporters defending the land. Over 125 people have committed non-violent civil disobedience.
There is a broad-based, loose-knit coalition standing behind those putting themselves on the line on Burnaby Mountain. This is a movement that speaks to the concerns of the majority who are against these reckless tar sands pipelines: young and old, First Nations and environmentalists, professors and students, scientists and faith leaders.
My involvement has been to support the efforts of those risking arrest and those maintaining a presence on the Mountain over these past months -- I'm in awe of the dedication of all involved.
Five years ago, the UN Climate talks in Copenhagen ended in severe disappointment. For many people, that was a turning point. If politicians at the national and international level weren't going to take the lead on reducing emissions, it was up to us to stop the destructive fossil fuel projects in our own countries. In Canada, a big part of that effort is to slow the breakneck expansion of the tar sands and oppose the series of reckless proposed pipelines.
For the past few years, that debate focused on the Enbridge Northern Gateway pipeline: The National Energy Board heard from a record-number of British Columbians overwhelmingly against the tar sands pipeline; First Nations forged an unprecedented wall of opposition, signing the Save the Fraser Declaration banning exports of tar sands across their territories; and, slowly but surely, an historic movement came together and public opinion shifted decisively against Enbridge. The NEB approved Northern Gateway despite all the evidence of danger to climate and to the coast. Despite the approval, Enbridge is a long, long way from putting shovels in the ground.
After the Enbridge debacle, the Harper government doubled down on their commitment to the dirty oil business. With Bill C-38 and others they've gutted the environmental review process. So Kinder Morgan faces less obstacles to getting their pipeline approved: the NEB review is shorter and narrower, excluding many public voices and failing to even consider the impacts of climate change or allow cross examination.
With the legislative changes brought in by Harper, and the discrediting of the NEB, many have chosen other routes to try and stop Kinder Morgan's pipeline plans. Municipal governments have played a leading role, with both the City of Vancouver and Burnaby speaking out and the Union of B.C. Municipalities passing resolutions opposing the projects. Mayor Corrigan and Burnaby have even taken Kinder Morgan to Court to try and stop the company's survey work on Burnaby Mountain.
The City of Burnaby is currently appealing a Federal Court ruling that says the NEB can override the municipal jurisdiction and allow Kinder Morgan to proceed with drilling and other surveying work in the Burnaby Mountain Conservancy. The city has filed an appeal, but Kinder Morgan isn't even waiting for the courts to settle the matter -- they're going ahead with the drilling anyway, getting a separate court injunction against protesters on the mountain.
At the same time, they've filed a lawsuit against several of those who have been maintaining a presence on the mountain, including SFU professors Stephen Collis and Dr. Lynne Quarmby, the head of the molecular biology department, which of course is located on Burnaby Mountain.
Kinder Morgan's mask has fallen, and they are showing what kind of neighbours they really are.
All this is the context that has led over 100 people to face arrest to make their point. Civil disobedience has a long and noble tradition; it is a recourse of people whose democratic will has not been respected.
This all should be a wake up call for the federal government but it's also something the provincial government could be doing something about. So much of what is happening on that mountain is the end result of a broken public consultation process.
The NEB process has been described as "a farce," "a disgrace" and "Harper's pipeline approval process." Premier Christy Clark has the power to pull out of this broken process and hold her own made-in-B.C. environmental assessment and public consultation process. The Provinces of Quebec and Ontario just announced that they would be doing the same thing and do their own assessment of the Energy East tar sands pipeline. Clearly this is necessary and reasonable.
Thank you all for your passion and your dedication and your hope.
Kinder Morgan may have drilled some holes in the mountain but they drilled an even bigger hole in their credibility and their social licence. They are facing a ever growing mountain of opposition in this province.
As Ta'ha said on the mountain before her arrest, "We're doing this for our grandchildren, so that future generations aren't poisoned by Kinder Morgan's pipeline... it's time to warrior up!"
This is far from the end of the fight. It's amazing to see how much has happened already and they haven't even submitted a complete application to the NEB. Just imagine what would happen if they tried to actually build a pipeline. Let's stop them before they even get a chance to try. Let's continue to take the power back, let's restore democracy in this country. Let's get Canada on a path we can all be proud of.