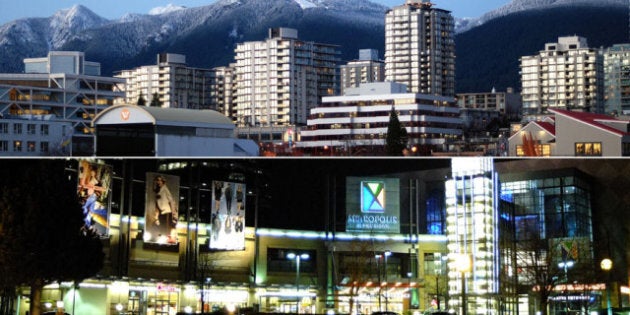 There will be no changes to the creation of a controversial new federal riding in Vancouver's Lower Mainland, says a commissioner charged with redrawing B.C.'s electoral map.
Stewart Ladyman, one of three commissioners with the Federal Electoral Boundaries Commission for British Columbia, has ruled out changes to the proposed riding of Burnaby North–Seymour, raising the ire of the NDP, which has accused him of shutting down public input before consultations on the new boundaries have even begun.
The most controversial change is the creation of Burnaby North–Seymour, a riding that joins together the northern part of Burnaby with North Vancouver, two areas separated by the Burrard Inlet with no natural linkages.
According to a poll-by-poll analysis by The Huffington Post B.C., the new boundaries mean north Burnaby residents would cease having an NDP representative and get a Conservative MP if voting patterns in 2011 repeat in 2015.
In 2011, the NDP won more support in what would now be called "Burnaby North" — about 10,289 votes compared to 9,969 cast for the Conservative candidate. However, the party's slight advantage evaporates when combined with the strong Tory support — 2,425 votes vs. 1,008 for the NDP — in the area of North Vancouver that will be rolled into "Seymour."
A rough total of votes cast in the new riding would give the Tories 12,384 votes over the NDP's 11,297, excluding some special poll results, such as advanced and mobile voting, which could not be accurately divided between polling areas.
Ladyman said that while he believes the commission's overall proposal will be tweaked, they won't budge on this one riding.
"The North Burnaby-North Vancouver issue has been on the table for a number of commissions, and there is just no way this time around but to cross the river," Ladyman told HuffPost.
If the commission left the North Shore alone again, another riding would be left with too few electors, Ladyman said. "It's not natural, you can't do that anymore," he said.
"That one (riding) we spent many hours over, and we knew that there would be (opposition), I mean it's been in past papers, past commissions have done it, we've read passed commission arguments that you could never (go) past the river because North Vancouver and Burnaby are night and day," Ladyman said. "(But) what seems odd? Is crossing a river an odd issue?"
"That is a big error on his part. That is not the way an electoral commission should be looking at this, and certainly historically in British Columbia, that is not the approach that commissioners have undertaken," Julian said.
"If even one commissioner is saying that 'Oh, what the public says and what the communities say doesn't matter,' that is something that I think would provoke a real reaction in British Columbia," Julian said.
"It would ratchet up, in a very unnecessary way, what is an extremely important part of the process to have the public involved, have the public speak out, have the public raise their concern, that is an extremely important part of electoral commission work and electoral commissioners need to listen to that feedback."
Julian has reason for concern.
Burnaby North–Seymour is one of five seats in the Lower Mainland the Conservatives stand to gain if the commission's proposal goes ahead and voter habits don't change. The proposed map would also put several other NDP ridings into play where tight races could tip the scale either way, our analysis of poll results shows.
BOUNDARIES NOW & PROPOSED (story continues under gallery)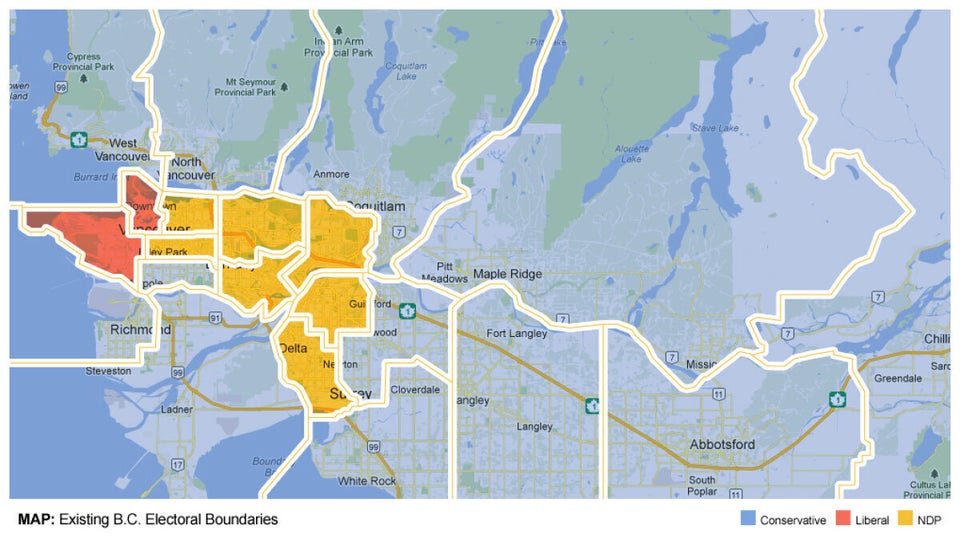 Vancouver Ridings, Now & Proposed
For instance, the NDP riding of Surrey North is now partly absorbed in a new riding named North Surrey-Guildford, which according to poll-by-poll results of the 2011 election, would have gone Conservative under the proposed boundaries. The Tories would have captured approximately 11,100 votes compared to 8,390 for the NDP.
In total, the Conservatives could take 18 of 25 Lower Mainland seats in the next federal election, up from the 11 of 20 seats they won in 2011.
The NDP, frustrated by the proposal which would likely cost them a seat in Burnaby and possibly two in Surrey, plan to argue during upcoming public hearings that Burnaby North-Seymour is an unnatural union of two communities. The head of the federal Liberals in B.C. agrees.
"When boundaries don't represent communities and are clearly not part of what one would recognize as areas, that is a concern," Don McDonald, the executive director of the Liberal Party of Canada in B.C., said. "It is a concern for the person that has to represent those areas."
Boundary commissions have twice proposed joining Burnaby north and North Vancouver, McDonald said, and twice before the Liberals have spoken out against it — something they plan to do again.
Ladyman wouldn't say whether he thinks the two communities share any interests, a principle that is supposed to guide the commission's work, but he said there were other important issues to consider and top of mind was ensuring everyone's vote counts the same, wherever they live.
The commission tried to stick as closely as possible to the electoral quotient, the target population number for each of the province's ridings, now set at 104,763 constituents, he said.
"We've been called ridiculous, some people think that we don't have a clue about the geography of the province, because you just don't break up various towns or cities," he said. What people need to realize is that carving up ridings is not an easy task, he explained.
"It is a jigsaw puzzle, people don't live in a nice little boxes that make 104,000-plus people," Ladyman said.
Kennedy Stewart, the NDP MP for Burnaby–Douglas whose riding is being chopped and joined with North Vancouver, said his office has been flooded with complaints from residents who feel that two communities who don't interact with one another should not be joined together politically.
Stewart readily acknowledged that under the current proposal his riding would have gone Conservative.
"I won by two per cent and I don't think under the new boundaries my margin of victory would have been that generous," he said smiling.
"Last election, it would definitely have been harder to win this riding under the proposed boundaries, that's for sure, but most constituents really just don't understand how the two communities are going to work together under these boundaries," he said.
The change would make it more difficult for residents who rely on public transit to get to his constituency office, Stewart said. He might have to spend more money opening another office, and politically, it would be more difficult and more expensive to run elections and mobilize teams of volunteers in both communities, he said.
Stewart, a former political scientist at Simon Fraser University, said he'll run in Burnaby North–Seymour if that's the commission's final decision. But he doesn't see why his riding — which is just about the size of the electoral quotient — couldn't have been spared from a complete overhaul.
Stewart said the NDP hopes to win government in 2015 and the riding boundaries may not matter as much if there is a huge shift in public support.
"In some ways, as we've seen in Quebec, if the population decides to make a massive change, boundaries don't really matter that much," he said. "In a lot of the ridings around the Lower Mainland that are fairly close races, (the boundaries) can make a lot of difference but also if you have a big groundswell naturally, then maybe they are less of a factor."
No one from the Conservative Party would speak to HuffPost for this story. In an article in The Tri-City News, however, Heritage Minister James Moore, the MP for Port Moody-Westwood-Port Coquitlam and the senior minister for B.C., expressed disappointment that the southern part of Port Coquitlam had been removed from his riding.
Port Coquitlam city councillor Brad West told HuffPost he's angered by the commission's proposed changes, which split his community of 55,000 people into three ridings.
"It's pretty clear to me that the person who drew it has never actually stepped foot in Port Coquitlam and probably just looked at a map and said: 'This looks good, we'll put a line here and a boundary there and it looks good,'" he said.
The potential gains for the Conservatives puzzle Vancouver Centre Liberal MP Hedy Fry, though she doesn't believe the commissioners gerrymandered. In fact, she said she believes they "have bent over backwards to prove that they haven't."
"But at the same time, you look at what the changes are and you say well this isn't logical, it means we are getting a lot more Conservative seats. So how did that happen in a non-flawed process?" she said.
Ladyman insisted the commission paid "zero" attention to political representation.
"I am well aware that every time you change a boundary that probably has huge ramifications on the political process ... but we don't take that in consideration," he told HuffPost.
"I can't even tell you who represents some of the ridings. That is not one of the things we even talk about or look at," he said.
The boundary commission is expected to release a second proposal before Christmas taking into account the public hearings. The new riding map should be final by the summer of 2013.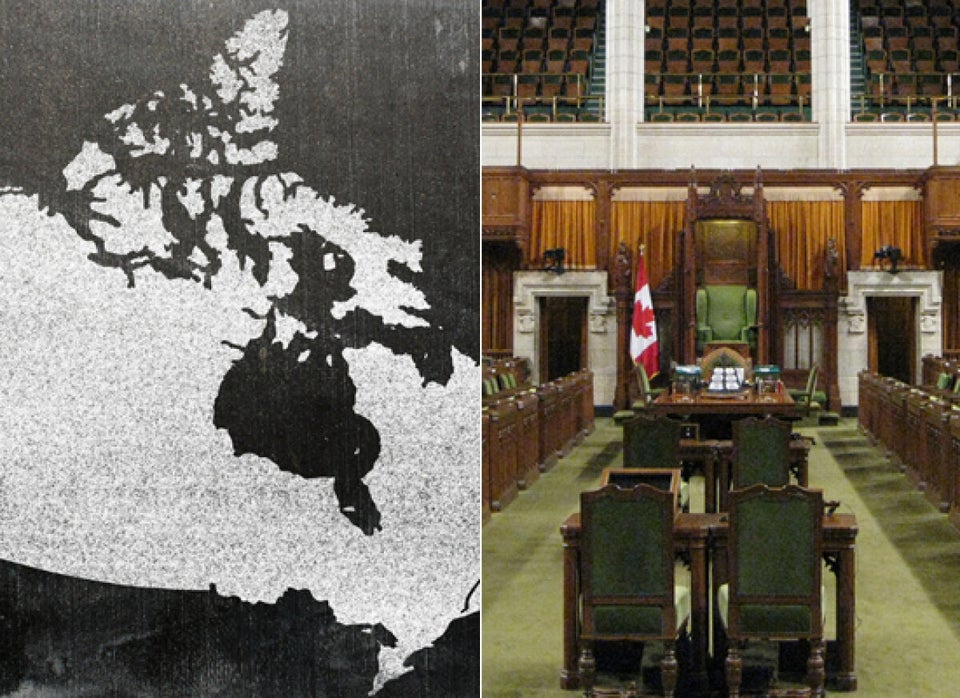 How Many Seats Will Each Province Get?