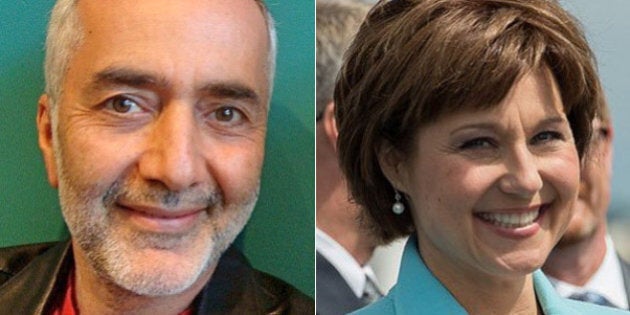 A plan to close Vancouver's Burrard Bridge for a massive free yoga class is being dogged by critics ranging from Canadian singer Raffi to a government watchdog to an aboriginal artist.
The popular children's entertainer is urging people to #ShunTheBridge in several tweets critical of the arrangements since they were revealed last week.
Energy company Altagas contributed $10,000 to the event, while yoga clothing company Lululemon is also a sponsor.
First Nations artist Burton Amos has issued a call on Facebook for a flash mob to gather at the Burrard Bridge at the same time as the yoga event to support National Aboriginal Day. "Bring your kids ! Bring your drums, bring your voice!" he wrote.
"It's a ludicrous sum of money to pay at a time when the government pleads poverty, shuts public schools and lengthens surgery wait lists," wrote Michael Smyth in The Province. The columnist pointed out that AltaGas and Lululemon are both generous donors to the BC Liberal party.
"This whole thing is basically a free ad for the Liberal party's political backers at taxpayers' expense. At the very least, Clark's corporate sponsors should pay the entire bill, not stick it to taxpayers."
Dermod Travis of watchdog group IntegrityBC told CTV News: "People who don't make those donations don't seem to find themselves partnering with the B.C. government and having the premier come out to announce their events."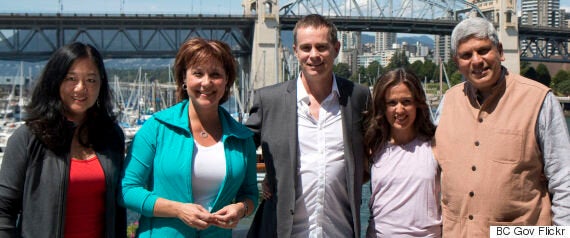 B.C. Premier Christy Clark (second from left) poses with officials and sponsors after announcing the yoga event last week.
"It's a busy bridge, and I think it makes a really wonderful statement to close it to all that business and welcome a thousand, or couple thousand, or many thousand people to be present and reflective. It's the exact opposite of busy traffic," she told reporters on Friday.
"They've shut down Times Square in the past for yoga. I think in Washington, they'll be doing something around the Washington Monument as well. So I don't think there will be a picture in the world more beautiful than the one of thousands of yoga mats on the Burrard Street Bridge on hopefully a sunny day."